4 Best Ultrasonic Cavitation Machines for Body Sculpting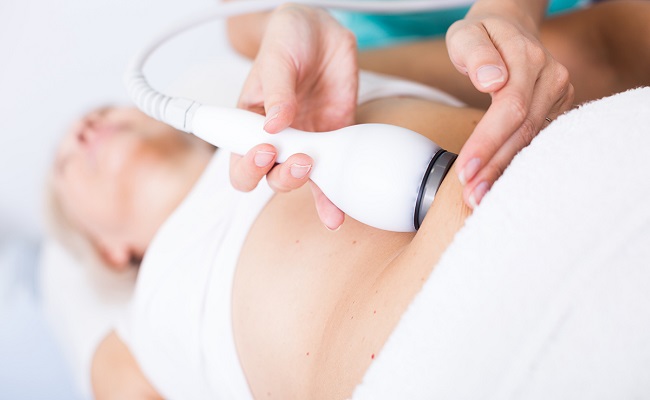 Ultrasonic cavitation machines are becoming more and more popular tightening devices. If you are considering buying, you may have many questions about them. How to choose the right device? Is it safe and effective? How long is the session and what to expect after the treatment?
In this article, we will answer all your questions about the ultrasonic cavitation machine. We'll cover everything from what they are, how they work, and how safe and effective they are. In addition, we will show you the best devices on the market as well as share some before and after results so you can see the amazing transformations these machines can produce.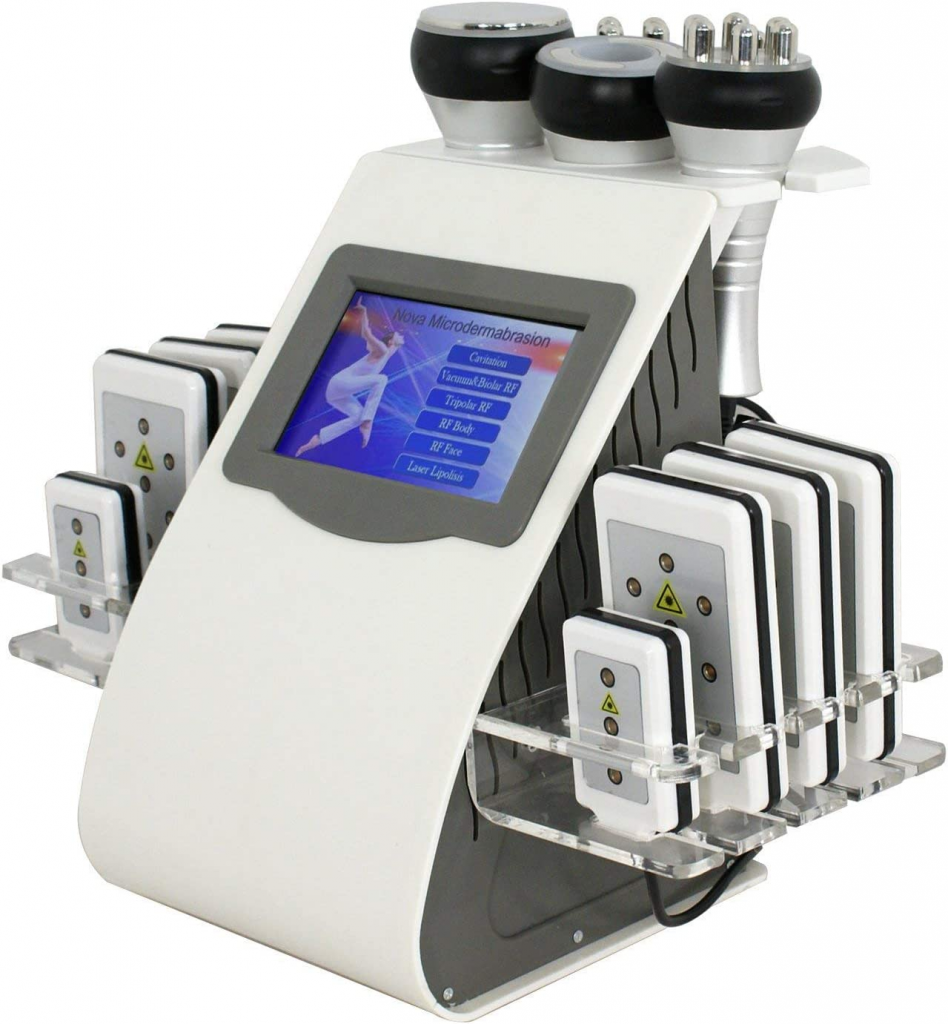 MTHAT 6-in-1 Body Slimming Massage Machine
✔ The most versatile due to the large number of attachments that are suitable for different parts of the body;
✔ Effective in the treatment of cellulite, due to a special attachment that helps to smooth and tighten the body.
Fazjeune Multifunctional Body and Facial Beauty Machine
Best body and face tightening device
✔ The most effective for face and body care thanks to various attachments and gentle effect on the skin;
✔ A massage attachment for the prevention of cellulite and general skin tightening.
Enshey body sculpting machine
Best device for cellulite treatment
✔ The most effective device for postpartum recovery, cellulite reduction, and overall skin improvement with 5 intensity levels that can be adjusted to your condition;
✔ The head size is ideal for treating most problem areas (legs, buttocks, thighs, sides, arms).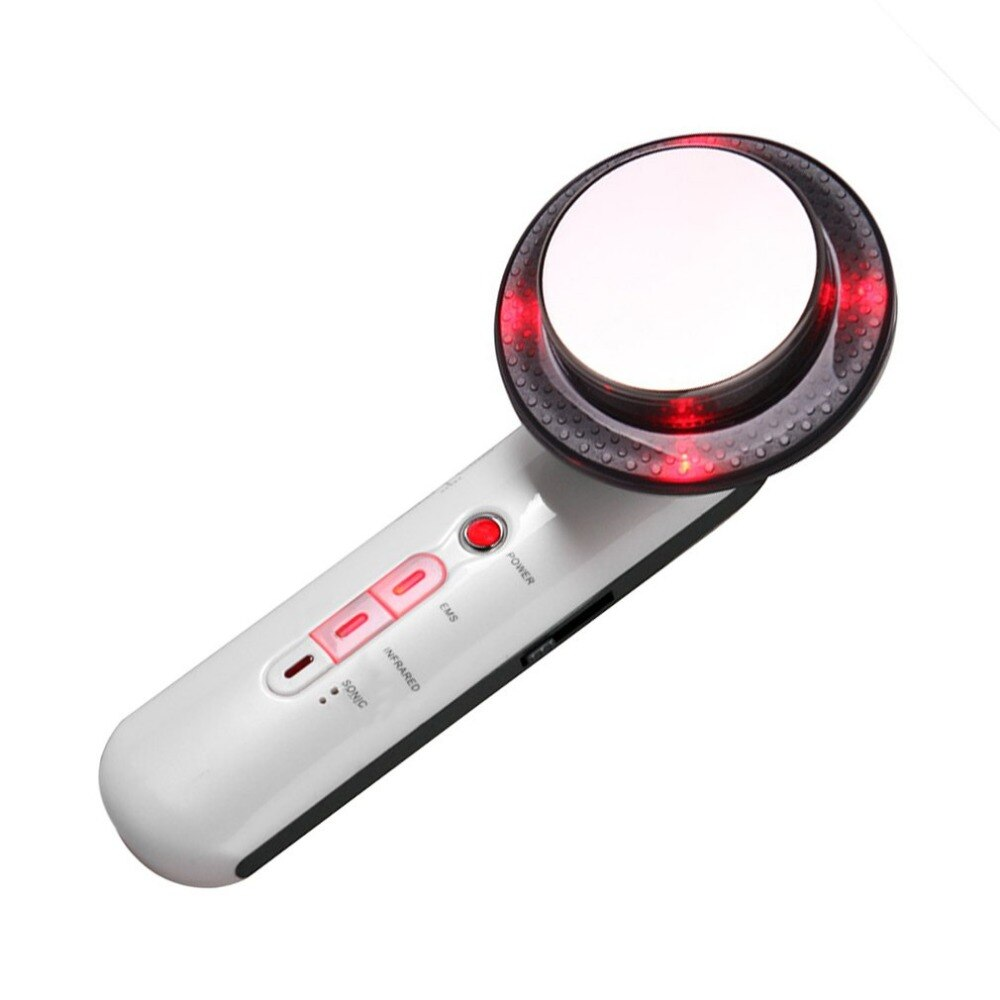 BaiYoug 3-in-1 ultrasonic fat loss machine
✔ The most compact device that allows you to use it even on the go, thereby not interrupting the treatment plan;
✔ Reduces spasms and muscle pain with built-in infrared technology.
What is ultrasonic cavitation and how does it work?
Ultrasonic cavitation is a non-invasive, fat-reduction treatment that uses low-frequency sound waves to break down fat cells. The resulting fat cell debris is then naturally flushed out by your body's own metabolic processes.
The process is sometimes also referred to as "lipo-cavitation" or simply "cavitation".
Ultrasonic cavitation treatments are usually done using a hand-held device that delivers the sound waves to the target area. The treatments are typically done in a series of sessions, and each session lasts for about 30 minutes. There is no downtime associated with this method, and most people report only mild side effects, such as temporary redness or bruising.
Which body parts are best for ultrasonic cavitation treatment?
Ultrasonic cavitation is most effective when there is a layer of fat to target. Thighs are the most common area for cavitation treatments. It is also possible to treat the buttocks and stomach.
Some other common areas for cavitation treatments include the arms, back, and knees. The results of these treatments are still effective, but they will not be as dramatic.
It is also important to note that the results of ultrasonic cavitation may vary from person to person. Some people may see results after just one treatment, while others may require multiple treatments to see the desired results.
Things to consider before choosing a cavitation machine
Cavitation machines are becoming more and more popular for a number of reasons, which include non-invasiveness, no downtime, and painlessness. However, in order not to make a mistake with the choice, there are some things that should be considered before choosing a device.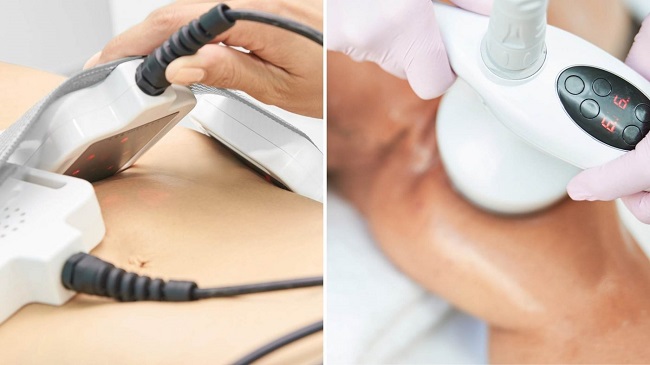 Type of machine
The type of machine you choose will depend on a number of factors, including the type of procedure you perform, your budget, and your doctor's recommendations.
Three main types of cavitation machines:
Wand ultrasonic cavitation machine
This type of machine is the most common and popular. It uses ultrasonic waves to create cavitation in the body, which then helps break down fat cells. This type of device is suitable for beginners in this treatment, as well as for those who have a limited budget.
Fazjeune Multifunctional Body and Facial Beauty Machine is an excellent option for those new to cavitation treatment.
Machine with additional RF probes
A device with additional radio frequency (RF) probes can provide more targeted treatment. This is a great option for more advanced users, as well as those who want to achieve the desired results in shorter lines. A good option for this type of device is the MTHAT 6-in-1 Ultrasonic Slimming Massager.
This type of machine uses low-level lasers in addition to radio frequency to help break down fat cells. This is newer technology and may be more expensive than other options.
Features
When choosing a cavitation machine, you should consider the features that are important to you. Some to watch out for include:
When looking for a device, make sure that versatility is one of your requirements. Look for a cavitation machine that can be used on any part of the body and will not cause harm. A good option is the MTHAT 6-in-1 Body Slimming Massage Machine.
It is always important to ensure that devices have security measures in place. These may include automatic shutdown and intensity adjustment of the cavitation machine.
A user-friendly interface will make it easier for you to work with the machine and allow you to get the desired results.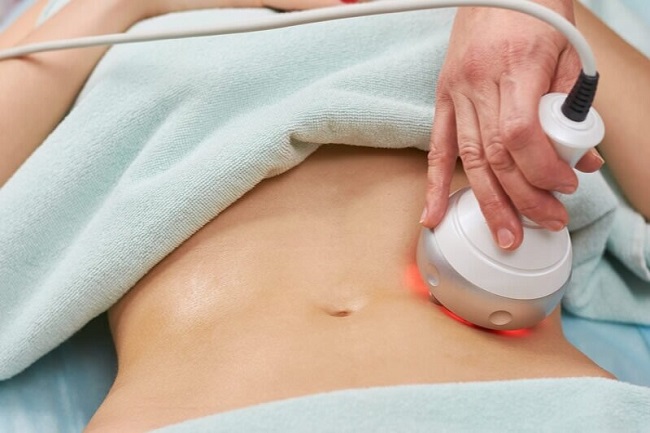 Size
If you need to move the machine frequently from place to place or are often away from home but would not like to interrupt treatment, you may need to consider the size of the cavitation device and its portability.
Great options, in this case, would be the Enshey body sculpting machine and BaiYoug 3-in-1 ultrasonic fat loss machine.
What else to look for in a cavitation machine:
📋 Warranty: it will protect your investment in case the machine breaks down or does not work properly.

💰 Cost: ultrasonic cavitation machines range from hundreds to thousands of dollars depending on the brand and its features. Estimate your budget and then compare all eligible devices to find the best value for your money.

📝 Reviews: when buying this device on the Internet, pay attention to the reviews, based on which you can understand whether this machine suits you or better look for another option.
Top-4 at-home devices for cavitation treatment
MTHAT 6-in-1 Ultrasonic Slimming Massager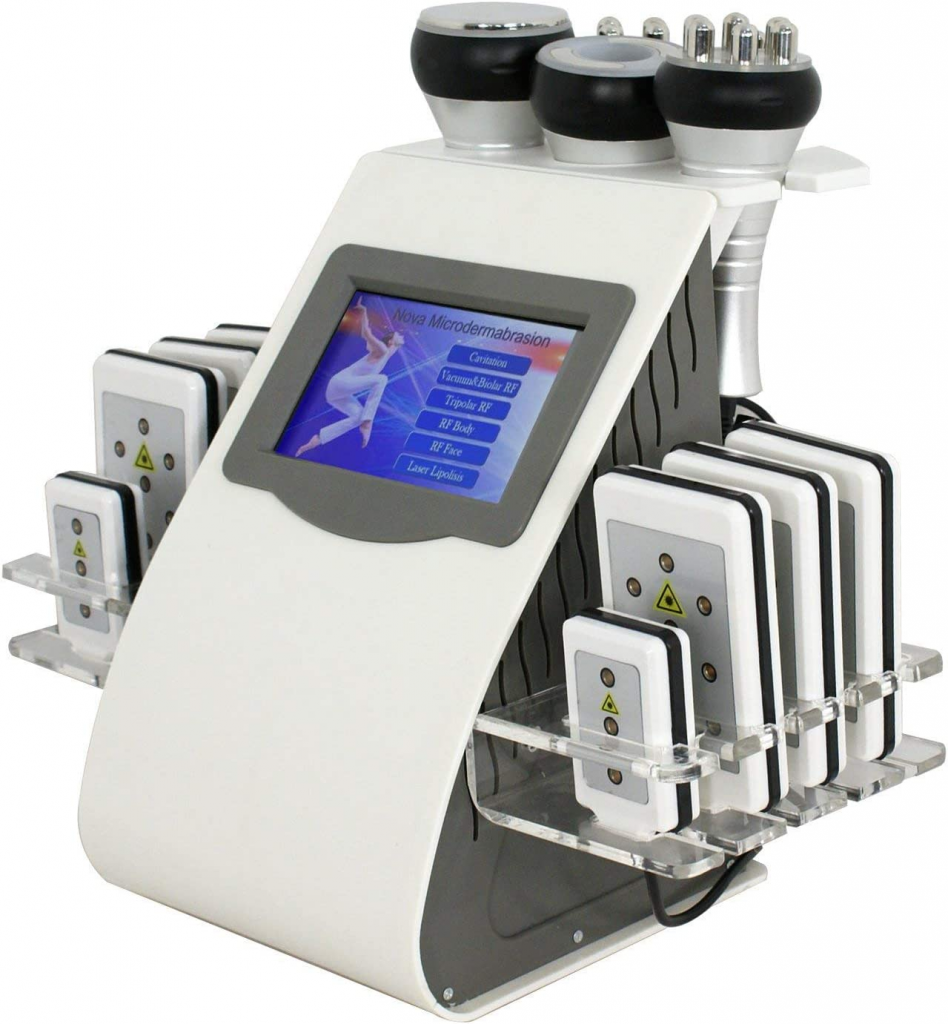 MTHAT 6-in-1 Ultrasonic Slimming Massager
MTHAT 6-in-1 Ultrasonic Slimming Massager is a professional-grade cavitation device that uses low-frequency ultrasonic waves to break down stubborn fat cells, resulting in inch loss and a more sculpted appearance.
The machine comes with 6 different attachments for various areas of the body and has 3 different modes to choose from depending on your needs. Adjustable strength and intensity allow you to use the cosmetic device on most parts of the body (stomach, buttocks, legs, knees, arms).
This device is ideal for those who are looking for a non-invasive way to tone their body. It is also great for those who are looking for a way to reduce the appearance of cellulite thanks to a special attachment. Also, it is easy to use, requires little recovery time, and no interruption to your daily life and work.
However, if you also want a treatment for your face, check out the Fazjeune Multifunctional Machine, which, due to its intensity settings, is suitable for sensitive facial skin.
Fazjeune Multifunctional Body and Facial Beauty Machine
Fazjeune Multifunctional Body and Facial Beauty Machine
Best body and face tightening device
The Fazjeune multifunctional machine is a professional beauty device that can be used for face and body care. It uses high-frequency ultrasonic vibrations to:
Cleansing the skin, removing dead cells, and improving blood circulation. It also has a heating feature that can help open pores and increase product absorption. This is the only product on our list that is safe to use on the face and receive an effective treatment.
Body tightening and volume reduction thanks to ultrasound, which breaks down fat deposits, improves metabolism, and increases collagen production. And the presence of a massage head helps to increase the elasticity and firmness of the skin.
This machine is safe and easy to use, making it a great choice for both home and professional use. And a 1-year warranty allows you to test the product and see if it suits you.
Enshey body sculpting machine
Enshey body sculpting machine
Best device for cellulite treatment
The Enshey Ultrasonic Body Sculpting Machine is an innovative weight loss equipment that uses ultrasound to break down fat cells, which can then be metabolized in the body.
The device is effective for people who want to lose a few inches from their waist, as well as get rid of cellulite. According to users, it is also a lifesaver for postpartum recovery, due to 5 levels of intensity that person can adjust based on their condition. And the head size is ideal for most problem areas.
Also, the device is not very large, which allows it to move around, unlike the MTHAT 6-in-1 Body Slimming Massage Machine and Fazjeune Multifunctional Body and Facial Beauty Machine, which are considered to be more stationary devices.
BaiYoug 3-in-1 ultrasonic fat loss machine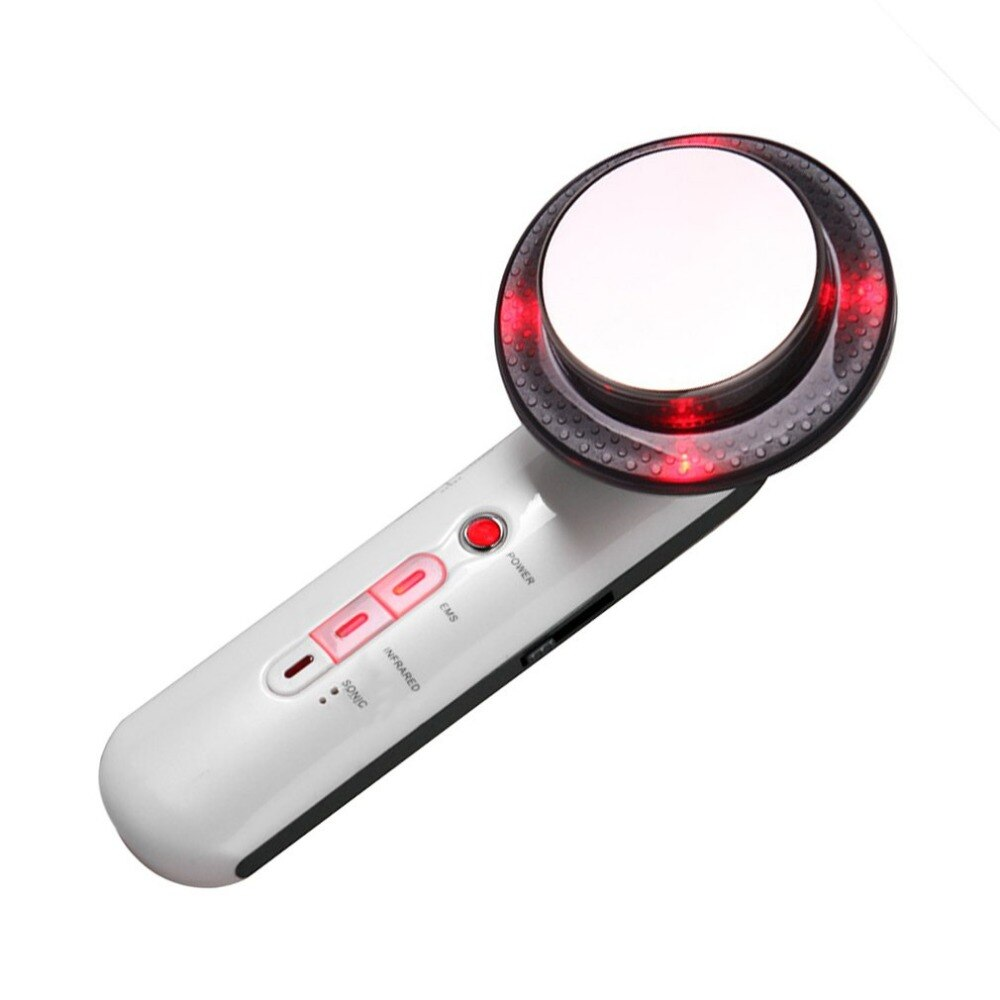 BaiYoug 3-in-1 ultrasonic fat loss machine
Best treatment for the go
The BaiYoug 3-in-1 Ultrasonic Slimming Machine is a non-invasive and painless procedure that combines ultrasonic waves with infrared light to target stubborn fat cells to make the body more fit and firm.
The device comes with three different intensity modes for various areas of the body and can be used on the abdomen, thighs, and arms. Also, due to infrared technology, you can improve your well-being by reducing pain and muscle spasm. This is the only device on our list that offers this benefit.
Unlike large cavitation machines such as Fazjeune Multifunctional Body and Facial Beauty Machine, this device is the most compact and, due to its lightweight, allows you to treat any part of the body without requiring additional assistance. You can also take it with you on the go, which allows you to not interrupt treatment even if you are not at home.
However, if you're looking for a more versatile device, check out the MTHAT 6-in-1 Body Slimming Massage Machine, which can be used on a variety of body parts (including shoulders and neck, where the skin is more sensitive).
Before and after results
Ultrasonic cavitation machines are one of the latest technologies for non-invasive body contouring that offers patients an alternative to liposuction and other more aggressive procedures.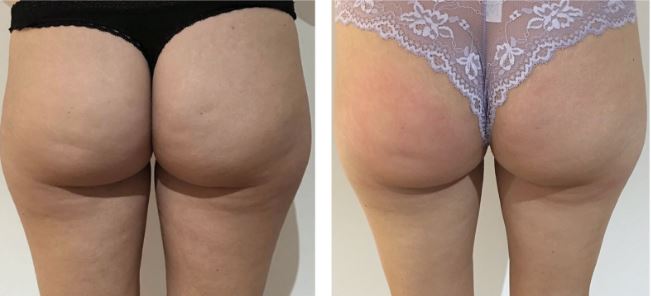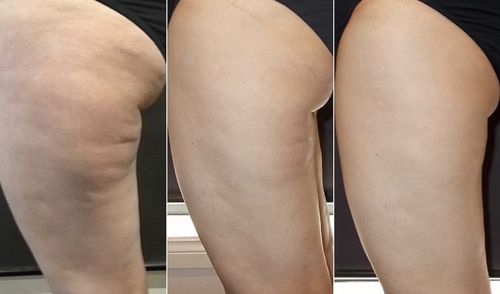 How to use a cavitation machine
Cavitation sessions at home are a common practice that many women prefer to get rid of cellulite and tighten the body. However, only proper use can give noticeable results and avoid unwanted side effects.
Below we'll share tips on how to prepare for a cavitation session, what to expect from the process, and how to care after treatment.
Preparation
Before cavitation treatment, you should follow some rules that will help you have a better session and speed up the results.
Stick to a diet low in fat and carbohydrates as well as try to drink 2 liters of water the day before your procedure. This will help cleanse your body and prepare it for treatment.
To maximize the effectiveness of your treatment, avoid coffee a few days before your session, as it encourages dehydration.
Also, don't drink alcohol two or three days before the session, as it slows down the metabolism and elimination of toxins from the body.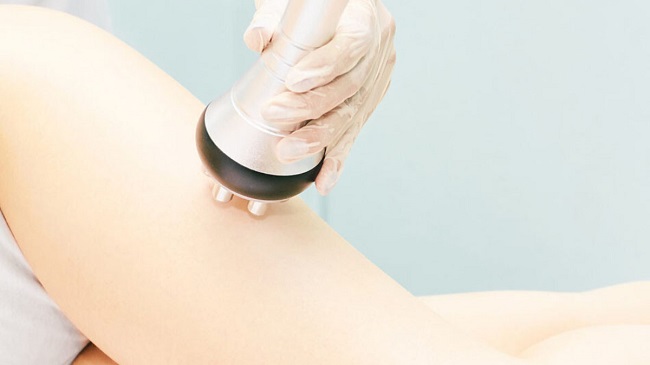 What to expect during the procedure
Cavitation at home can be exhausting, but it is very effective. Below we have put together a plan that you can follow to get the most out of your treatment.
Take a comfortable position in which you can conduct a session.
Before the procedure, apply the gel to the treated area. It will help ultrasonic waves to penetrate into the deeper layers of the skin.
Also, adjust the power of the device. Different parts of the body need different levels of energy.
The most sensitive are the arms, so for them, it is worth starting from low settings. For the stomach and legs, you can use medium and high settings to see the results.
Move the device evenly in small circles over the treated area of ​​the body.
Most treatments last from 30 minutes to 1 hour. You may notice a feeling of warmth or tingling during treatment, but this is normal and should disappear shortly after treatment is completed.
Aftercare tips
Immediately following your treatment, you will be able to return to your normal activities. There is no recovery time required, and you can expect to see results within a few weeks. It is important to maintain a healthy lifestyle after your treatment to achieve the best results, namely:
💧 Consuming a lot of water
Drink at least 1.5-2 liters of water a day to speed up metabolism and dissolve salts stagnant in the body. It also has a great effect on overall well-being, moisturizes the skin, and, importantly, reduces appetite.
In addition, you can not drink alcohol before and after the procedure, as it slows down the metabolism and the removal of fluid from the body.
🥗 Diet food
After a cavitation session, the doctor recommends eating lighter food more often, which is more quickly digested and does not weigh down the stomach. The body has already suffered stress when using cavitation, so there is no need to load it once again.
🏃‍♀️ Minimal physical activity during the day
Working out or walking for 30 minutes a day will help speed up your metabolism and reduce swelling after the cavitation procedure. Minimal physical activity also helps restore muscle tone, which affects the tightening and elasticity of the skin.
🧘‍♀️ Lymphatic massage
After each cavitation procedure, you should also undergo a massage session to stimulate lymphatic drainage, which helps to remove fat deposits from the body. Failure to follow this rule can negate all the results of the technique. It can be both manual massage and with the help of devices.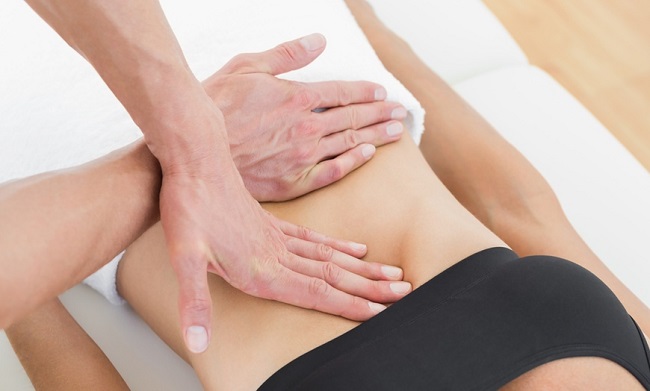 Effectiveness of ultrasonic cavitation for fat reduction based on scientific research
Ultrasonic cavitation is a relatively new treatment, and more research is needed to confirm its efficacy and safety. However, initial studies suggest that ultrasonic cavitation may be an effective way to reduce localized fat deposits.
The study [1] involved 46 people (8 men, 38 women) with noticeable overweight. There were three sessions of ultrasonic cavitation in total. As a result, all patients in the study showed a significant reduction in fat in the treated area, as measured by ultrasound and visibly. No side effects were noted during the treatment and, in general, all participants were satisfied with the final result.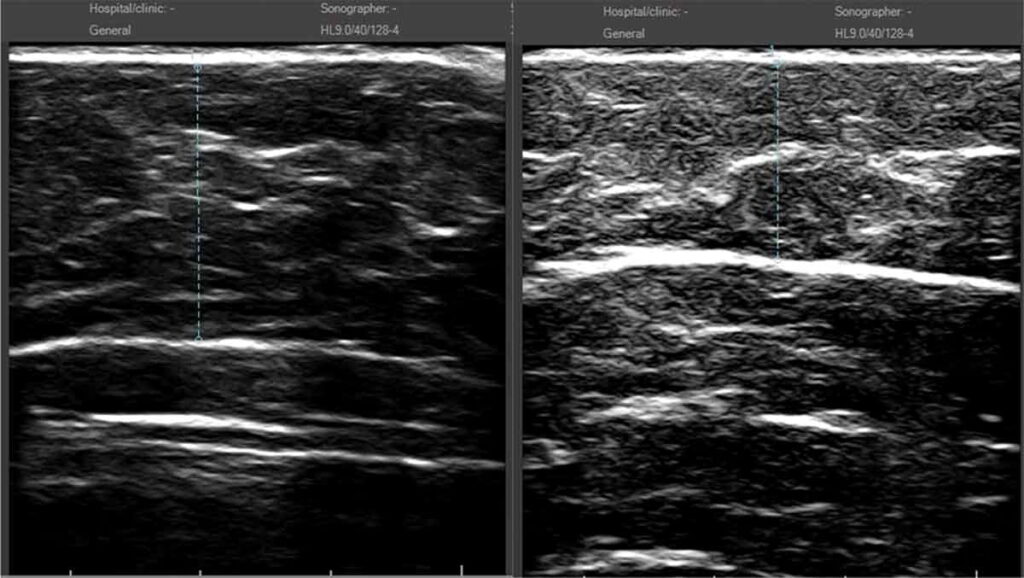 The following study [2] confirms the effectiveness of cavitation treatment in reducing body fat. A total of 30 patients took part, who had three procedures with an interval of 1 month and were followed up for 1 month after the last one. The result was a significant reduction in fat in the treated area in all patients. On average, the circumference decreased by 1.99 cm.
The next study [3] examined the efficacy and safety of combined technology (ultrasound cavitation + infrared therapy) in terms of fat reduction and overall skin tightening. A total of 35 patients took part, who received one treatment per week for 6 weeks in the abdomen/flank, buttocks, or thighs. As a result of the study, body fat decreased by an average of 29%. Patients had positive feedback from the treatment and 97% of them were satisfied with the results.

The latest study [4] included 29 patients: 19 of whom were treated for laxity and localized arm fat, and 10 subjects — for the overweight in the abdomen and flank areas. As a result, the change in arm circumference showed an average decrease of 0.6 cm. The decrease in abdominal fat was also significant, averaging 1.25 cm.
Studies have shown the effectiveness and safety of ultrasound as a non-invasive method for reducing unwanted body fat. Multiple treatments combined with a diet suitable for the patient can lead to a significant improvement in body contours.
Is ultrasonic cavitation safe?
Ultrasonic cavitation is a non-invasive and relatively painless fat reduction treatment. It is safe for most people, but there are some potential side effects to be aware of.
Skin irritation is the most common side effect of ultrasonic cavitation. This can occur if the ultrasound gel used during the treatment is not applied properly, or if the person being treated has sensitive skin. If you experience skin irritation, it should go away within a few hours.
Bruising is another potential side effect of treatment. This can happen if the ultrasound waves target a blood vessel and cause it to rupture. The bruise will usually heal on its own within a few days.
You may also feel numbness. This can happen if there is inflammation or destruction of the outer layer of the nerves. The numbness should go away on its own within a few hours.
If you experience any of these side effects and they do not go away for a long time, contact your doctor.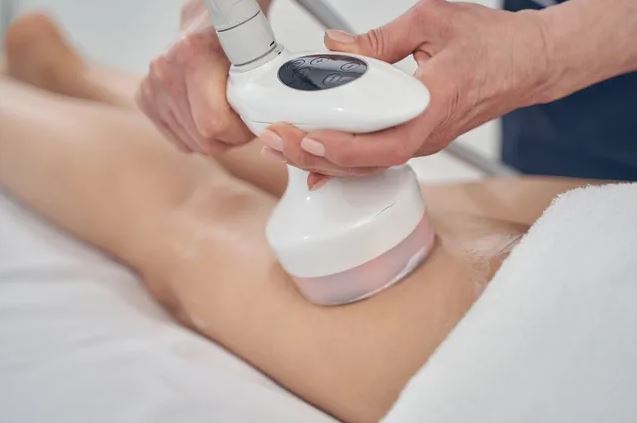 The verdict
Ultrasonic cavitation is a form of cosmetic procedure in which fat deposits are destroyed using ultrasonic waves. This method is a safe alternative to liposuction, however, it should be noted that it will be effective if you want to get rid of a lot of fat and for those who are obese.
The procedure can be done on the following parts of the body:
– Stomach
– Back
– Hips
– Buttocks
– Legs
– Arms.
Considering that this is a non-invasive method, it can be carried out at home. Therefore, if you did not find time to visit the salon or because of the big risks from surgical methods, ultrasonic cavitation is a great option to model and tone your body in a simple way without leaving home.
FAQ
📌 Is ultrasound cavitation safe?
Cavitation is generally considered to be safe when it is performed correctly. However, there are some potential side effects that you should be aware of, such as skin irritation, bruising, and swelling.
🔍 How long does it take for ultrasound cavitation to work?
The results of cavitation can vary depending on the individual, but most people see a reduction in fat within 2-4 treatments.
💸 How much does cavitation cost?
If you are treated in a clinic, most people can expect to pay between $200 and $500 for treatment. However, to save money and time, you can purchase a home device that is not inferior in effectiveness to a professional one.
References
Michael H Gold, W Patrick Coleman, William Coleman, Robert Weiss. A randomized, controlled multicenter study evaluating focused ultrasound treatment for fat reduction in the flanks. — J Cosmet Laser Ther. 2019;21(1):44-48. DOI: 10.1080/14764172.2018.1444778. Epub 2018 Mar 13.
J Moreno-Moraga, T Valero-Altés, A Martínez Riquelme, M I Isarria-Marcosy, J Royo de la Torre. Body contouring by non-invasive transdermal focused ultrasound. — Lasers Surg Med. 2007 Apr;39(4):315-23. DOI: 10.1002/lsm.20478.
Maurice A Adatto, Robyn M Adatto-Neilson, Grietje Morren. Reduction in adipose tissue volume using a new high-power radiofrequency technology combined with infrared light and mechanical manipulation for body contouring. — Lasers Med Sci. 2014 Sep;29(5):1627-31. DOI: 10.1007/s10103-014-1564-x. Epub 2014 Apr 1.
Lori Brightman, Elliot Weiss, Anne M Chapas, Julie Karen, Elizabeth Hale, Leonard Bernstein, Roy G Geronemus. Improvement in the arm and post-partum abdominal and flank subcutaneous fat deposits and skin laxity using a bipolar radiofrequency, infrared, vacuum and mechanical massage device. — Lasers Surg Med. 2009 Dec;41(10):791-8. doi: 10.1002/lsm.20872.