Your Guide To NuFace: Before & After Results, Effectiveness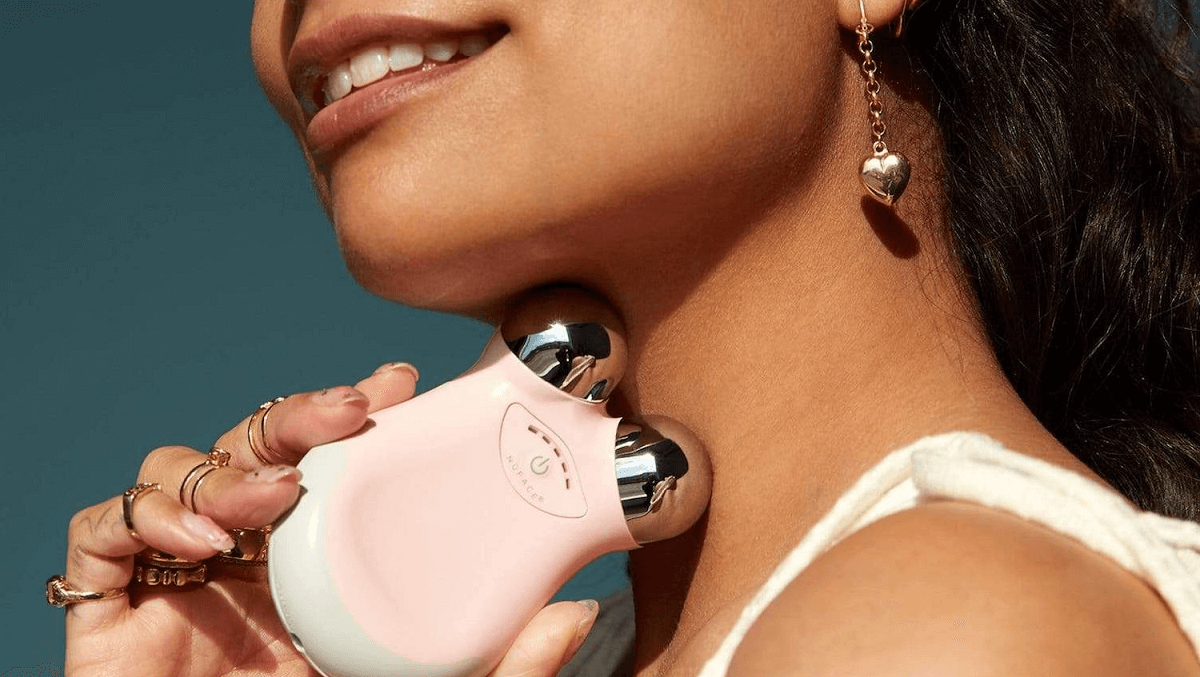 NuFace has gained popularity in the realm of skincare and beauty, offering a convenient way to enhance facial contours, tone, and firmness. But what exactly can you expect from using these devices? Are the before and after results truly noticeable with NuFace? We will address these queries and more as we explore this technology.
Furthermore, we understand that it can be overwhelming to navigate the world of beauty devices without proper guidance. That's why we have also included a detailed step-by-step usage guide to maximize the benefits of NuFace. So, let's start!
What Is The NuFace Device?
The NuFace is a brand that produces handheld facial devices to provide a non-invasive, at-home treatment for improving the appearance of the skin. And microcurrents help in this.
Microcurrent technology involves sending gentle waves of energy through the skin to stimulate the facial muscles.
These waves mimic the body's natural ionic flow. Just like how electricity powers devices, our body needs this ionic flow to function properly. It helps in the interaction between cells, enables muscles to contract and relax, and assists in other essential processes.
This mimicry has been found to have positive effects on our cells, including an increase in the concentration of ATP (adenosine triphosphate). It is like fuel for our cells, providing the energy they need to perform their tasks effectively. At the same time, microcurrents promote protein synthesis and enhance the transportation of amino acids.
As we age, the skin's ability to produce protein fibers diminishes, leading to various signs of aging. By increasing ATP production and promoting the activity of cells, the NuFace device helps to energize and tone the facial muscles.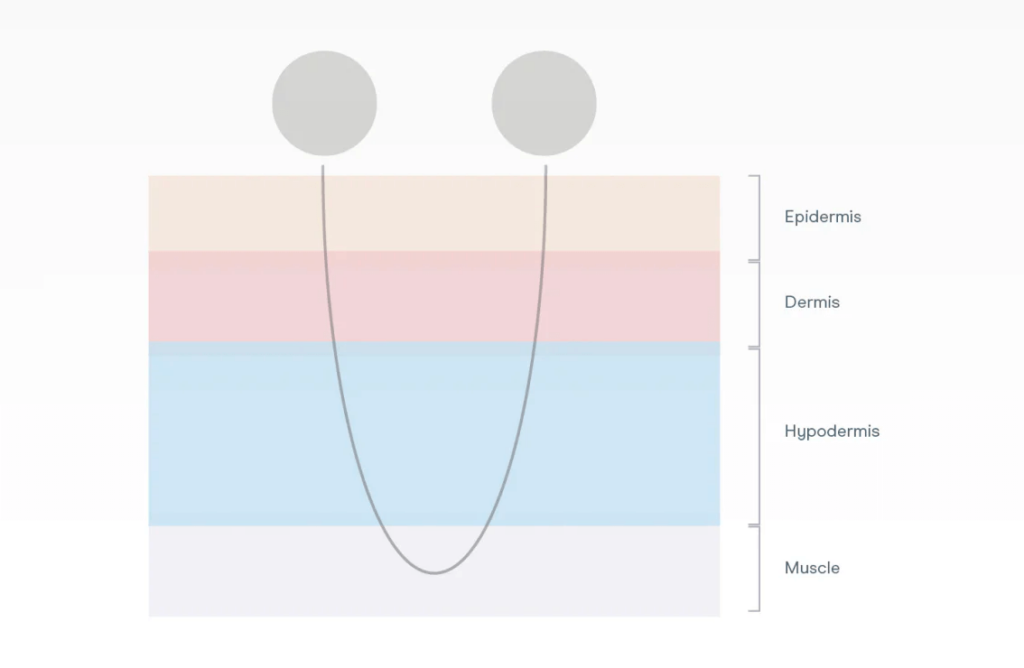 At the moment, the most popular devices of the brand are NuFace mini, NuFace Trinity, and their upgraded models, as well as NuFace Fix.
The NuFace Mini is a compact and portable microcurrent device designed for on-the-go use. It provides a quick and easy treatment for toning and lifting facial muscles, reducing the appearance of fine lines and wrinkles.
The Mini is a great option for beginners or those looking for a more affordable option.
The NuFace Trinity facial toning device is a professional-grade microcurrent tool that offers advanced treatment capabilities. It provides enhanced facial toning and lifting results and is often used by skincare professionals.
The Trinity also has interchangeable attachments for targeting different areas (lips, eyes) and comes with additional features compared to the Mini.
The NuFace Fix is a compact and portable microcurrent device specifically designed for targeting fine lines and wrinkles around the eyes, lips, and forehead. It has similar advantages to the Mini device but is not as powerful (335 microamps vs 200 microamps). It means that the NuFace Fix has a slightly milder effect compared to the other model.
The Fix is ideal for quick touch-ups or specific problems, while the Mini is perfect for full-face treatment.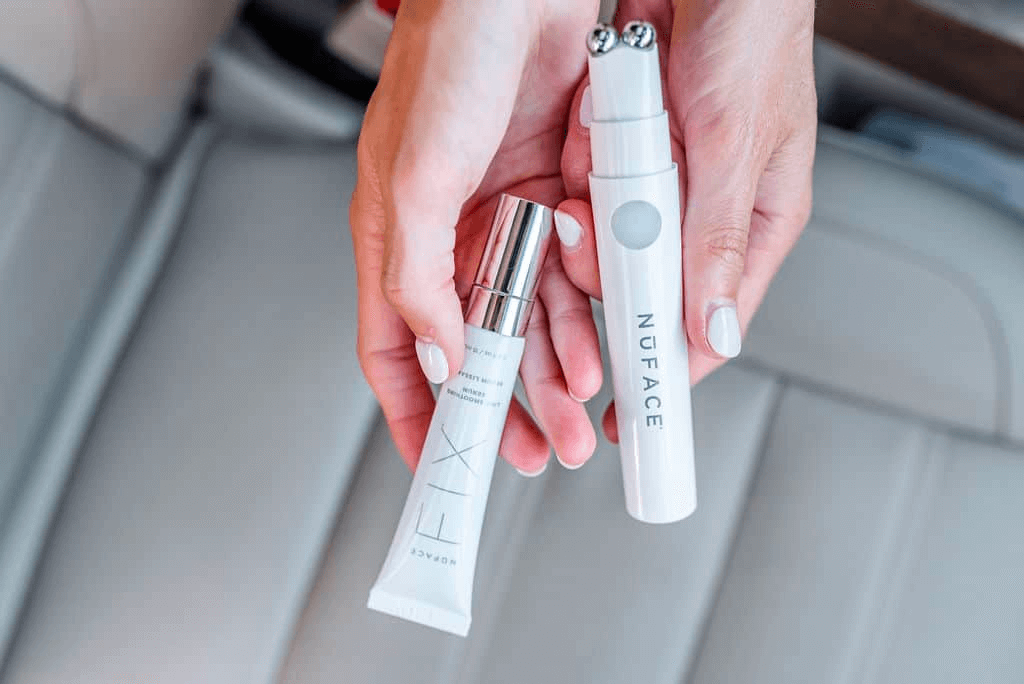 Upgraded Models:
The NuFace Mini Plus is an upgraded version of the Mini, offering additional power and performance. It provides more noticeable and long-lasting results compared to the Mini device.
The upgraded version is designed with even more microcurrent power (25% more) and an ergonomic design to elevate the client experience and optimize results. Also, the Trinity Pro features a water-resistant shell since users often store their devices in a humid environment. It helps to protect the device and maintain its performance and longevity.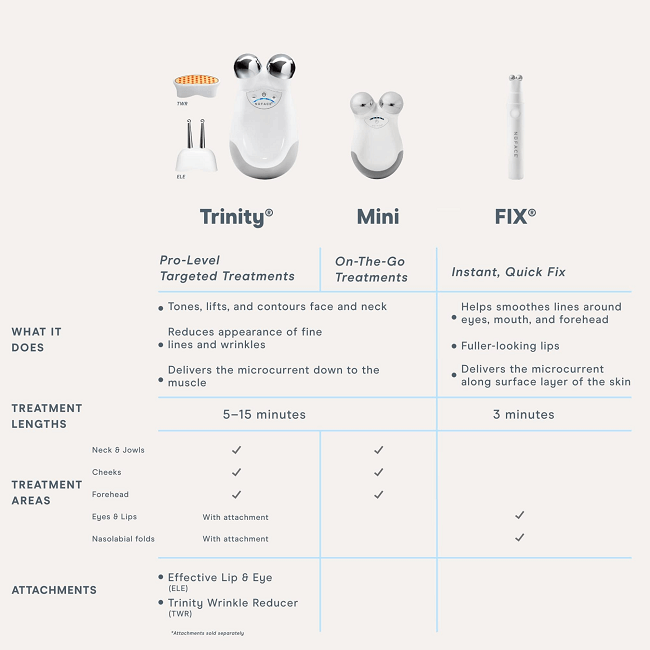 Ziip is another microcurrent device that has proven effective for skin care. We have compared
Ziip vs. NuFace
in terms of their features, benefits, as well as results and are ready to share our findings with you.
Does NuFace Really Work? The Science Behind It
If you find yourself curious about the effectiveness and science behind NuFace devices, it's time to delve into the research. By exploring the scientific evidence, we can determine whether it truly has the potential to deliver the desired results.
A study [1] published in the British Journal of Dermatology indicated that as we age, our skin experiences a gradual decrease in collagen levels, typically diminishing by approximately 1% per year.
Scientific research has demonstrated the remarkable impact of microcurrent technology on the skin, specifically in terms of elastin production and collagen thickness.
Studies [2] have indicated that microcurrent treatments can increase elastin production by 45% and enhance collagen thickness by 10%. These findings have garnered significant praise for the effectiveness of such a method in reducing the appearance of fine lines and wrinkles.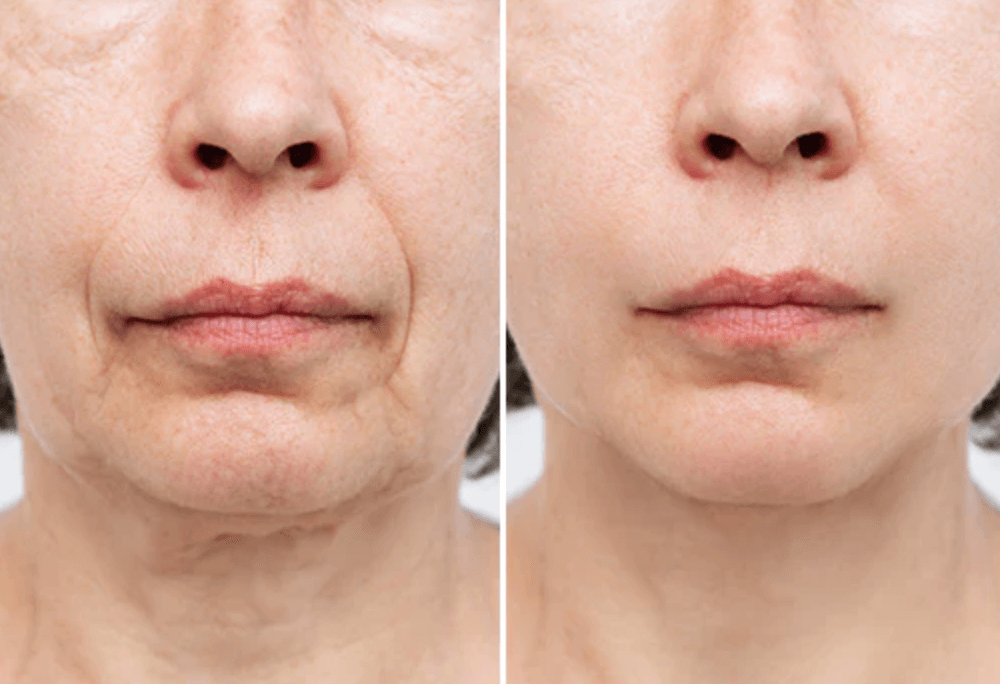 Another study [3] has confirmed the effectiveness of microcurrents in combating anti-aging changes. The result showed an improvement of about 18.37% in the first stage (before and after treatment) and 21.18% in the second stage (after treatment and a month later). Outcomes in wrinkle reduction were noted in the area near the forehead, mouth, and nose.
In addition to its ability to boost collagen production, microcurrent therapy also provides the benefit of increasing blood circulation to the face [4]. This has a positive impact at the cellular level, leading to improved nutrient and oxygen supply to the skin. As a result, individuals can enjoy a more radiant and healthier complexion.
📌 The verdict:
The scientific evidence suggests microcurrent technology has the potential to deliver desired results in terms of improving skin appearance.
Studies have shown that microcurrent can increase elastin production, enhance collagen thickness, and improve blood circulation to the face. These effects can lead to a reduction in the appearance of fine lines and wrinkles, as well as a healthier complexion.
NuFace Before And After Results
For those considering this innovative treatment, you may be wondering what results NuFace can deliver.
By exploring the before and after results, we gained valuable insights into the potential outcomes can expect and want to share them with you.




Customer Reviews
When it comes to making a purchase decision, particularly when investing in a new device, it has become a common practice for individuals to thoroughly examine customer reviews.
In gathering information, we turned to the official website of NuFace to access reliable and authentic customer reviews.
"The NuFace Trinity Pro is hands down the best investment I've made for my skin. This device takes my at-home facials to the next level. The head allows me to target different areas of my face effectively.

After just a few weeks of regular use, I've noticed a significant improvement in the overall texture and tone of my skin. The device is easy to use, and the results are noticeable. However, it's a bit pricey, but considering the quality and results, it's worth every penny."
— Emma, NV (about NuFace Trinity Pro)
"The NuFace Mini Plus has become an essential part of my skincare routine. I upgraded from the previous Mini model, and I'm impressed with the enhancements. The microcurrent pulses are more powerful, delivering even better results in terms of lifting and firming. I also appreciate the new, sleek design. The only minor drawback I've experienced is that the gel primer can run out relatively quickly, but it's easy to reorder and not a major issue."
— Kate, MD (about NuFace Mini Plus)
"The NuFace Mini has become my go-to anti-aging tool. I was skeptical at first, but after just a few weeks of consistent use, I'm a believer. The microcurrents work wonders in tightening and firming my skin, particularly around my jawline and cheeks.

The device is compact, making it easy to incorporate into my daily routine. I appreciate the simplicity of the design, and the battery life is impressive."
— Chloe, IA (about NuFace Mini)
"I recently started my journey with microcurrent technology, and the NuFace Mini Starter Kit was the perfect introduction. The kit includes a device and a supply of gel primer. I've been using it consistently for a few weeks now, and I can already see a difference in the appearance of my skin. It feels tighter and more lifted, giving me a youthful glow. The device is incredibly easy to use, and the instructions provided were clear and helpful."
— Scarlett, CT (about NuFace Mini Starter Kit)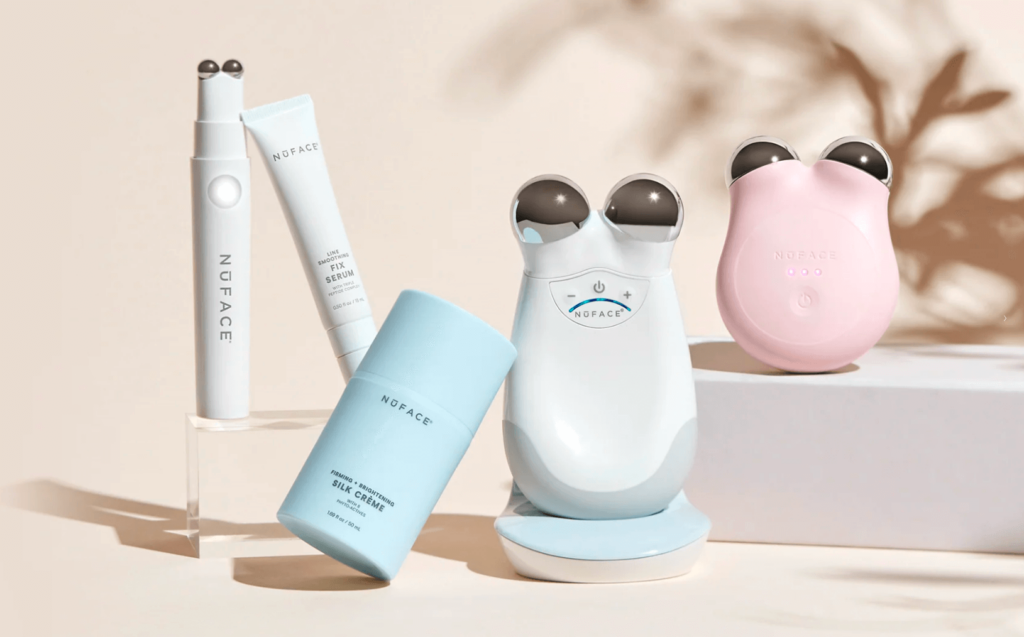 How To Use: Step-By-Step Tutorial
Understanding the correct use of the device is critical to ensure optimal results and safe experience.
So, let's delve into the detailed step-by-step on how to use the NuFace device.
Step 1: Cleanse your face
As with any treatment, start by thoroughly cleansing your face to remove any makeup, dirt, or oil.
Step 2: Apply conductive gel or primer
To improve conductivity and ensure good contact between the NuFace device and the skin, apply a small amount of gel or primer to the area to be treated. This helps the device glide smoothly and makes the treatment more effective.
🚨
DO NOT use the device without gel or serum.
Step 3: Turn on your device
Find the power button on your NuFace device and turn it on.
Models of this brand have a single button that you need to press and hold to turn it on and off.
Step 4: Start your session
Place the device on the treated area of the face. The spheres should touch your skin.
You can start with one area at a time, such as the cheeks, forehead, or jawline. The device should be in constant contact with the skin, and the movements should be smooth and continuous. Avoid excessive pressure or pull on the skin.
Repeat each slide several times, usually three to five times, before moving on to the next area.
💡
Also, on the official website, you can find treatment programs with videos, depending on your model (NuFace Mini/Mini +, NuFace Trinity/Trinity +) and problem zone.
Remember to treat both sides of the face equally to maintain symmetry and achieve balanced results.
Step 5: Turn off the device and clean it
After completing the procedure, turn off the device, clean the spheres, and store it in a cool and dry place.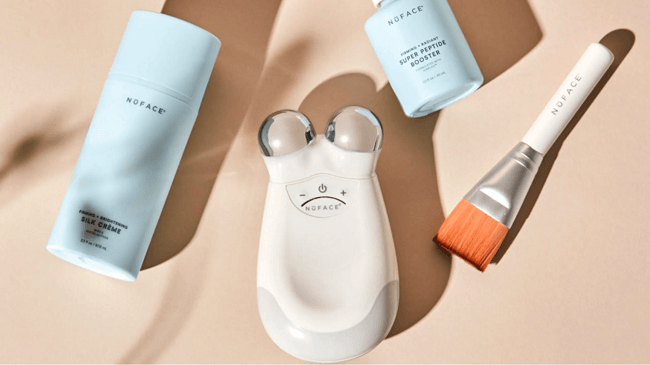 How Long Do NuFace Results Last?
With consistent and regular use, NuFace results can last for years.
However, in general, the effects are temporary and will gradually diminish over time if you discontinue using the device. To maintain the desired results, it is recommended to incorporate NuFace into your skincare routine on a regular basis.
In addition, for long-lasting improvements, combining treatments with a comprehensive skincare regimen that includes proper cleansing, moisturizing, and sun protection is beneficial.
Summary
NuFace presents an exciting opportunity for those seeking non-invasive, convenient, and effective ways to enhance their natural beauty. Whether you're looking to target specific areas or achieve an overall rejuvenated appearance, NuFace holds the potential to transform your skincare regimen.
In addition, to ensure success with NuFace, we have offered a step-by-step usage guide that will serve as a roadmap to achieving optimal results. However, as with any beauty device or skincare regimen, individual outcomes may vary. Patience, dedication, and consistency are essential when incorporating it into your routine. Take your time, and you'll see impressive before and after results with NuFace.
FAQ
🤔 Can NuFace get rid of a double chin?
A double chin is often caused by factors such as genetics, weight gain, or age-related skin laxity. Incorporating NuFace into your skincare routine can provide improvement, but for more significant results, you may want to consider combining it with other methods such as exercise and a healthy diet.
🔍 Are NuFace results permanent?
The results achieved with NuFace are not permanent. Regular use of the device can help maintain the outcomes over time, but if you discontinue use, the toning effects may gradually diminish.
⌛️ How long does it take to see NuFace results?
Some individuals may notice a subtle improvement immediately after their first use, while others may require several weeks of consistent use to see noticeable changes. Generally, it is recommended to use NuFace for at least 5–20 minutes per day, 3–5 times a week, for several weeks to experience optimal results.
📍 Can I use NuFace without gel?
It is not recommended to use NuFace without a conductive gel or a water-based serum. These products are essential for ensuring proper conductivity of the microcurrent and preventing discomfort during the treatment.
References
Shuster S, Black MM, McVitie E. The influence of age and sex on skin thickness, skin collagen and density. Br J Dermatol. 1975 Dec;93(6):639-43. doi: 10.1111/j.1365-2133.1975.tb05113.x. PMID: 1220811.
Elizabeth Logan; Geoffrey Ring, RN. Microcurrent Technology: Latest Trend for Improving Patient Wellness.
Saniee F, Khademi Kalantari Kh, Yazdanpanah P, Rezasoltani A, Dabiri N, Ghafarian Shirazi HR. The effect of microcurrents on facial wrinkles. — J Jahrom Univ Med Sci 2012; 10(2): 8-15.
Aleksanyan TA, Kazantsev EV. Mikrotokovaya limfodrenazhnaya fizioterapiya v posleoperatsionnom periode pri rinoplastike [Treatment with the use of microcurrent lymphatic drainage physiotherapy during the postoperative period following rhinoplastic surgery]. Vestn Otorinolaringol. 2016;81(5):50-53. Russian. doi: 10.17116/otorino201681550-53. PMID: 27876738.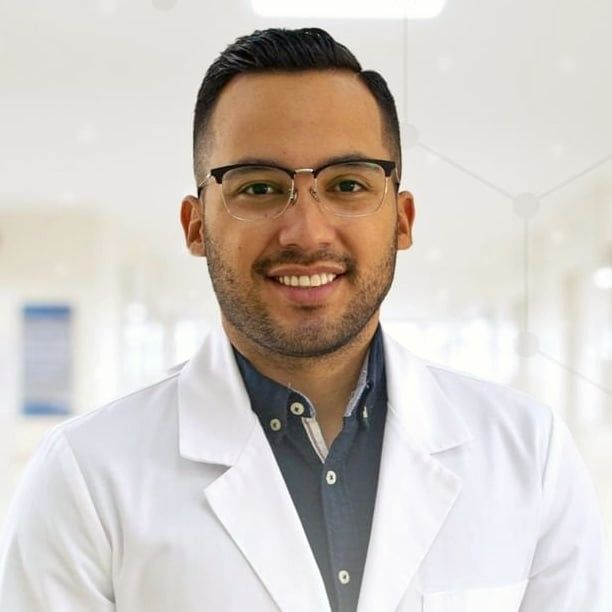 Dr. Jose Diego Mier is a board-certified dermatologist with over a decade of experience in light therapy, dermatology, and skin care. As the founder of the Heliotherapy Research Institute, Dr. Mier has dedicated his career to the study and application of light-based therapies for various skin conditions, including acne, psoriasis, eczema, and skin aging. He is renowned for his extensive research contributions, numerous publications in leading dermatology journals, and his work has been recognized with awards for excellence in research and innovation. He has been invited to speak at national and international conferences, sharing his expertise and insights on light therapy and skin care.