What Is the Best Home Tanning Lamp in 2023 and How to Use It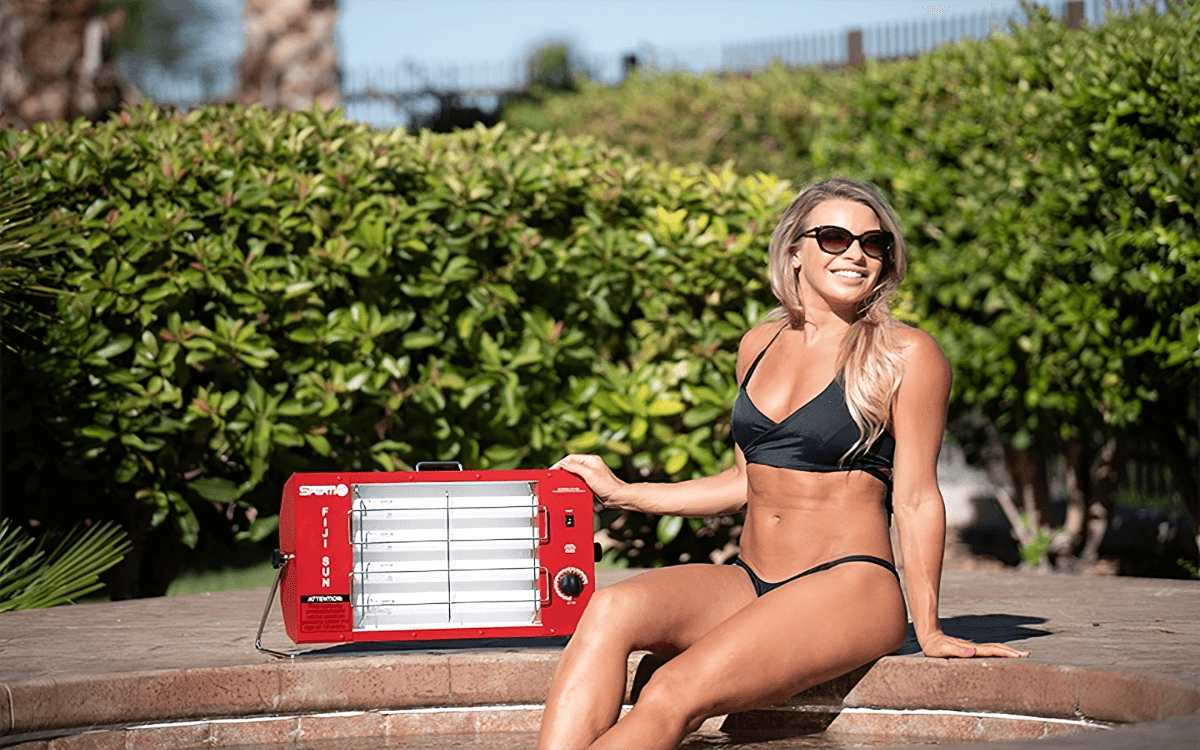 There is no shortage of confusion in the market for home tanning lamps. Why does almost anything I find on Amazon never mention "tan" in the product description? What do I do with the light bulbs they are trying to sell? And how safe are home tanning lamps really? We decided to brighten the dark spots of the industry to find all the crucial answers.
Every lamp on our list is suited for different purposes: one is designed specifically for home tanning, while the other three can be very helpful in various health conditions, from skin diseases to chronic back pains. We explain how they work, what are the health risks, and give you tips to make your home tanning safe and pleasant! We also offer an even wider selection (including an ionizing lamp) on our dedicated website.
Home Tanning Lamps: What the Market Has to Offer
After doing a thorough academic literature review, carefully studying the technical characteristics of every model, and identifying the most essential customer concerns, we are ready to offer 4 light therapy options. You can review them in the comparison table below or jump straight to detailed reviews.
Model

Features

Benefits

Sperti: Fiji Sun Tanning Lamp



Winning category:

Safest for home tanning
The type of light: 75% and 25%


Bulbs: 4 bulbs with a 1000-hour bulb life


Product dimensions: 15lbs—14' x 22' x 9'


Special features: tilting tabletop stand, 15-minute safety timer
The safest for home tanning


The only FDA-cleared tanning lamp


Lightweight and easy to move around


Comes with two pairs of necessary eye-protection glasses


7-year device warranty, 1-year bulb warranty


Jump to the detailed review


Sperti: Phototherapy Lamp



Winning category:

Best for the immune system

The type of light: 20% UVA and 80% UVB


Bulbs: 4 UVB bulbs with a 1000-hour bulb life


Product dimensions: 13lbs—22' x 12' x 6'


Special features: vertical stand, 5-minute safety timer
The most reliable lamp for vitamin D production


The easiest to use, no need to move it while using


Helps with mild skin issues


Comes with two pairs of necessary eye-protection glasses


7-year device warranty, 1-year bulb warranty


Jump to the detailed review


Beurer: Infrared Heat Lamp



Winning category:

Best against skin conditions

The type of light: red and infrared, in range from 500 nm to 2500 nm


Bulbs: Ceramic glass plate


Product dimensions: 3.5lbs—7.7' x 10.6' x 11.2'


Special features: active ventilation system, 15-minute safety timer
The most effective at dealing with skin diseases, scars, and wrinkles


The most cost-effective option on the market


Helpful at dealing with pains and inflammations


The safety timer stops the device after 15 minutes session


100% UV free, thus is cancer-free


Jump to the detailed review


Hooga: Red Light Therapy HG300



Winning category:

Best against chronic pains

The type of light: 1 to 1 combination of 660nm red, 850nm near-infrared


Bulbs: 60 individual 5W LEDs


Product dimensions: 6lbs—12.2' x 8.2' x 2.5'


Special features: Red & near-infrared power switches for customized treatment


The best results against chronic pains


The most durable construction with the longest bulb lifespan


Powerful bulbs reduce the time needed for each session


Effective at dealing with tissue inflammation


Comes with a pair of eye protection glasses, a hanging kit, and a door mount


Jump to the detailed review

❗
Hooga
brand focuses specifically on red light therapy. They have developed several innovative product series, and if you are curious about how good they are, check out our recent article!
Does Home Tanning Really Work? The Scientific Verdict
The tanning industry is surrounded by myths and misconceptions. Some of it is due to vague (or even false) marketing or misunderstanding of intricate scientific research. So let's finally figure out what tanning lamps can and can't do:
Home tanning lamps can give you a solid tan. When the sunlight reaches your skin, two things happen. First, the existing pigment becomes darker ( is responsible for the change). Second, the new melanin is produced (this is because of ). Tanning achieved with UVB lasts much longer and is healthier[1]. This is exactly why Fiji Sun by Sperti tops the market—its UVB level is greater than the competitors' and even the sunlight's.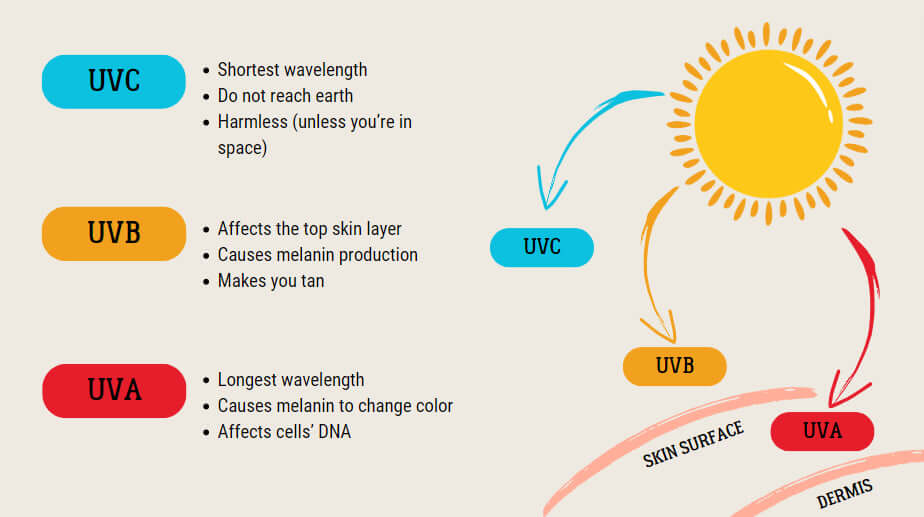 A tanning lamp won't give you enough vitamin D. Despite all the marketers' efforts to find a link between tanning and healthy vitamin D levels—it is just not there! Vitamin D deficiency is real, however, and it is indeed a serious problem. In fact, studies quoted a shocking 41%[2] frequency level of vitamin D deficiency among the US population. The good news is that there are ways of dealing with it, including Sperti's other innovation—a Phototherapy Lamp.
Tanning lamps might help against skin diseases, but they are not the most reliable way to go. Red light devices by Beurer and Hooga are very effective with many skin conditions. On a side note, Sperti offers a separate device to deal with psoriasis, but it requires a medical prescription and thus is not available on Amazon.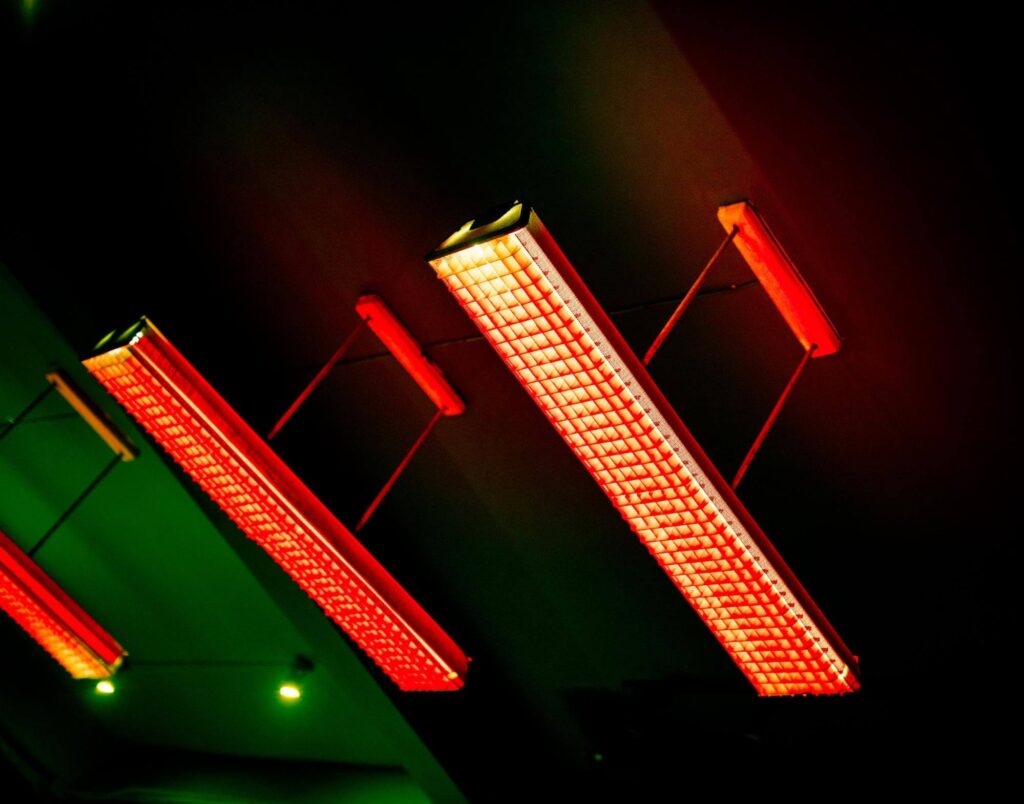 We decided to put red light therapy options next to an actual tanning lamp not only because people confuse their function often but also because a red light device can help you with health issues you intend to solve with home tanning, in case tanning itself is not your primary goal. The range of health benefits is astonishing: from wrinkle reduction to improved hair growth. Our website has a separate section about this topic, so don't hesitate to check it out! And now, let's review each device in greater detail.
A Closer Look: Detailed Reviews of the Brightest Options
Fiji Sun by Sperti: Safest for Home Tanning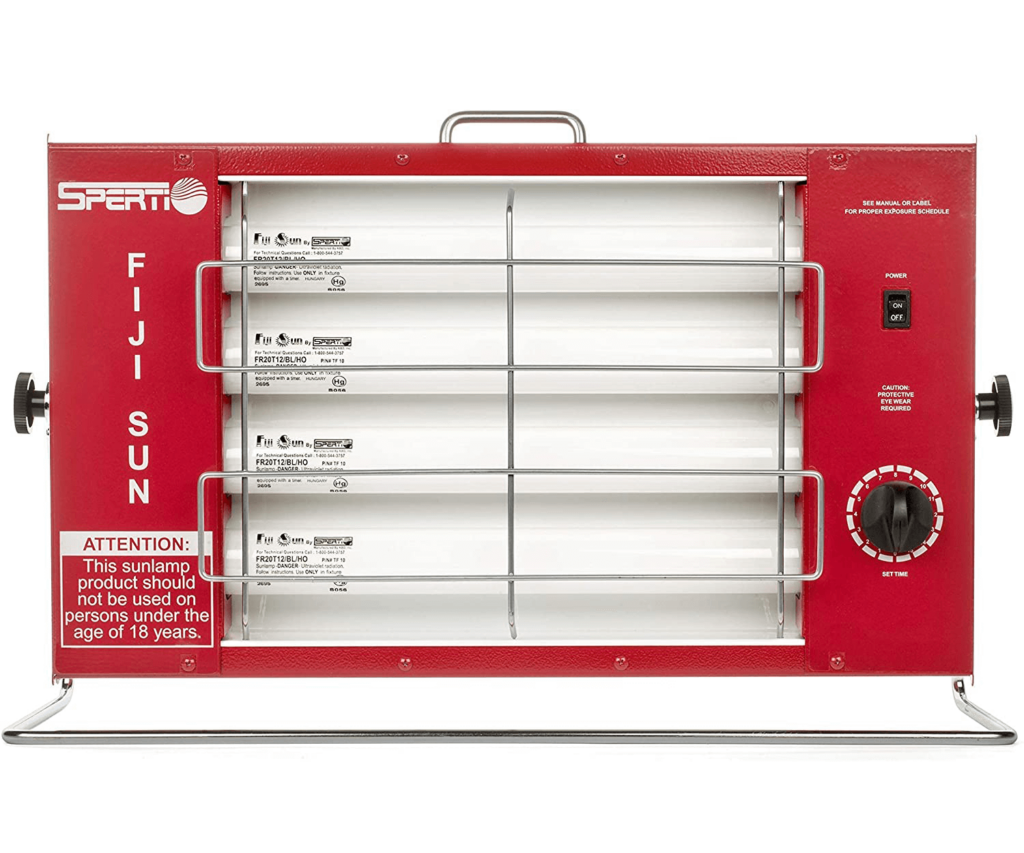 Winning Category: Safest for Home Tanning
Pros
The safest for tanning, thanks to the best
to ratio
The only tanning lamp on the market that complies with
regulations
Lightweight and portable
Comes with two pairs of necessary eye-protection glasses
7-year device warranty, 1-year bulb warranty
Cons
Is not suited to increase vitamin D level
Covers a rather small area
Safety is a top concern in the tanning industry, and this is where Fiji Sun is miles ahead of its competitors. It is FDAFood and Drug Administration-approved and can be used as a face tanning lamp thanks to Sperti's lightbulbs that keep the UVA level low (only 75%, while most other tanning lamps have it at 95% or higher). The lamp is not heavy, but be ready to move it around a bit to cover the whole body. If you are trying to keep a nice skin color throughout winter or prepare yourself for a summer vacation—it is the best option. However, unlike the other devices, this lamp is not suited for increasing the vitamin D level or helping with health conditions. You can also find a couple of alternative health options here.
A type of comment we see very often in buyers' reviews is that the lamp is much more powerful than it looks. This one comes from Amazon.
"The first time, I decided to use this with a 10-minute timer. And it got me a pretty good burn! My mistake, though, the instructions suggested breaking a 10-minute session into 5-minute segments. Knowing my usual reaction to the sun and previous tanning bed experience, I thought there would be no way this little thing would produce visible results at first use. But it did! Since then, I've applied SPF before every use. Just hope it won't be too difficult to replace the bulbs when the time comes."
—J. Rogers, WA
Phototherapy Lamp by Sperti: Best for the Immune System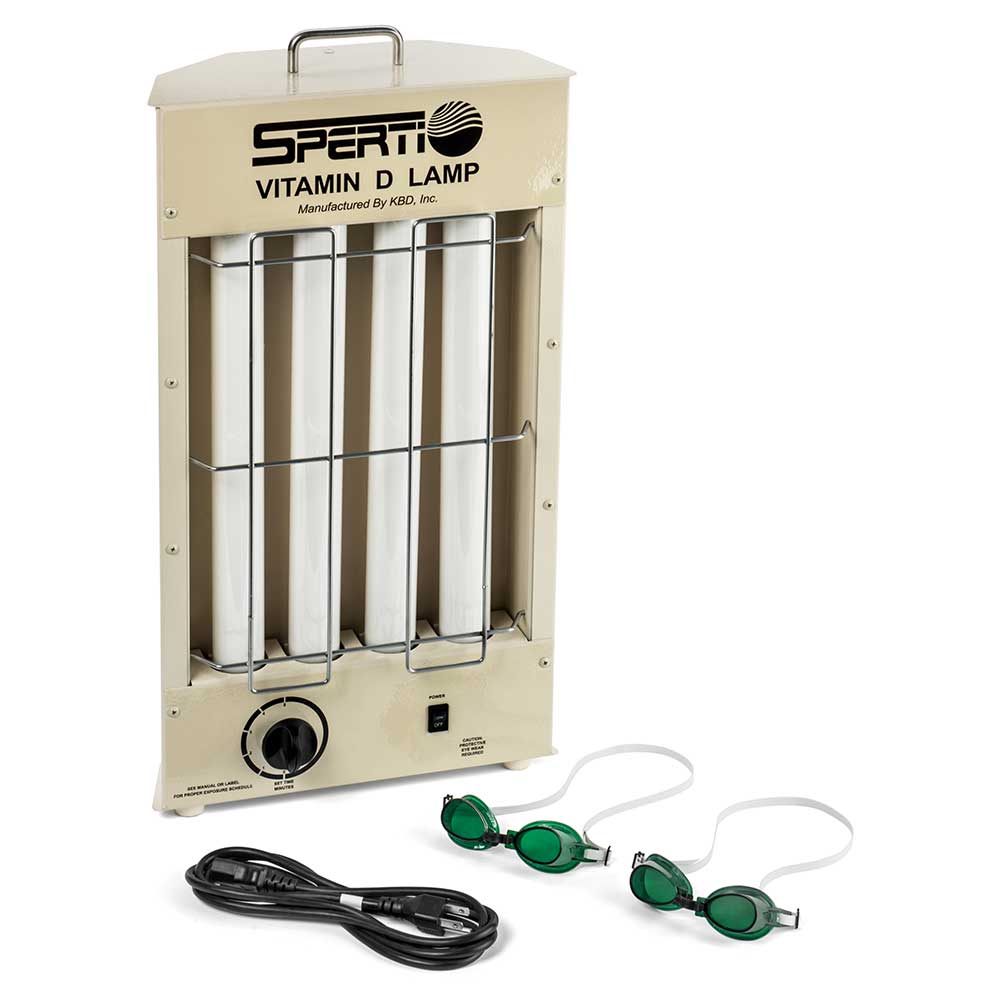 Winning Category: Best for the Immune System
Pros
The most reliable,
option to increase vitamin D level
The most effortless use, you don't need to move it all while in action
Customers report improvements with their acne and skin inflammations
Comes with two pairs of necessary eye-protection glasses
7-year device warranty, 1-year bulb warranty
Cons
Significant upfront cost compared to dietary supplements, but pays for itself in the long-term
The timer feature is useful, but its sound is too loud
Made by the same manufacturer as the previous option, the Phototherapy lamp was designed with a specific goal—to help people with vitamin D deficiency improve their health. According to the reviews, it achieves its goal quite well. Many customers reported increased vitamin D levels, better overall well-being, and, sometimes, improved skin conditions. It shares a similar design and helpful features with the previous model: a useful timer and protective goggles. But if you are looking for a more reliable way to treat skin issues and chronic pains, Beurer and Hooga will do better.
Customer reviews from Amazon praise the vitamin D changes most often:
"Although the lamp is a bit expensive, I decided to give it a try. I am genetically predisposed to vitamin D insufficiency. While we see lots of sun throughout the spring and summer, I don't get enough sun exposure during the winter. I monitor my vitamin D level after the winter each year. In February, (before the purchase) my vitamin D level was at 29. I didn't make any changes to my diet throughout the year. I also didn't take vitamin D in supplement form and used the same lab testing company to ensure consistency. I simply used the Sperti's lamp 4–5 days a week for 5 min and in March my vitamin D level surged to 46!"
—Karen, OH
Infrared Heat Lamp by Beurer: Best Against Skin Conditions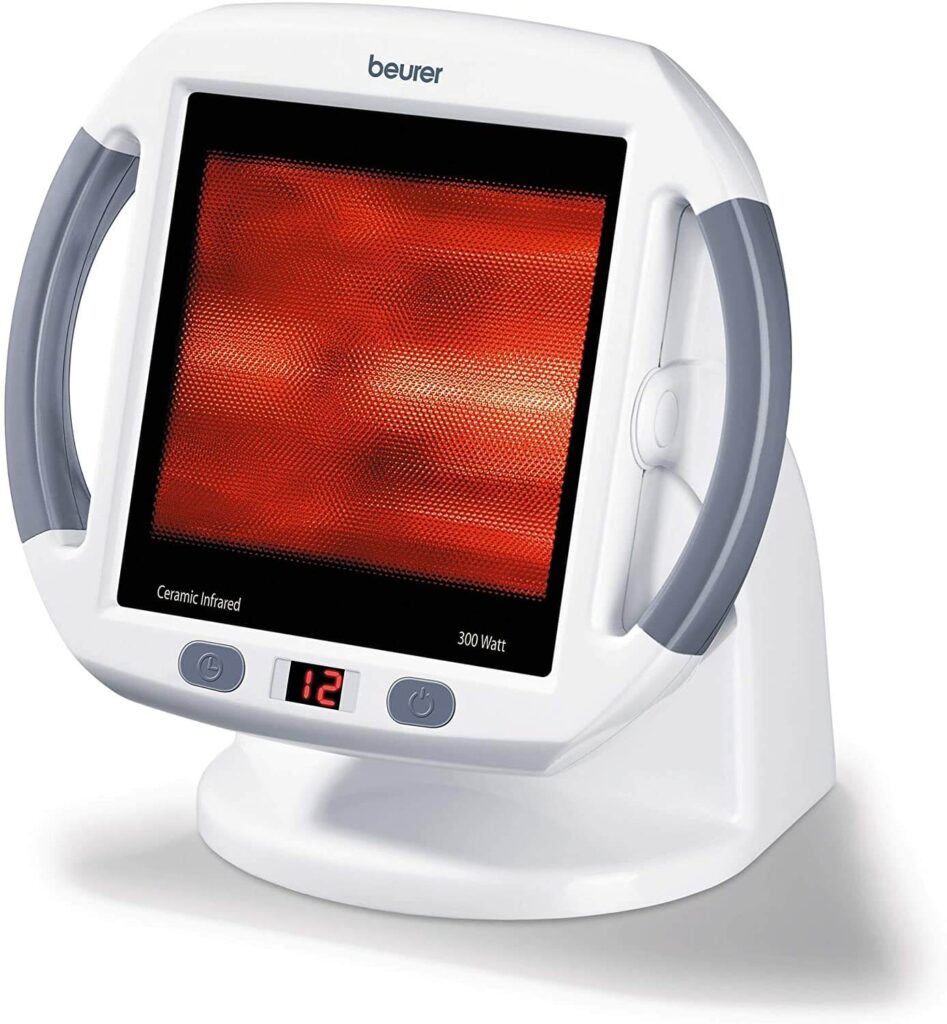 Winning Category: Best Against Skin Conditions
Pros
The most effective at dealing with skin diseases, scars, and wrinkles
The most cost-effective option on the market
Helpful at dealing with pains and inflammations
The safety timer stops the device after 15 minutes session
Emits no UV light, thus is cancer-free
Cons
Is a bit too light, therefore, can tip quite easily
The panel is extremely hot and requires extra careful use
Heat lamps by Beurer and Hooga try to solve the same problems and are very close in effectiveness. The reviews suggest that Beurer's Heat Lamp is just slightly better at dealing with skin conditions (including wrinkles and scars). It is often praised for its durable design, which is fair. The lamp itself is sturdy, but it is probably a bit too lightweight. You might end up in big trouble if an extremely hot tanning lamp tips over onto your carpet, so be careful with this one. We don't explore cold light options in this article, but you can find a few of them on our heliotherapy website.
Here's a balanced review from an Amazon customer:
"I've had this for a few years and really loved its comforting heat. It seems well-built and sturdy. I mostly use it when I take a shower: I turn it on when I enter the shower, (it feels like warm sunlight) and when I exit I dry off in a few minutes. No more after-shower chill! I strongly recommend this lamp but caution anyone to test the timer function. I noticed my problem a bit too late to exchange the product. Don't be afraid to buy one, but be sure to test it thoroughly and always turn it off with the power button on the right side, or just unplug it when you're done."
—Tiago, NYC
Red Light Therapy HG300 by Hooga: Best Against Chronic Pains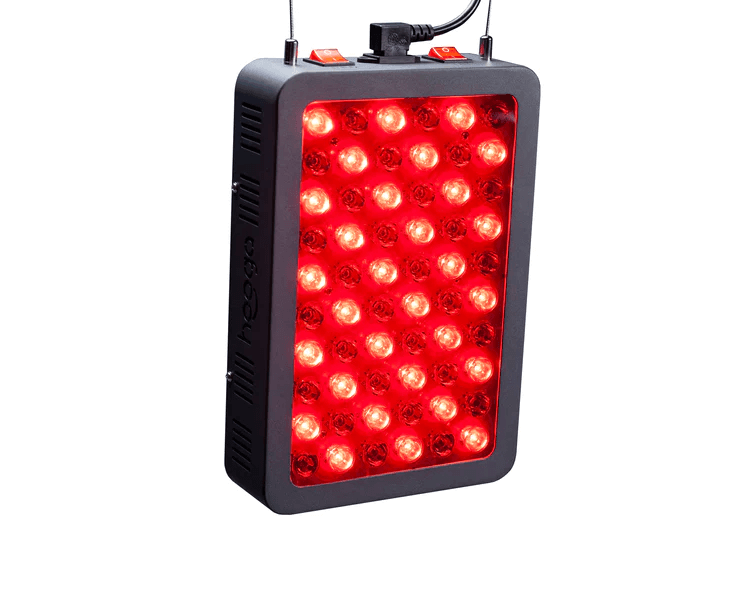 Winning Category: Best Against Chronic Pains
Pros
The best against chronic pains, thanks to a combination of red and near-infrared lights
The most durable construction with the longest bulb lifespan
Bulbs have high irradiation, thus reducing the time you need to spend for each session
It is effective at dealing with tissue inflammation
Comes with helpful tools: a pair of eye protection glasses, a hanging kit, and a door mount
Cons
Can be too powerful for the sensitive skin
The return feature is not available for this product
The Hooga brand seems to be on the rise now. Our research shows that it is indeed worth your attention—when it comes to dealing with chronic pains (whether it is a knee, a shoulder, or back), Hooga is even better than Beurer. It is heavier, more stable, expensive, and covers a larger area. Overall, if you suffer from tissue or joint pains and can afford to pay slightly more for a solid design—this is your choice.
Many happy buyers from Amazon are seeing their chronic pains going away after using Hooga's red light therapy devices.
"I purchased this red and near-red light panel to treat the terrible arthritis in my left knee that was brought on by the injury. My relative also started using it to improve his hair growth. I have to admit that both times it worked quite well. The knee stiffness and discomfort I was experiencing have improved a lot. It's wonderful that I can now take less pain medication. My relative's hair has also seen lots of new growth, and the texture is even better. Consistency and precise dosage are essential for red light treatment to be successful. I've gotten a lot out of my red light panel and truly enjoy using it. I think you can, too. I hope so."
—Kiki, Vancouver, Canada
💡
If you are curious about advancements in the area of red light therapy, you should definitely look at
other products by Hooga
. We already did, so feel free to explore our findings!
The Risks of Tanning Lamp Usage
Unfortunately, alongside cosmetic benefits and moderate health improvements, tanning can bring serious safety risks. The industry has received several blows in recent decades due to tightened regulations. In 2007, a landmark research[3] promoted by the World Health Organization (WHO) showed that the negative side effects of tanning are more dangerous than was previously thought. It led to law changes in many states and, eventually, drove many tanning lamp brands out of business. If you are considering buying a home tanning lamp, it is absolutely essential to know about these controversies.
Increased susceptibility to skin cancer is by far the largest con to tanning lamps, beds, and outdoor sunbathing. Since 2007, a number of scientific studies[4] confirmed the significance of health-related concerns.
Prolonged exposure to the sun is dangerous because the direct light, apart from causing melanin production, can damage the skin cells. If your body has to replace those damaged cells too often, it might start producing defective cells. These damages occur because of the UVA lightUVA is a type of ultraviolet light that can penetrate the human skin (350 nm wavelength), and we say that Sperti's Fiji Sun is the safest option because it takes the UVA level as low as 75% (the sunlight has about 95% UVA). But even with the best tanning light option, you still need to follow these safety recommendations.
☀️
We often get questions about how ultraviolet light (UV) works and how to know if the UV index is safe for tanning outdoors. So we decided to answer all related questions in an
educational article
.
Cancer can go unnoticed for a long time, but you will feel sunburns, blisters, and peeling almost immediately after a tanning session. We've read countless customer reviews about people trying to get a tan faster and getting painful burns. Don't underestimate your tan light: it is very much capable of giving you weeks-long pain.
Human eyes are very susceptible to damage by light. It is a fragile mechanism, and you don't want your sight to be ruined by a device that was supposed to improve your health. The good news is, that using protective goggles solves this issue.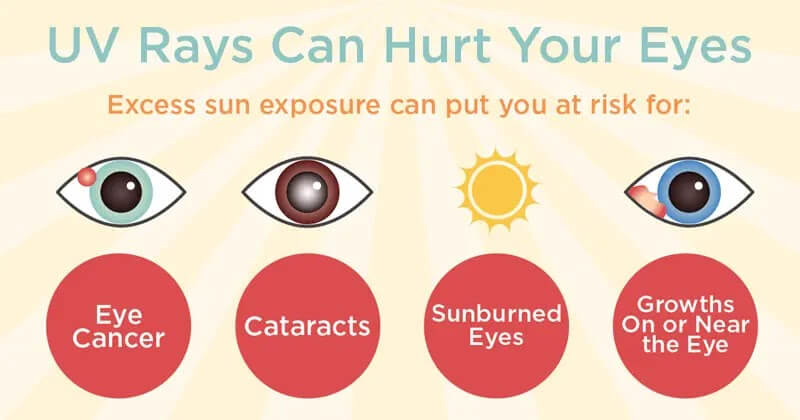 If the health concerns are so serious, how do people manage to tan and use light therapy safely? The answer is two-fold: honest marketing from the manufacturer and the educated approach by the customer can decrease the risks dramatically. Next, we'll discuss what you need to know.
6 Must-Know Rules of Home Tanning
Never use any light therapy device without protective glasses
This small investment will allow you to avoid irreversible damage to your eyes while tanning or having red light therapy. Most options from the comparison table come with a pair or two, but in case yours broke or were lost, you can get new goggles on Amazon or other marketplaces.
Always follow the buyer's manual
We can't overemphasize—the number of buyers putting their health at risk by not reading the instructions is already too large. You don't want to increase it even more, so if the manual says 6 minutes is more than enough—it probably is.
Start with shorter sessions and longer distances from the light
If your skin is sensitive, you should always go for the lower limits. For example, Hooga's manual says that a session can last from 2 to 15 minutes. Your first session should be closer to 2 minutes, not 15. A great idea would be to use a tanning lotion to make it easier for your skin to adapt to the light.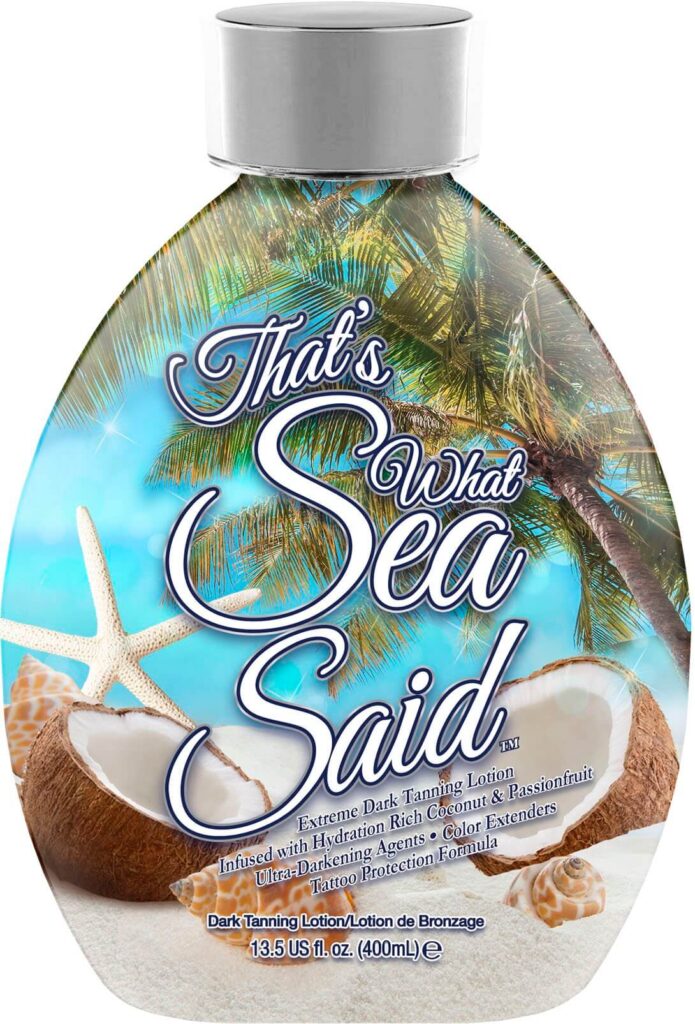 Know your family medical history
Home tanning lamps should not be used by persons with a family history of cancer of any type. The benefits of a beautiful tan are just not worth risking the melanoma return.
Always unplug the lamp when you don't use it
This one might not be so obvious, but there were several cases where a turned-off lamp nearly burned a house. It was plugged in during the storm, tipped over, and turned on again when the electricity came back…
If the lights don't work, try to screw them in
In some cases, the bulbs might not be screwed properly. If your lamp doesn't seem to work, you can try to screw them in gently. But don't forget to wear gloves (fingerprints can damage the bulbs when they heat up).
Summary
Despite the initial confusion you might experience when choosing a tanning lamp for home use, this market is worth exploring. Every brand we presented in the comparison table serves different functions: tanning, phototherapy, and red light skin care. We explained the science you need to know to help you make an educated choice according to your priorities.
Regardless of which tanning lamp you choose, our 6 rules list will help you avoid the dangerous pitfalls and minimize the health risks we discussed. We hope this article was informative and helped you choose the best home tanning lamp or red light device that will serve you for years!
FAQ
🏥 Are Home Tanning Lamps Safe?
Consistent tanning is associated with higher cancer risks, so you need to follow strict medical recommendations to make it safe. Sperti's Fiji Sun is the one option that is considered to be much safer than any other competitor.
🛏️ Is a Sun Lamp the Same as a Tanning Bed?
They use the same principle to make your skin tan but have other pros and cons. For example, tanning beds will guarantee an even tan but are much more expensive and not always accessible.
⏰ How Long Should You Sit by a Sun Lamp?
It depends on the model, but, on average, your tanning session will last around 5 minutes. It's crucial not to overdo it—even the red light therapy lamps should not be used for more than 15 minutes.
💊 Can I Get Vitamin D from a Sun Lamp?
If the lamp is advertised as a home tanning lamp, it will probably not give you enough vitamin D. Instead you should look for phototherapy options, and we actually have one for you!
References
Woo, D. K. and Eide, M. J. (2010). Tanning beds, skin cancer, and vitamin D: an examination of the scientific evidence and public health implications. Dermatologic Therapy, 23: 61-71.
Forrest, K. Y., & Stuhldreher, W. L. (2011). Prevalence and correlates of vitamin D deficiency in US adults. Nutrition research (New York, N.Y.), 31(1), 48–54.
International Agency for Research on Cancer Working Group on Artificial Ultraviolet (UV) Light and Skin Cancer. (2007). The association of use of sunbeds with cutaneous malignant melanoma and other skin cancers: a systematic review. International Journal of Cancer, 120(5), 1116-1122.
Lazovich D, Isaksson Vogel R, Weinstock MA, Nelson HH, Ahmed RL, Berwick M. Association Between Indoor Tanning and Melanoma in Younger Men and Women. JAMA Dermatol. 2016;152(3):268–275.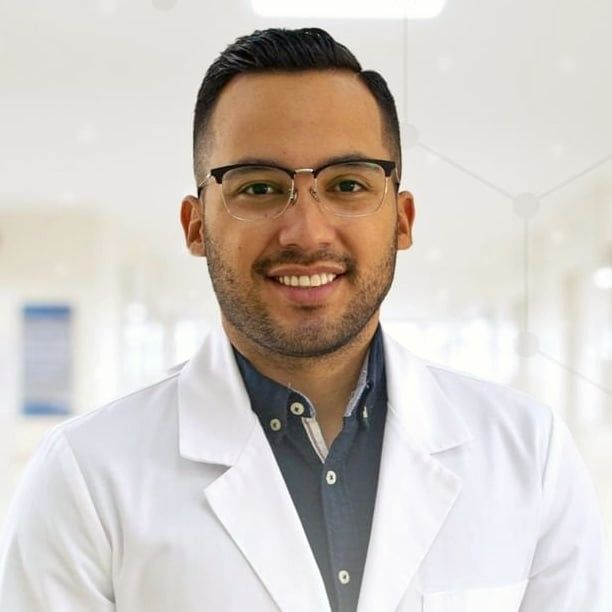 Dr. Jose Diego Mier is a board-certified dermatologist with over a decade of experience in light therapy, dermatology, and skin care. As the founder of the Heliotherapy Research Institute, Dr. Mier has dedicated his career to the study and application of light-based therapies for various skin conditions, including acne, psoriasis, eczema, and skin aging. He is renowned for his extensive research contributions, numerous publications in leading dermatology journals, and his work has been recognized with awards for excellence in research and innovation. He has been invited to speak at national and international conferences, sharing his expertise and insights on light therapy and skin care.