Planet Fitness Tanning Beds: A Detailed Guide For Beginners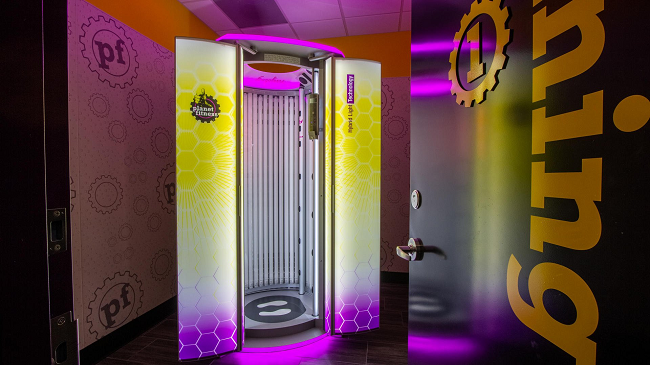 Planet Fitness is a great way to burn calories and get a beautiful tan. It means that people can use tanning beds right after a workout in the same building. In addition to getting an even bronze skin tone, you can spend less time than you would take in the sun's rays.
What are some other features of this way to get a tan? Let's find out more about this, also about the types of tanning beds, dos and don'ts, as well as how best to dress for the session.
How Does Tanning Work At Planet Fitness?
The principle of the session at Planet Fitness is identical to the tanning beds in beauty salons. You choose your cubicle and stay in it for a certain time, depending on your existing level of tan and the type of solarium.
Here the rays of light hit you on the top layer of your skin, making its pigment darker, after which a tan is formed. It will appear in the same way you would sunbathe naturally. However, it takes much less time for one visit, which makes the whole process easier.
Types Of Tanning Beds At Planet Fitness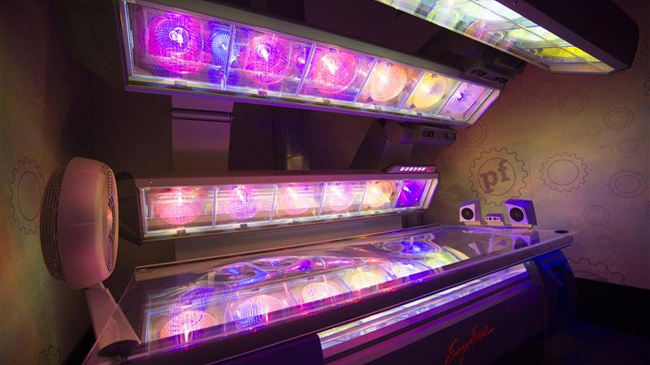 Planet Fitness offers several black-card tanning booths in its lounges. These cabins come in the traditional horizontal flip-top, vertical (or standing), sprays, and some salons offer all of these options. Let's learn about each type:
The first tanning beds are the reclining type solarium. They are chosen because they allow you to relax while lying down by getting a tan. You can feel the beams softly as it envelops your skin as you rest.
Standing booths are convenient because they are usually more compact. You can move freely and bend your knees while tanning, which can make it easier to maintain a comfortable position. In these booths, the intensity of the radiation is greater, allowing you to vary the duration of your session. They are also chosen because they are more hygienicAll because you can only touch the handles here than the reclining type.
Spray booths are a healthy and safe way to tan. They give you a more secure alternative than tanning beds and provide a golden glow. Unlike other tanning beds, whose results can last from a month or longer, the result of the spray is immediate and lasts only a week, but it's harmless, so it can't injure your skin in any way. However, keep in mind, certain areas of the body like fingers, feet, and other curves of the body can get an uneven tan. You may notice streaks or cracks in some areas.
Tips On How To Tan At Planet Fitness
There are a few tips to help you get that desired tan at Planet Fitness. Use them to keep yourself safe and get the results you want:
Make sure you don't have any contraindications for using the tanning bed;
Take a shower before you visit a solarium, especially if you go there after a workout;
Refer to how you feel while tanning to determine the right amount of time to be in the booth;
Set yourself a timer, recommended for six to seven minutes so that if you get too relaxed, your skin won't burn;
Don't forget to take off everything unnecessary, namely jewellery, shoes, and clothing so that there is an even tan and nothing can bring you discomfort;
Moisturize your skin after your session so that it isn't too dry;
Use special glasses that protect your eyes from the rays to avoid damage.
It is important to understand that with diseases such as a tendency to skin pigmentation, melanoma, cancer, problems with the cardiovascular system, with an excessive number of moles, it is not recommended to visit the tanning bed. Women who are pregnant or are on their period are also discouraged from using the solarium.
🙅‍♂️
You shouldn't go to the tanning salon too often, even if you need a tan in the next few days, because UV rays can damage your skin and increase the risk of developing different conditions up to melanoma.
How Often Can You Tan At The Solarium?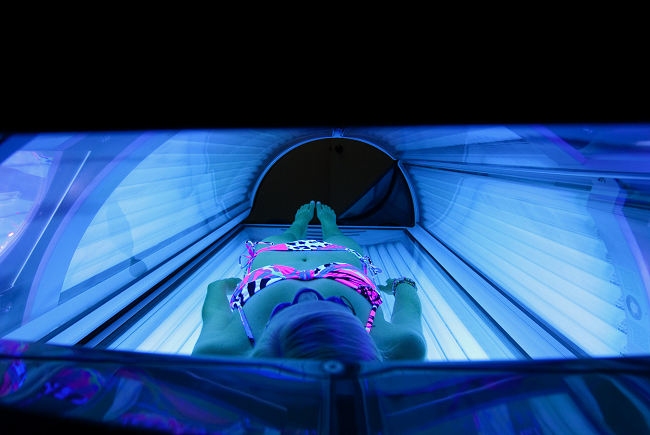 Before deciding on the number of sessions, let's highlight how long one visit can take. If you are a beginner and have a light skin tone, you may need a maximum of 6–7 minutes in the first sessions, then gradually increasing the time after that. If you are a more experienced user and tan often, you can stay in the booth, even up to half an hour. But it's still important to monitor how you and your skin feel, and if necessary, end the session.
It is worth noting that if you choose a standing booth, the time should be even shorter because as we said earlier, the intensity of radiation here is greater than in a lying cabin.
Spray tanning booths can be used much more often because they don't affect your skin in any way. Come back to renew your tan every time it starts to wash out significantly.
You can use the tanning bed once every 3-4 days or less, depending on the condition of your skin. If you feel that your dermis is ready to receive more rays, then you can go again for the procedure. If you already use the solarium several times and have a tan, then you can stay in the cabin longer. However, for beginners, it is worth starting with one treatment a week to get used to it.
What Do I Need To Know Before Using Tanning Beds At Planet Fitness?
Using Planet Fitness' tanning salon services is as easy as counting to five. As a PF Black Cardholder, you can use the advantages whenever you want. The hours of operation for each local solarium are described by gym centres.
At Planet Fitness, you can get a quick tan in the booth during each working day. But if you're a member of a 24-hour gym chain, you can use the cabins at any time of the day. However, it is worth remembering that you can visit a salon no more than once a day.
If you are new to Planet Fitness or haven't used its tanning beds, there are some methods you should keep in mind.
If you will be using the solarium, be sure to take note of these:
Use the tanning bed based on how you feel. This means that you are in control of how long you are in the booth.
Tanning salons are often unstaffed, so you need to remember that cleanliness, dress code, and hygiene of the solarium bed are up to you.
Keep an eye on the hygiene of the tanning bed after your session. Clean the surfaces you touched before the next visitor, but also remember to make sure you wipe down before you do.
You can use

different types of booths

depending on what you want, but don't forget the specifics of each one.
Keep an eye on your membership and its expiration date, or you won't be able to visit the gym and the tanning salon accordingly.
Tanning Dress Code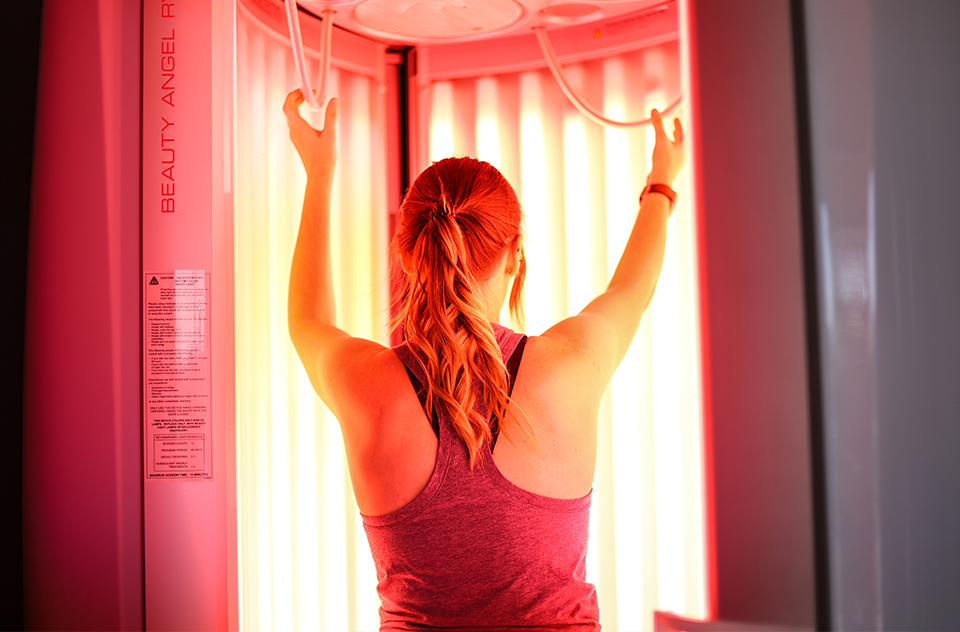 There is no specific list of clothing that every visitor to tanning beds Planet Fitness should wear. Just use comfortable clothes, such as a swimsuit or T-shirt with shorts, which will ensure that you get a perfect tan all over your body.
🧖‍♀️
It's also important here to remember to be hygienic and consider that you might not have wiped the booth down in front of you. In addition, you must have safety glasses, so your eyes aren't damaged by the curing lamps.
How Much Is A Tanning Session At Planet Fitness?
Anyone who wants to take advantage of tanning therapy for Planet Fitness members must purchase a Black Card. This entitles the holder to unlimited sessions at any facility. The monthly fee for the Black Card is $23.
The membership includes access to the services offered at other companies in the Planet Fitness group, such as sports equipment, fitness classes, and personal training sessions. Also, the participant does not need to pay extra for the solarium, because it is also included in the monthly subscription.
Summary
Tanning beds are a great option for those who want to tan easily and without having to go outside. Better yet, if you work out at the gym, so you can combine working out and tanning at Planet Fitness. After a few sessions of 6–7 minutes, you can already see a significant bronzing of your skin. The main thing is not to forget about hygiene, eye protection, and a bathing suit. It's also worth remembering the specifics of Black Card memberships so that you can continue to enjoy all of their services.
We think that a tanning bed will be a great way for you to not only relax after your workout, but also to get bronzed skin.
FAQ
💪 Is it better to sunbathe in Planet Fitness tanning beds before or after a workout?
It is better to sunbathe after your workout. Because you won't be able to do sport after a tan as effectively as you would if it were the other way around. Also, it will help you relax and soothe your muscles from the exertion. The effect can be compared to a sauna, you will experience the same feelings.
⌛ How long does it take for a tan to appear?
It is unlikely that you will see results immediately after the first session. You may need about 3-4 more visits to the tanning bed, and a little more for light-skinned people.
💁‍♀️ What are the limitations of Planet Fitness tanning beds?
Unfortunately, if you are a one-time visitor or were invited to a session by the owners, you won't get in. Only PF Black Cardholders can use the tanning salon. In addition, according to the rules of the gym, one person can get to one session per day, but not more often
😎 Is the effect of a tanning bed similar to that of the sun?
Tanning indoors is extremely similar to sunbathing because heated lamps mimic the sun, except that here tan occurs when your skin is exposed to ultraviolet light. In a tanning bed, you can control your exposure, and you can beat your previous tan by following the proper exposure times for your skin.