How To Use NuDerma: Learn All The Ins And Outs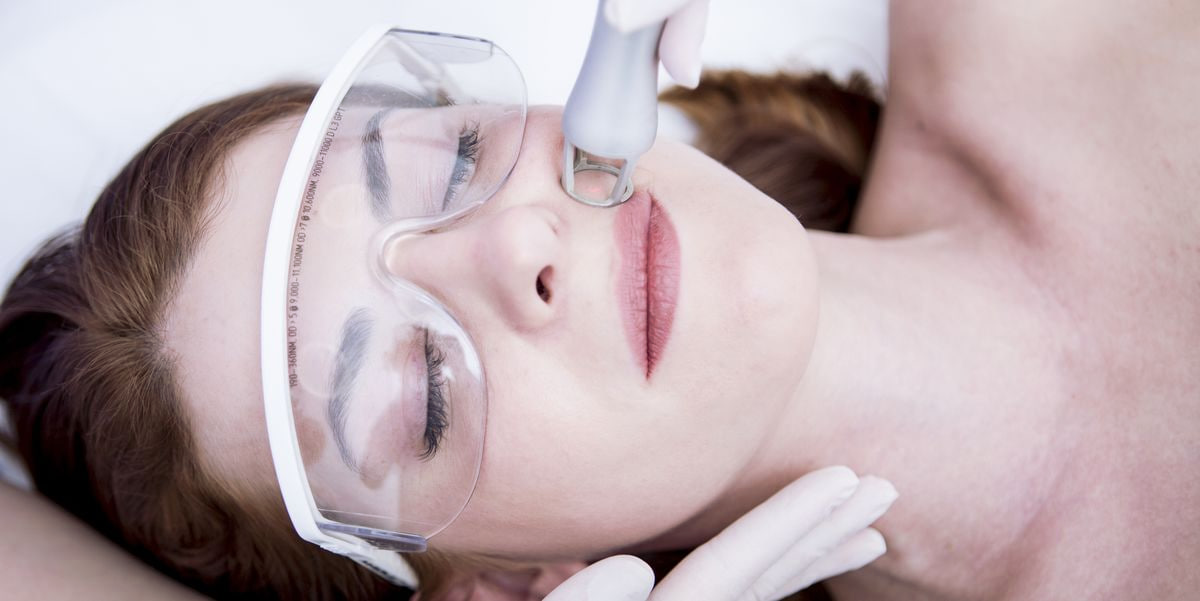 You want to have tight healthy skin without wrinkles, puffiness, and a tired look. But everyone around you tells you that it's only possible with injections or surgery? Don't despair, read our article that will tell you in detail how to achieve beautiful skin without much effort using NuDerma.
One of the main advantages of NuDerma is that you can use these products at home and spend very little time doing so. NuDerma actively uses microcurrent technology and other modern methods to achieve visible and lasting results in skin care.
If you're interested in how to achieve younger, tighter skin, then continue reading our article.
What Is NuDerma?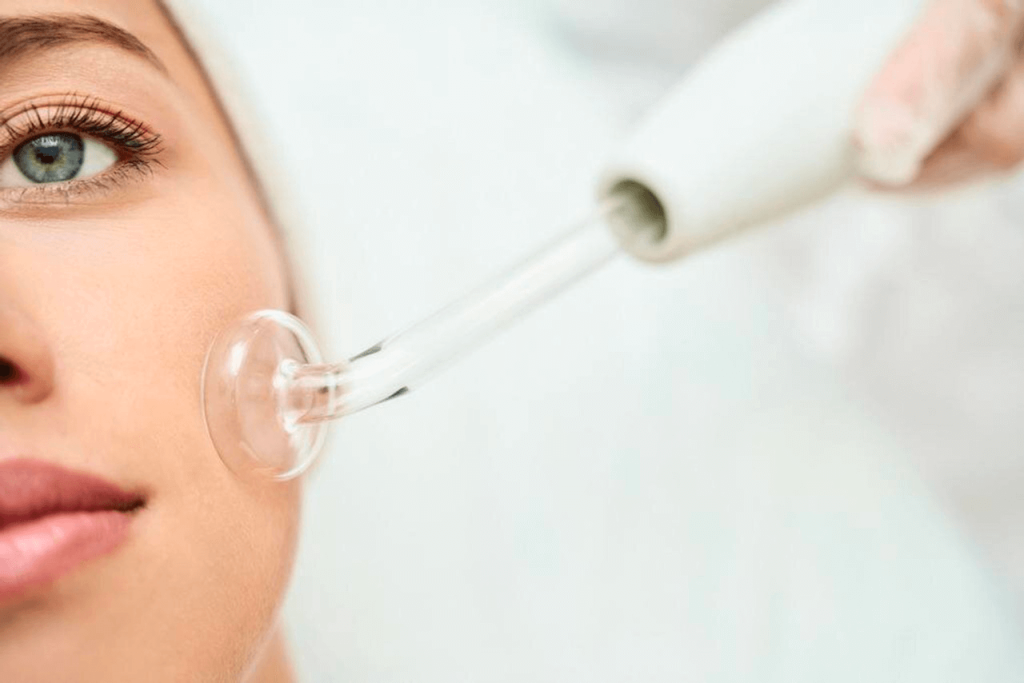 NuDerma specializes in the manufacture of innovative devices that help rejuvenate the skin, remove puffiness and redness, and make wrinkles less visible.
The NuDerma device (also known as the NuDerma Skin Therapy Wand) is a portable cosmetic device that is designed for skin care on the face and body. It is manufactured by NuDerma Health.
The NuDerma wand looks very concise, which makes it easy to use at home and take on trips. It consists of a handle and various nozzles that fit on the base.
NuDerma offers several devices for skin care. Let's take a closer look at some of them:
NuDerma Skin Therapy Wand: This is the main device of the NuDerma brand. It uses high-frequency pulses to stimulate the skin and improve its condition. It has several heads and can be used on the skin, body, and head.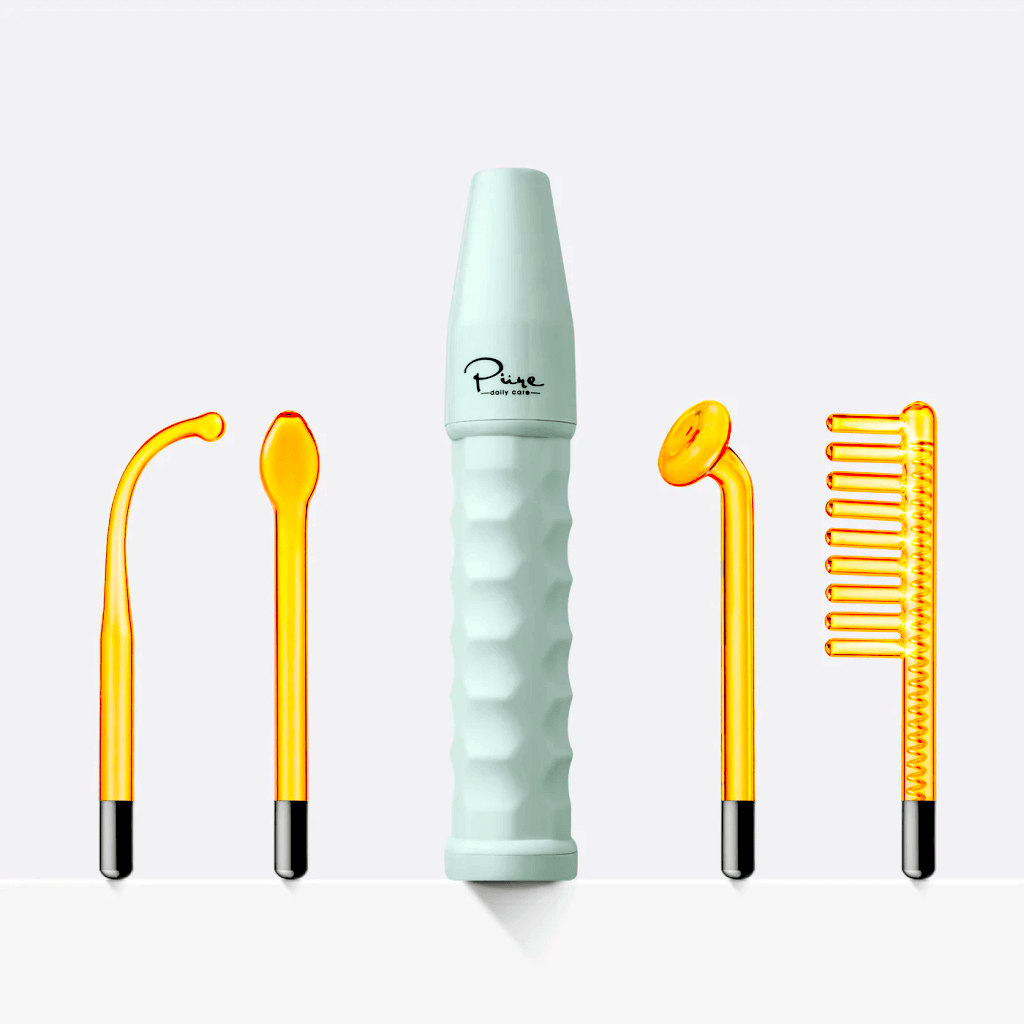 NuDerma Derma Roller: This is a small roller device with micro-needles, designed for micro-piercing the skin. This process helps to stimulate the skin regeneration process and increase the penetration of cosmetic products.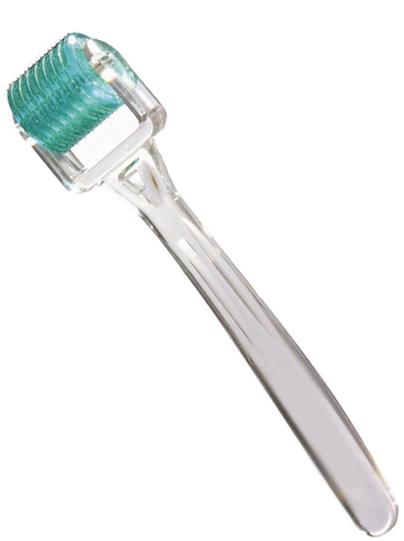 NuDerma Portable Skin Therapy Wand Machine: This is the version of the NuDerma Wand designed to improve facial and body skin conditions. It provides collagen stimulation and antimicrobial action, improving blood circulation.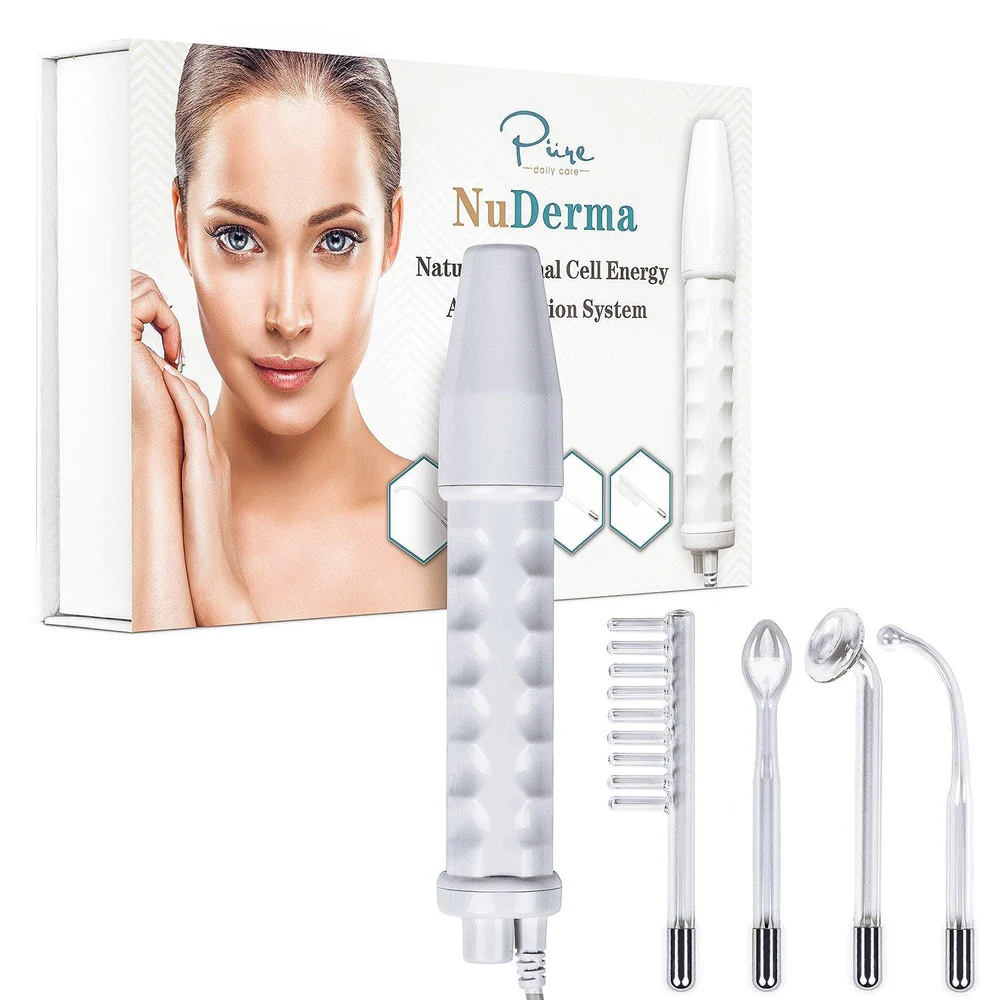 We recommend that you read our other article to see clearly the effectiveness of
NuDerma
and understand whether this device is worth its hype and popularity.
How Does NuDerma Work?
NuDerma works on the principle of high-frequency therapy. The procedure is based on the use of high-frequency current. It is applied to the skin using a special glass tube, which is attached to an electrode. When these pulses are applied to the skin, they create an electric field on the skin's surface.
When this current is applied to the skin, the following effects occur:
Collagen stimulation: High-frequency therapy penetrates deep into the skin and stimulates collagen production. This in turn is the main protein responsible for skin tone and elasticity.
Improved product penetration: By delivering a high-frequency current through the skin, the electrodes can aid in the penetration of cosmetic goods such as serums or lotions into the deeper layers of the skin.
The work of Nuderma is also based on galvanic therapy. This method is based on the principle of applying weak electrical impulses, which in turn penetrate the skin and stimulate its regeneration. This results in physiological changes that have a positive effect on the skin.
Galvanic therapy first appeared in the 18th century, developed by Luigi Galvani, who was the first to conduct research that yielded results.
Let's take a closer look at what happens when you use NuDerma:
Improvement of blood circulation: This therapy promotes the expansion of the capillaries. This allows oxygen and nutrients to be delivered to the cells, and stimulates cell renewal and regeneration.
Cleansing and detoxification: Galvanic therapy helps to purify and detoxify the skin. Open pores are also reduced, causing pimples and inflammation to go away.
Reducing inflammation and post-acne: Thanks to antibacterial and anti-inflammatory actions, acne is removed, the redness goes away, and pigmentation is reduced.
Improvement of skin tone and regeneration: Galvanic therapy promotes the synthesis of collagen and elastin in the skin. This helps to reduce wrinkles and prevents them from appearing.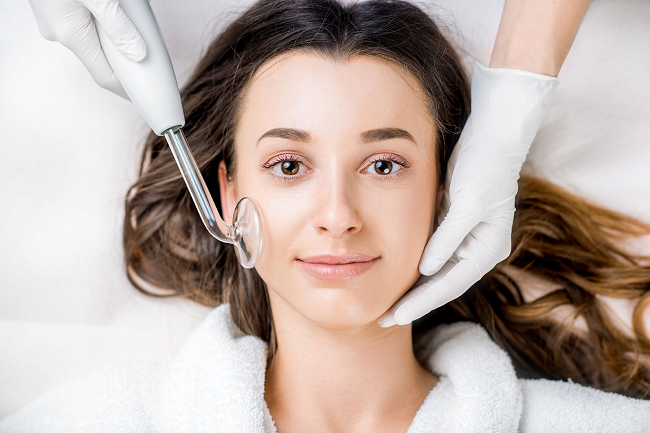 Neon And Argon In NuDerma Wands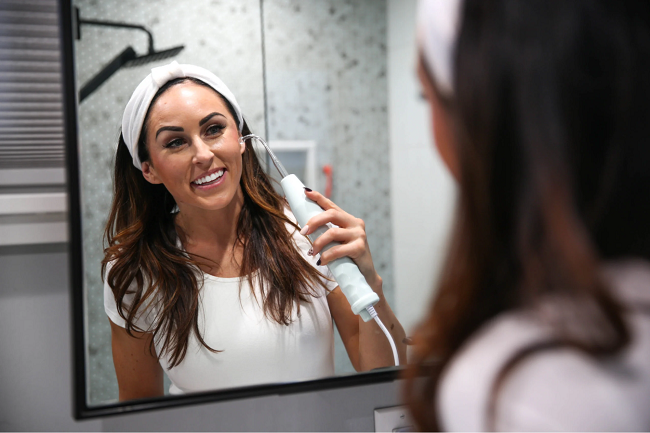 NuDerma wands use neon and argon to create a gas-discharge plasma effect. Gas-discharge plasma is a state of gas in which electrons interact with gas atoms to create a glow.
Neon (Ne) and argon (Ar) are inert gasses; that is, they do not react chemically with other substances under normal conditions. These gasses have properties that make them ideal for use in NuDerma wands.
Neon has a bright red hue, while argon creates a pale blue glow. When an electric current is applied inside the wand, electrons transfer energy to the gas atoms. As a result, the neon and argon atoms go into an excited state and then return to the ground state, emitting energy in the form of light. This improves and rejuvenates the skin.
With regular use of NuDerma devices, you may notice a significant improvement in the quality of your skin.
Who Is The Best Candidate For NuDerma?
All the devices of this brand are in great demand among a wide range of users. Often, NuDerma is used by:
✅ People who want to improve their skin: If you have problems with wrinkles, bright skin, rashes, or swelling, NuDerma is the perfect way for you to get rid of your problems.
✅ People who want to strengthen their hair: Some NuDerma products are designed to stimulate hair growth, making it shine and look healthier.
✅ People who want to slow down the aging process: If you wish to extend the youthfulness of your skin, NuDerma is a great option for you. Pigment spots can be reduced due to electrotherapy, and the skin becomes more elastic and tighter.
However, NuDerma will be contraindicated for some users:
❌ People with certain medical conditions: If you have a skin infection, inflammation, or disease, you cannot use NuDerma. It is best to consult a dermatologist or cosmetologist for recommendations on how to treat your skin.
❌ Pregnant women: It is best to refrain from using any device that has any effect on the skin during pregnancy.
How To Prepare For The Procedure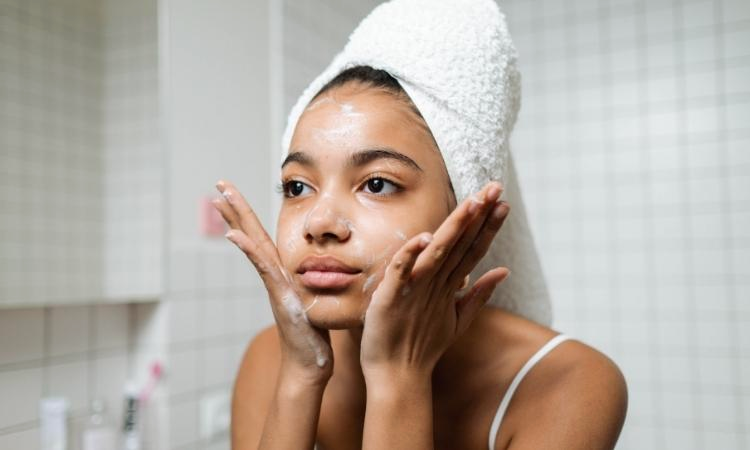 The NuDerma procedure is performed using a special machine that creates an electric current of high frequency. This current is transmitted to the skin through an electrode that massages or slides over the skin surface. It has a low voltage, which makes the procedure safe and comfortable. If you are interested in how to use a high-frequency wand at home, keep reading.
Preparation for the NuDerma procedure is a very important step. Let's take a closer look at what you need to do before the procedure:
Step 1: Check the condition of your skin. Make sure there are no open wounds or active infections on your skin. If so, problems can be further aggravated by exposure to the current.
Step 2: Clean the skin. Use cleansing milk or mild micellar water to remove makeup, dust, dirt, and sebum. After using cosmetics, wash with warm water and use a paper towel to keep your skin dry.
Step 3: Run a test to see how sensitive your skin is to NuDerma. To do this, use a wand on a small area of your skin for a few seconds. Then wait 10 to 30 minutes and check if there is redness, itching, or a rash. If so, do not use NuDerma any further. You should see a doctor to understand the cause of the allergic reaction.
Step 4: Moisturize your skin. Before the treatment, gently apply moisturizing serum to the desired area. NuDerma produces a special serum that improves the quality of the treatment and helps the wand work better. The product will help ensure good contact between the NuDerma device and the skin, improving the effectiveness of the treatment.
Step 5: Prepare the NuDerma wand. Make sure your device is charged and ready to use. Plug the device into an electrical outlet. Read the instructions that come with your NuDerma in detail before using it and make sure that the settings are correct.
Step 6: Start the procedure. Use the device according to the instructions, choose the mode you want, and set the desired time. After the treatment, use sunscreen with SPF 30+.
How To Use NuDerma Wands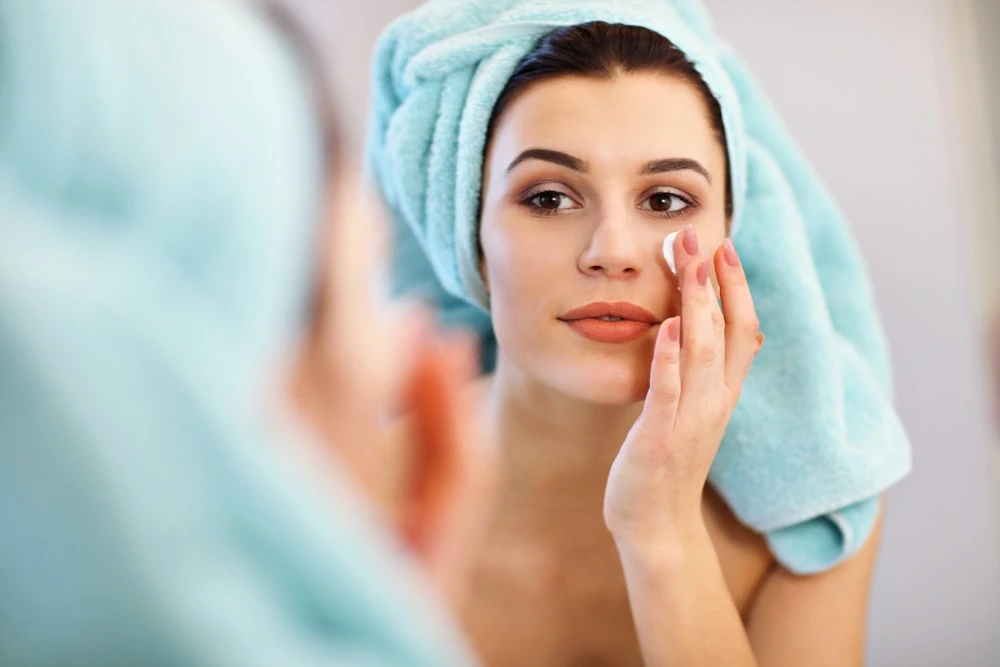 One of the main secrets of how to use a high-frequency wand correctly is to follow the instructions and recommendations. Let's look at them in detail:
🔋 Charge your NuDerma wand: It's important to keep your device fully charged at all times. This will extend the life of your device. Also, check the charging level before you do this and, if your device is electrically powered, plug it in.
💡 Turn on and use: After all the steps above, you can turn on NuDerma. However, it is important to read the instructions that come with it carefully before doing so. Then choose the mode and intensity you want, according to your needs.
💆🏻‍♀️ Massage with NuDerma sticks: After turning it on, apply the NuDerma wand to the area you want and massage in circular, smooth movements. It is important not to hold the wand in one place for too long, so as not to traumatize the skin.
⏰ Duration of procedure: It is very important to follow the time recommendations. Usually no more than 3 minutes for each area.
🏁 Final Procedure: After finishing the procedure, turn off the device and remove the nozzles. Afterward, remove any gel residue from your skin with a paper towel. Rinse under warm water and moisturize your skin.
❗️ Important tip:
Follow the manufacturer's instructions and do not exceed the frequency and intensity of
NuDerma wand
use. If you have any concerns or doubts, it is advisable to consult a cosmetologist or dermatologist for additional advice and recommendations.
NuDerma Clinical vs. Professional Wand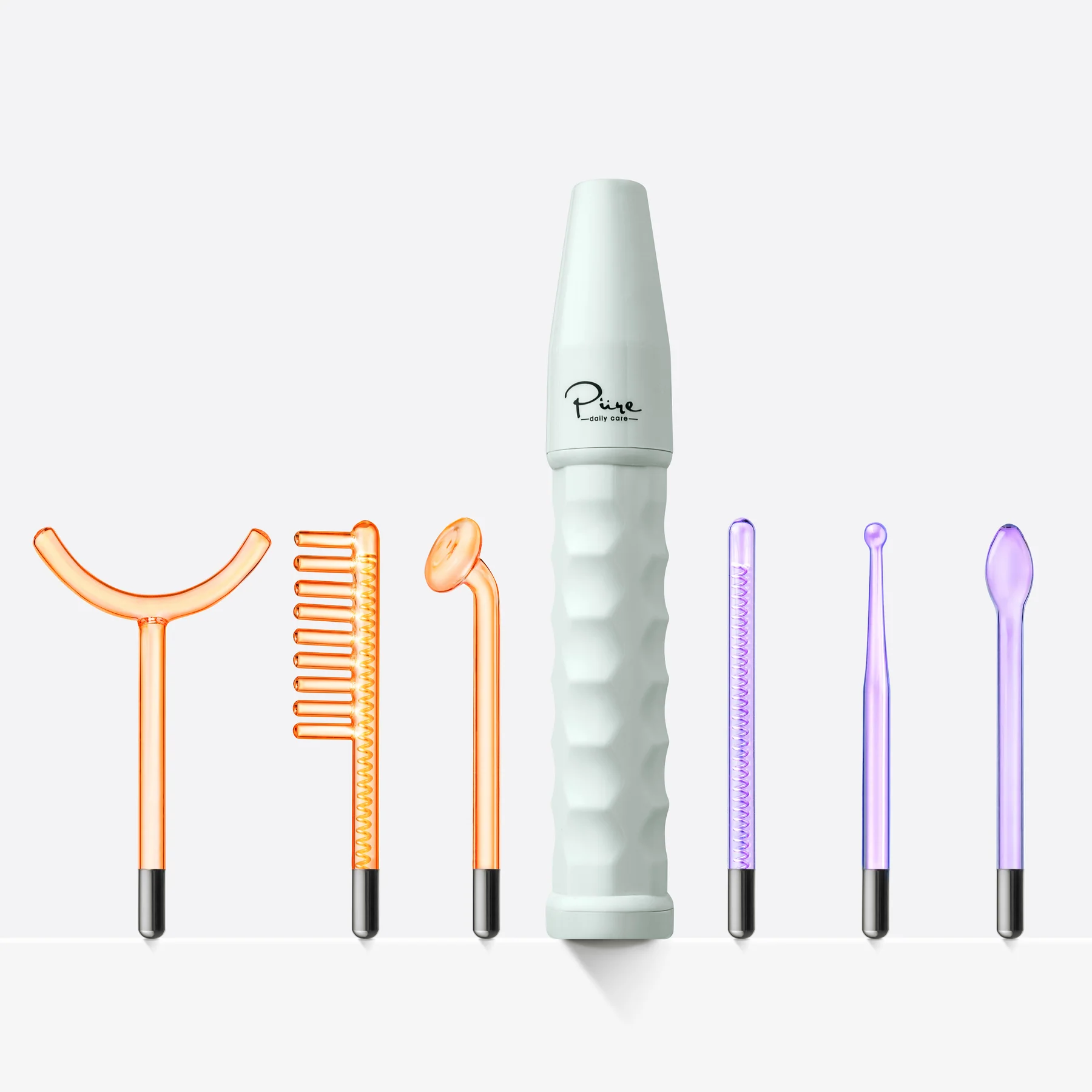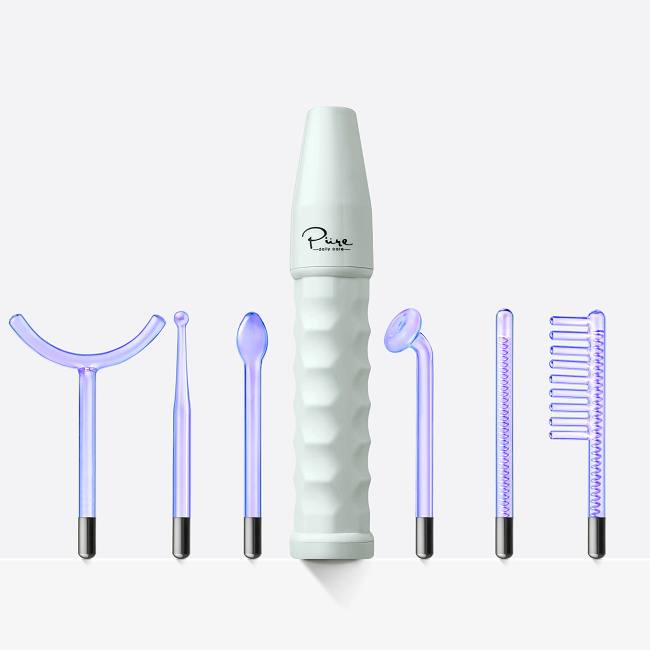 Both of these devices operate on a high-frequency basis. Let's take a closer look at the table, so you can understand how they differ and which device will work best for you.
| | | |
| --- | --- | --- |
| Characteristics | NuDerma Professional | NuDerma Clinical |
| Intensity | It is possible to adjust to the speed you want | It is possible to adjust to the speed you want |
| Attachments | 6 attachments (3 neon wands, 3 argon wands) | 6 attachments (neon+argon combined) |
| Power | AC electrical cord | Rechargeable battery |
| Application | Neck, face, décolleté, body | Neck, face, décolleté, body |
| Price | More affordable | High |
Summary
NuDerma is a truly innovative device in the world of skincare. However, it is very important to remember that the effectiveness of your results depends on proper care.
By following the manufacturer's recommendations and the advice we have given you, you will be able to achieve fresh, tight skin without wrinkles or breakouts. But don't forget that everyone's skin is different, and your results may vary depending on the characteristics of your skin and pace of use. It is important to be patient and consistent in your efforts.
📌 Tip:
If you are interested in the real effect of using NuDerma and want to read true user reviews, then
this article
will be just right for you.
FAQ
⏰ How often to use a high-frequency wand?
It all depends on your skin type and condition, and the goal you want to achieve. However, it is recommended to use the high-frequency mode only once or twice a week, especially if you have only recently started using the NuDerma device.
❓ Is NuDerma safe?
NuDerma is a safe device if you use it correctly and follow the instructions. It is very important to follow the manufacturer's recommendations and not exceed the intensity of the treatment.
🗣 What is NuDerma?
NuDerma is a brand that specializes in the manufacture of devices that work based on galvanic therapy and high-frequency therapy. You can use it freely in the home.
📌 What does galvanic therapy do?
Thanks to galvanic therapy, you can get rid of wrinkles, inflammation, and redness, as well as cleanse and moisturize your skin.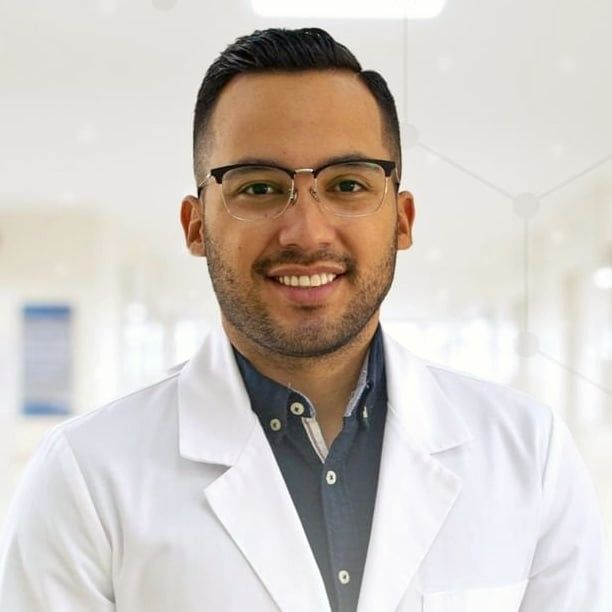 Dr. Jose Diego Mier is a board-certified dermatologist with over a decade of experience in light therapy, dermatology, and skin care. As the founder of the Heliotherapy Research Institute, Dr. Mier has dedicated his career to the study and application of light-based therapies for various skin conditions, including acne, psoriasis, eczema, and skin aging. He is renowned for his extensive research contributions, numerous publications in leading dermatology journals, and his work has been recognized with awards for excellence in research and innovation. He has been invited to speak at national and international conferences, sharing his expertise and insights on light therapy and skin care.