Best Microneedling Pens: At-Home Solution for Renewed Skin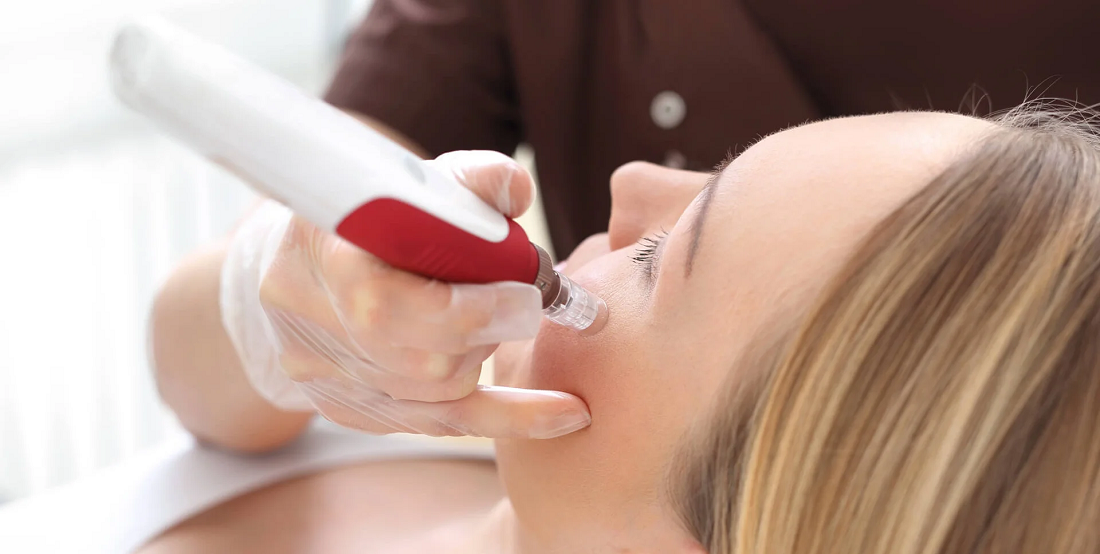 Dealing with acne scars, wrinkles, enlarged pores, and hyperpigmentation can make anyone feel self-conscious about their skin. Though professional microneedling can treat these issues, the high prices and downtime are dealbreakers for many.
The good news is that at-home microneedling pens provide a convenient, affordable way to address these skin concerns in the comfort of your home.
In this article, we'll explore everything you need to know about microneedling pens. You'll learn about the top-rated devices on the market, along with tips and tricks for using them safely and effectively to see satisfying results.


Dr. Pen A9

Winner category: Best battery performance
✔️ The most durable device due to its built-in rechargeable battery ensures up to 4-5 hours of continuous use that can easily cover multiple sessions before requiring a recharge
✔️ Its high efficiency makes it suitable for many, including salon owners, aestheticians, as well as individual personal users

More info


Dr. Pen Ultima A6S

Winner category: Best for use on the body
✔️ The most effective device for body-focused treatments due to the use of a 42-pin cartridge, perfect for large areas
✔️ Has smart features that remember your settings and adjust accordingly for each treatment

More info



Sergand Microneedling Pen

Winner category: Best device for face treatment
✔️ The most effective device for facial treatment that includes improvements in the appearance of skin tone irregularities, such as dark and age spots, wrinkles, and uneven pigmentation
✔️ User-friendly device, even for novice users due to the comprehensive manual

More info
Microneedling Pen: What Is It and How Does It Work
Microneedling is a collagen induction therapy that utilizes tiny sterile needles to create microscopic punctures in the skin.
The tiny injuries caused by the microneedles trigger the skin to ramp up its collagen and elastin synthesis, leading to skin rejuvenation, reduction of scars, wrinkles, and even more.
Regular at-home microneedling can provide benefits for the following conditions [1, 2]:
Microneedling creates tiny channels in the skin that trigger the body's natural wound-healing response. This leads to increased collagen production that helps soften the appearance of fine lines and wrinkles over time.
By stimulating collagen production, microneedling allows the skin to remodel scar tissue. This can smooth and flatten raised marks like acne scars.
Collagen helps reinforce skin structure. The boost in it from microneedling will gradually firm and tighten loose, sagging areas.
Microneedling thickens the skin and stimulates new collagen to decrease the indentations and discoloration of stretch marks.
Hyperpigmentation and uneven tone
The gentle skin injury from microneedling encourages skin cell turnover to fade dark spots, acne marks, and sun damage.
Let's discuss how it works in more detail.
During a microneedling treatment, a device (pen) with fine needles is moved over the skin in a polka-dot pattern. The needles only penetrate the epidermisEpidermis is the outermost layer of the skin. and don't damage deeper tissues. The minor injuries caused by the needles stimulate the release of growth factorsGrowth factors are proteins that regulate cell growth and repair. that boost collagen and elastin production in the dermis. New collagen fibers fill in wrinkles and scars, leading to smoother, firmer, more youthful-looking skin.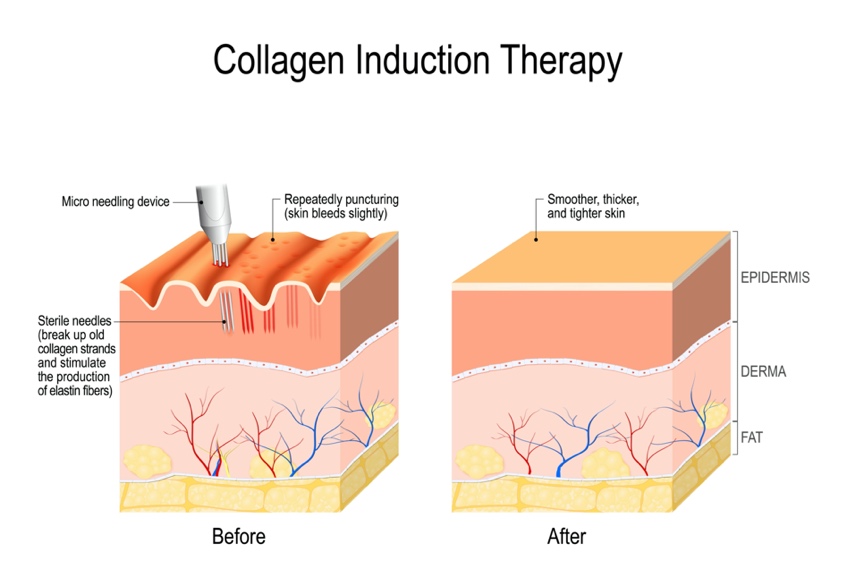 In addition to collagen induction, microneedling enhances the absorption of topically applied skin care products. Microscopic channels create pathways for serums and creams to penetrate deeper into the skin, increasing their effectiveness.
For more information about
microneedling pens
, their advantages, and how to make an informed choice when selecting the ideal device for your needs, check out our article.
Best Microneedling Devices in Detail
Dr. Pen A9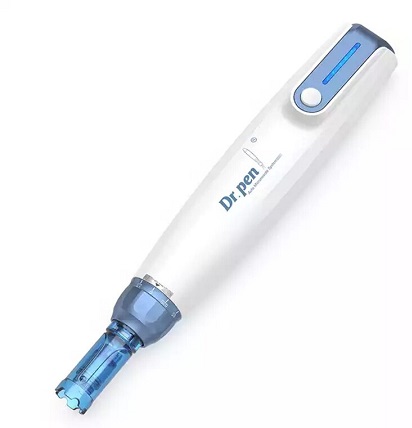 Winner category: Best battery performance
Pros
 A versatile solution that can be used by a broad spectrum of users, including salon owners, aestheticians, and personal users due to its efficiency
Six-speed level indicator gives users control over the intensity of their treatment
Built-in lithium battery provides up to 4-5 hours of operation, which will prevent you from having to recharge frequently
Cons
Lack of a digital speed display 
The kit includes only two 12-pin cartridges which mean that users will require additional investment for more options
Dr. Pen A9 is a microneedling device, catering to salon owners, aestheticians, and personal users alike, delivering great results.
Efficiency is paramount, especially for those with bustling schedules, and the A9 addresses this with both wired and wireless functionality. The built-in rechargeable lithium battery ensures up to 4-5 hours of continuous use. Based on this, this device is the most durable compared to other models on our list.
The A9 has a six-speed level indicator that caters to your unique comfort and treatment preferences. While it lacks a digital speed display, the illuminated indicator can help to recognize the levels. And its intuitive knob design empowers you to finely adjust the needle cartridge depth, starting from a minimum of 0.25 mm. This ensures a skincare encounter that's not only personalized but also highly effective.
Also, it's important to note that the A9 package includes only two 12-pin cartridges, unlike Dr. Pen Ultima A6S which comes with six options. So, for an optimized skincare regimen, contemplating the acquisition of additional ones tailored precisely to your needs is a worthwhile consideration.
Dr. Pen Reviews
"I love the Dr. Pen A9 microneedling pen. It offers great versatility — you can use it wirelessly or plugged in if the battery runs out. While it lacks an LCD display, the speed setting is conveniently indicated by the LED bar. Remarkably, the absence of a screen has no impact on its performance whatsoever.

To sum it up, the Dr. Pen A9 is a superb microneedling pen that I wholeheartedly endorse. Its convenience, adaptability, and most importantly, its notable results, make it a great choice."
— Wayne, TX
"I've tried several microneedling pens and found this wireless model to be my personal favorite so far. The lack of a cord makes treatments easier in my experience. Another advantage is the powerful battery, that allows multiple sessions before needing to recharge the device. This is a significant and appreciated bonus.

In my experience, this microneedling pen stands out as one of the top options for use. Its user-friendly nature and adaptability to diverse skin treatment requirements truly set it apart."
— Erin, CA
Dr. Pen Ultima A6S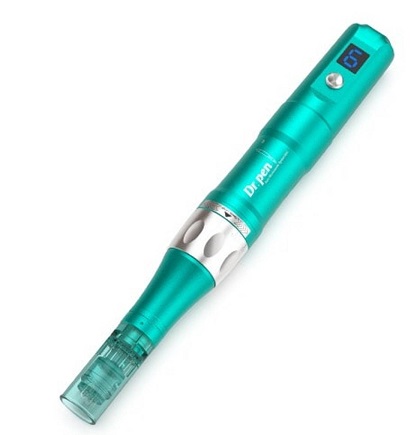 Winner category: Best for use on the body
Pros
One of the few microneedling devices that can use a 42-pin cartridge that makes it ideal for treating larger areas of the body
The most powerful motor that allows for faster treatment times
Features intelligent technology that learns and remembers your treatment patterns
The built-in LED display screen that allows you to monitor the intensity level of the device
Cons
Requires patience to see substantial results
Pricier than other microneedling options
Dr. Pen Ultima A6S is a device that makes microneedling easy to do at home. It features ultra-fine needles, so you can treat various areas of your face, neck, chest, and hands with pinpoint accuracy. And this is the one pen that can use a 42-pin cartridge, perfect for body treatments. The model also has the most powerful motor compared to other devices in this list, which allows for faster treatment times.
What truly sets the Dr. Pen Ultima A6S apart is its intelligent technology that adapts to your needs. The device actually learns and remembers your treatment patterns, making your skincare routine even more effortless. This not only saves you time but also tailors the treatment to your specific requirements.
The device also includes a built-in LED display screen, unlike the Dr. Pen A9, that allows you to monitor the intensity level of the device, ensuring that you're using it at a comfortable and effective setting.
It's important to note, however, that the Dr. Pen Ultima A6S requires patience when it comes to observing substantial and lasting results. Feedback from users indicates that noticeable improvements may take several months to become apparent. Also, it's essential to consider the price point. As a feature-rich device, it falls into the pricier category compared to other microneedling options.
Dr. Pen Ultima A6S Reviews
"As an aesthetic nurse, I recently acquired the Dr. Pen Ultima A6S with the purpose of conducting a thorough comparison with other devices I've utilized previously. To my satisfaction, this tool has proven to be remarkably user-friendly while delivering performance that rivals more expensive alternatives. I can even say that it's the best microneedling pen for professional use.

But an essential lesson I've gained from this experience underscores the significance of patience. While the Dr. Pen Ultima A6S demonstrates remarkable effectiveness, it's vital for both practitioners and clients to exercise sufferance."
— Vickie, LA
"I've been microneedling since I was 19, and now at 27, I've seen fantastic results. After just one treatment, my family and friends have noticed a huge improvement in their acne scarring and pitted marks. They are thrilled with how well it works!

Microneedling is very safe when done properly. The pen device uses fresh, sharp sterile needles each time so there is no risk of bent or blunt needles causing damage like roller devices can.

It's also so easy to use at home and works wonders on fine lines, wrinkles, scars, and enlarged pores. I recommend doing it once a month to allow the skin time to renew between sessions."
— Kenneth, WI
Sergand Microneedling Pen
Winner category: Best device for face treatment
Pros
Effective at evening out skin tone and promoting hair growth
Designed to be easy to use, even for beginners due to the detailed instruction manual
Has six carefully optimized working speeds that allow you to customize the microneedling treatment to your individual needs
Cons
If you run out of disposable cartridges (20 pieces), you will need to purchase a new pen
When it comes to achieving flawless skin, the Sergand Microneedling Pen has undoubtedly earned its reputation as the most effective device for face treatment, as echoed by numerous satisfied customers. And it's due to its ability to effortlessly even out skin tone while providing the autonomy and sterility that every skincare aficionado craves. Besides this, the device has also shown efficiency in hair growth, unlike Dr. Pen A9 and Dr. Pen Ultima A6S.
Also, if you're a newbie in microneedling, the Sergand is a good option for you, as this brand prioritizes user-friendliness. The package includes foolproof instructions that make starting your microneedling routine an absolute breeze.
With six carefully optimized working speeds, like with models from the Dr. Pen brand, you can easily find the perfect setting that suits your unique needs.
But if we were to highlight potential drawbacks, it is impossible to purchase disposable cartridges separately from the pen. However, the device includes 20 pieces in the kit, which means if you use one cartridge every 3-4 weeks (the average treatment time), you'll be well-equipped for at least 1.5 years.
Sergand Microneedling Pen Reviews
"I'm really impressed with my device! The best part is that you won't find yourself pondering, 'How to use Sergand microneedling pen?' because the provided instructions make the entire process super easy. They offer clear guidelines on choosing the right needle length and intensity based on what skin concerns you want to target. The pen itself is thoughtfully designed — the needles come individually wrapped to stay sterile and are conveniently labeled by size.

After using it for a few months now, I'm amazed by how simple and effective it is. The only tiny issue is the needles can sometimes pop off if you press too hard. I do wish they locked in place tighter."
— Lauren, LA
"I've found that using Sergand microneedling pen can be just as effective as a professional microneedling pen for estheticians, if not more so. The ability to self-administer treatments every 4 weeks instead of waiting 6-8 weeks between appointments is a major advantage.

While microneedling can be uncomfortable, I have found that numbing cream is not necessary for me to tolerate the treatment. I start with lighter passes over more sensitive areas like my forehead before going over spots multiple times.

With a little patience, I've gotten great results microneedling my own forehead, cheeks, and other areas."
— Blanche, MI
Confused about which
microneedling pen
is the right choice for your home use? Check out our article for valuable insights on how to make the best selection for your needs.
Microneedling Pen at Home: Before and After
If you're skeptical about the results you can achieve with a microneedling pen, that's understandable.
But there's no need to take our word for it — we've gathered numerous "before and after" pictures from real users who have tried microneedling in their own homes, and we're ready to share those with you.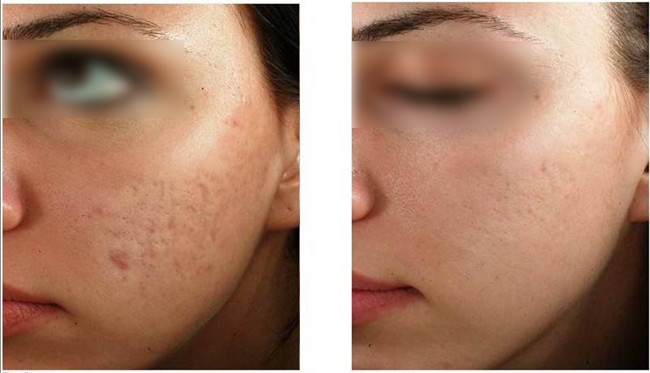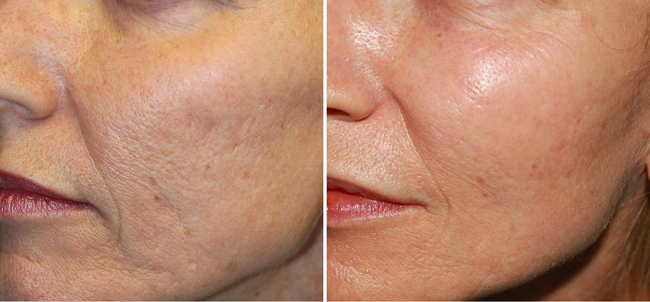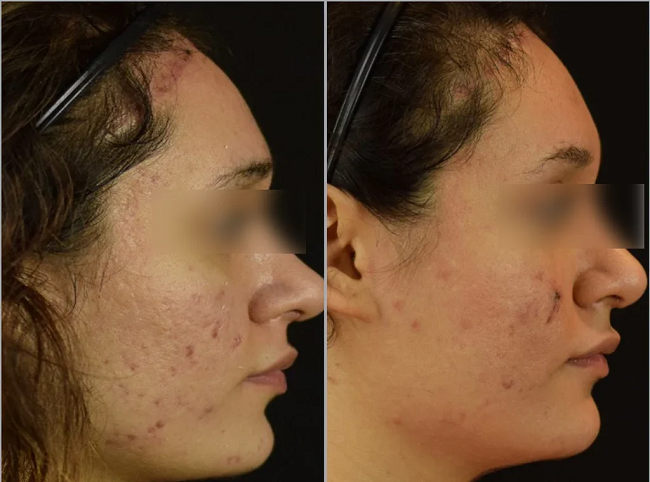 At-Home Microneedling vs. Professional: What's Better?
Microneedling has become increasingly popular due to its effectiveness for most skin concerns. However, you may be debating what is the better option — getting a professional session done in a dermatology office or trying microneedling yourself at home.
Let's figure out the benefits and drawbacks of both approaches to help you make an informed decision that aligns with your skin care needs and preferences.
Professional microneedling
Pros
Professional microneedling is performed by trained experts who possess in-depth knowledge of the procedure. They use appropriate techniques and specialized equipment, resulting in more effective, highly noticeable, and impactful results.
Professional microneedling can be combined with other treatments, like
(PRP), for enhanced results and benefits.
Professionals provide post-procedure care and guidance, reducing the risk of infection, discomfort, and adverse reactions.
Cons
Professional microneedling is typically more expensive due to the expertise and personalized care provided.
Appointments may require dedicated time, and there could be waiting lists depending on the popularity of the clinic.
After professional treatment, there might be a more extended recovery period due to the use of longer needles and more intensive techniques.
At-home microneedling
Pros
At-home microneedling allows you to perform treatments at your own convenience, without the need for appointments or travel.
At-home devices are usually more budget-friendly, making the procedure accessible to a wider range of people.
Multiple sessions with shorter needles can offer a gentler, gradual approach to skin improvement, potentially reducing the risk of adverse reactions.
You have control over the procedure's intensity and frequency, allowing you to tailor treatments to your comfort level and specific concerns.
Cons
Without professional guidance, there is a risk of

performing the procedure incorrectly

, leading to ineffective results or potential harm.
Achieving desired results with at-home microneedling may require more time and patience due to using shorter needles and multiple sessions.
📌 In summary, professional microneedling offers more immediate and potentially more impactful results with the guidance of trained experts, while at-home treatment is more cost-effective and convenient but requires careful adherence to safety practices.
The choice between the two depends on factors such as budget, time, and the desired level of results.
Consulting with a dermatologist can help you make an informed decision based on your individual skin concerns and goals.
Are you leaning towards choosing an
at-home microneedling pen
but feeling unsure about which one to pick? Check out our guide where you'll discover a detailed review of the best devices, complete with their features and real user feedback.
How To Use Microneedling Pen
If you're considering trying microneedling yourself, it's crucial to learn proper technique to maximize results and avoid potential side effects. Below you can find information on how to safely and effectively use a microneedling pen at home. With some preparation and care, you can achieve professional-level results.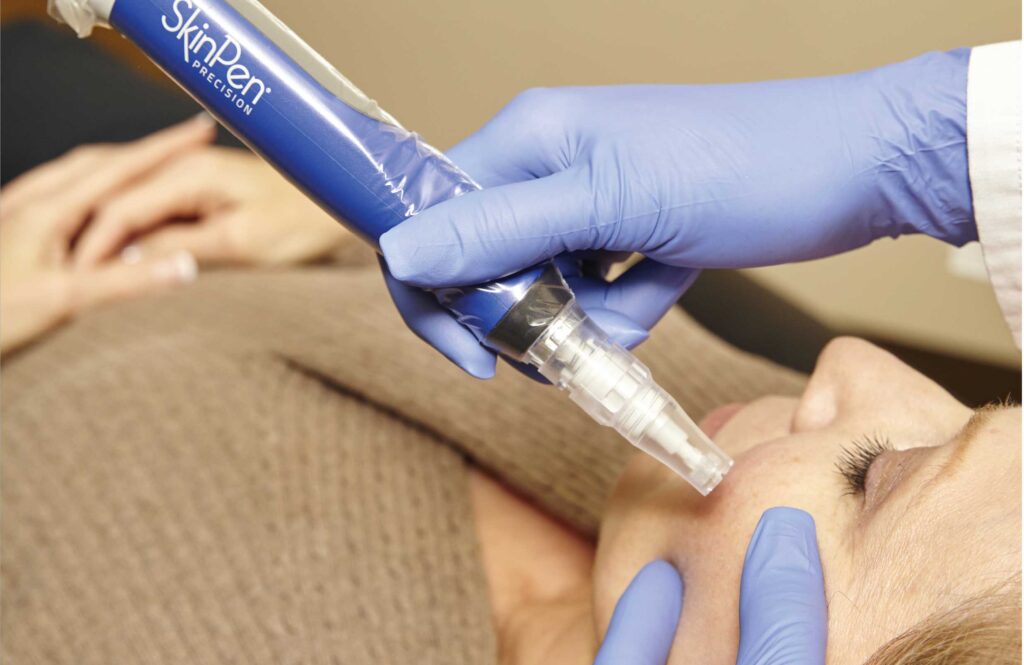 Preparation
Step 1: Thoroughly cleanse the treatment area. Use an alcohol wipe or antiseptic cleanser to sanitize the skin and ensure no bacteria is present.
Step 2: Wash your hands and put on disposable gloves to maintain a sterile environment. Tie back any hair that could get in the way.
Step 3: Apply a numbing cream or gel to the treatment area. Let it sit for 20-30 minutes, then gently remove it with a clean cloth. This will make the treatment more comfortable.
Step 4: Then apply a hydrating serum or gel, like hyaluronic acid, to lubricate the skin. This prevents drag from the microneedling pen.
Step 5: Set up the microneedling pen by inserting a new, sterile cartridge. Select the appropriate needle depth and speed settings as recommended for your treatment area and skin type.
Needle length and frequency recommendations
Fine lines and wrinkles: 0.25 mm — 0.5 mm (1-3 times per week)
Uneven skin tone and texture: 0.5 mm — 1 mm (every 2 weeks)
Hyperpigmentation: 0.25 mm — 1 mm (every 2 weeks)
Scarring: 1 mm — 1.5 mm (every 3-4 weeks)
Stretch marks: 1.5 mm — 2.5 mm (every 6 weeks)
Loose, sun-damaged skin: 0.5 mm — 1.5 mm (every 3-4 weeks)
Microneedling Process
Step 1: Work in small sections, no larger than 2×2 inches at a time. Apply more serum or gel before treating each section.
Step 2: Move the pen in straight lines up and down, then side to side in a criss-cross pattern. Use light pressure and go over each area 2-3 times. Avoid going over the same spot more than 3 times.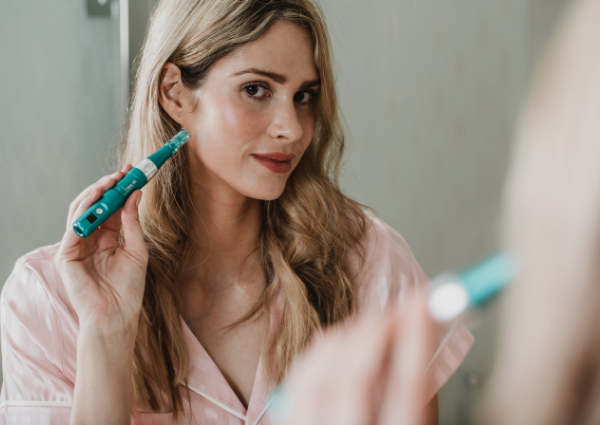 Step 3: For hard to reach spots like around the nose and eyes, use small circular motions instead of criss-crossing.
Step 4: When finished, gently cleanse the face again or just rinse with lukewarm water. Then apply soothing gel.
Aftercare
Proper aftercare is crucial for getting the best results from microneedling and avoiding complications. Here are the steps to follow:
24 hours after:
Gently cleanse and moisturize with fragrance-free, gentle products. Avoid actives like retinoids, AHAs, BHAs, vitamin C, or anything acidic as these can further irritate the skin.
Expect mild redness, swelling, and bruising. This is normal.
48 hours after:
Continue gentle cleansing and moisturizing.
Gently exfoliate any flaking skin. Don't scrub.
Wear
30+ sunscreen if going out.
Common Mistakes to Avoid
Microneedling is an effective skin treatment, but there are some common mistakes to avoid.
You don't need an overly deep needle to get collagen benefits.
For example, 0.5-1 mm depth is deep enough to penetrate the dermis and trigger collagen production without going too deep and potentially causing scarring.
Mistake 2: Reusing cartridges
Always use a fresh, sterile cartridge each time to avoid dulling the needles or spreading germs.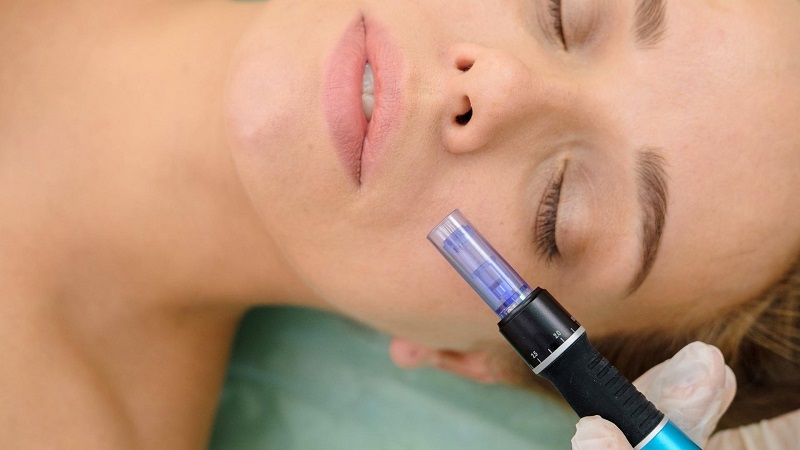 Mistake 3: Treatment frequency
Microneedling causes controlled micro-injuries, so the skin needs time to repair and regenerate. Doing it too often can lead to excess inflammation, slower healing, and hyperpigmentation.
📌 Follow the recommended schedule for your condition and device.
Mistake 4: Redness and bleeding
Some pinpoint bleeding and redness are normal after microneedling, but more doesn't necessarily mean better results. It depends on your skin sensitivity. Excessive inflammation can impede healing.
Avoid vitamin A/retinol products immediately before or after microneedling.
When applied topically, retinol stays in the epidermis. But needles can drive it deeper into the dermis where it can over-irritate. Use gentle hyaluronic acid serums instead.
The Verdict
Microneedling pens provide an accessible at-home option for improving the appearance of acne scars, wrinkles, texture, tone, and other signs of aging skin. When used properly, these devices can stimulate collagen production, reduce fine lines, and create a firmer, more youthful-looking complexion over time.
While professional microneedling produces more dramatic results, the cost and downtime are prohibitive for many. Microneedling pens offer a more affordable, convenient way to achieve improvements in your skin.
Some of the best devices on the market:
Dr. Pen A9 — Best battery performance
Dr. Pen Ultima A6S — Best for use on the body
Sergand Microneedling Pen — Best device for face treatment
If you stay patient and stick to best practices, microneedling pens are a worthwhile investment in younger-looking, healthier skin.
FAQ
✍🏻 Why Is Microneedling Also Called Collagen Induction Therapy?
Microneedling is called collagen induction therapy because the small punctures created by the microneedles trigger the skin's natural healing response. This causes your body to boost collagen and elastin production to repair the "injury" to your skin.
🤓 What Skin Conditions Can Microneedling Pen Help Improve?
Microneedling pen can help improve a wide variety of skin concerns through collagen induction. It is effective for reducing fine lines and wrinkles, acne scars, surgical scars, stretch marks, enlarged pores, hyperpigmentation, uneven skin tone, and dull or dry skin.
❓ What Will the Skin Feel Like After Microneedling?
After a microneedling treatment, your skin may feel slightly irritated, dry, and sensitive for 2-4 days. Tiny scabs may form at puncture points. These are normal reactions that indicate the collagen regeneration process has begun. Avoid exfoliating or intensive skin care during the healing period.
🔍 What Speed/Depth of Microneedling Pen Should I Start With?
Start with a slower speed and shallower depth if new to microneedling. This allows you to get comfortable with the sensation and proper technique. You can try to use faster speed and deeper penetration on the body for issues like stretch marks or deep scars.
References
Ramaut, L., Hoeksema, H., Pirayesh, A., Stillaert, F., & Monstrey, S. (2017). Microneedling: Where do we stand now? A systematic review of the literature. Journal of Plastic, Reconstructive & Aesthetic Surgery, 71(1), 1-14. https://doi.org/10.1016/j.bjps.2017.06.006
Hou A, Cohen B, Haimovic A, Elbuluk N. Microneedling: A Comprehensive Review. Dermatol Surg. 2017 Mar;43(3):321-339. doi: 10.1097/DSS.0000000000000924. PMID: 27755171.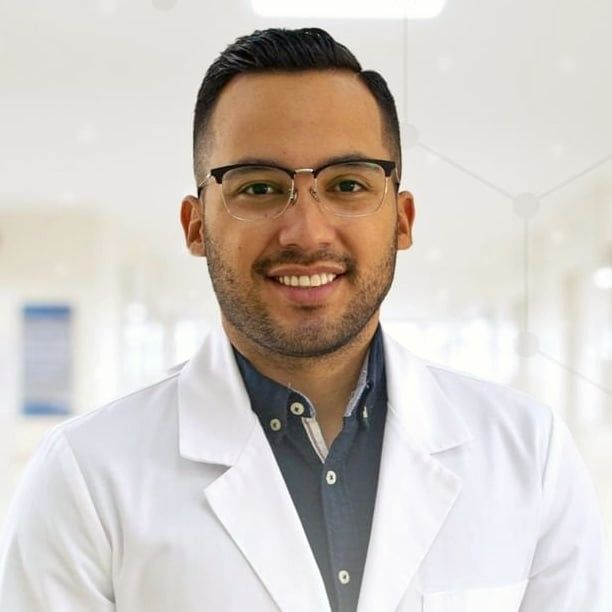 Dr. Jose Diego Mier is a board-certified dermatologist with over a decade of experience in light therapy, dermatology, and skin care. As the founder of the Heliotherapy Research Institute, Dr. Mier has dedicated his career to the study and application of light-based therapies for various skin conditions, including acne, psoriasis, eczema, and skin aging. He is renowned for his extensive research contributions, numerous publications in leading dermatology journals, and his work has been recognized with awards for excellence in research and innovation. He has been invited to speak at national and international conferences, sharing his expertise and insights on light therapy and skin care.