LYMA Laser Honest Reviews: Is It A Good Option For Your Skin?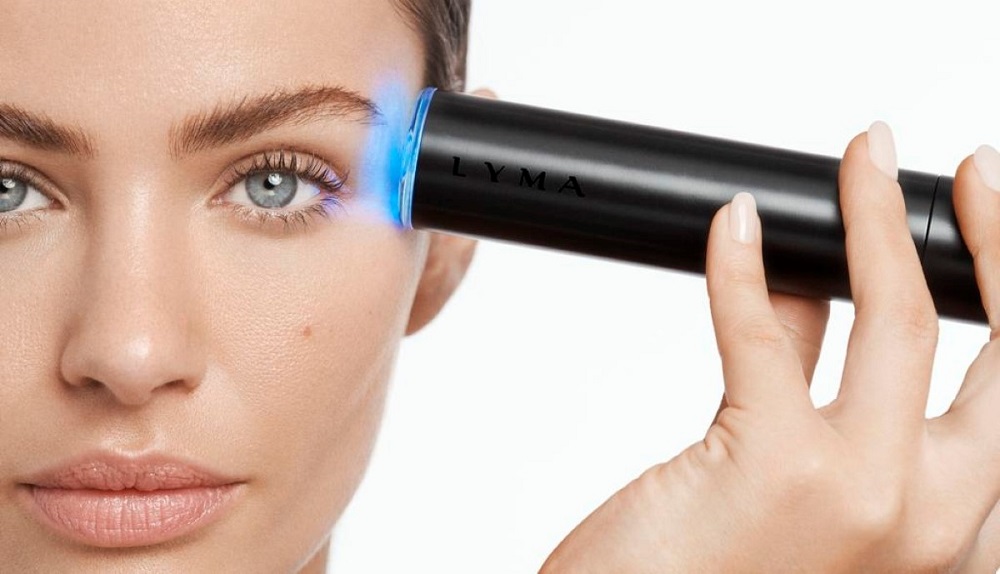 The trend of using lasers for skincare, both in salons and at home, has gained considerable popularity in recent years and created more new devices such as the innovative LYMA Laser. By purchasing a facial laser that can be used at home, you have the ability to use the device whenever you want, without relying on salon appointments or external schedules, but you should take into account LYMA laser reviews from real customers, and today we are here to help.
Additionally, owning a home facial laser offers long-term value, you can continue to use it for regular treatments, ensuring lasting results over time. But with more and more beauty gadgets on the market now, it's not an easy task to figure out which ones work and which ones are just taking your money.
In our article on the best lasers for skin tightening, we mentioned the LYMA Laser as a potential newcomer that has been catching clients' interest. Today, we dive deeper into Lyma laser before and after results, exploring its features, benefits, and potential drawbacks. We also look deeper and will research Lyma reviews of other products like the LYMA Mist and Glide and the LYMA Supplement. And finally, will answer if it's right for you and worth the price.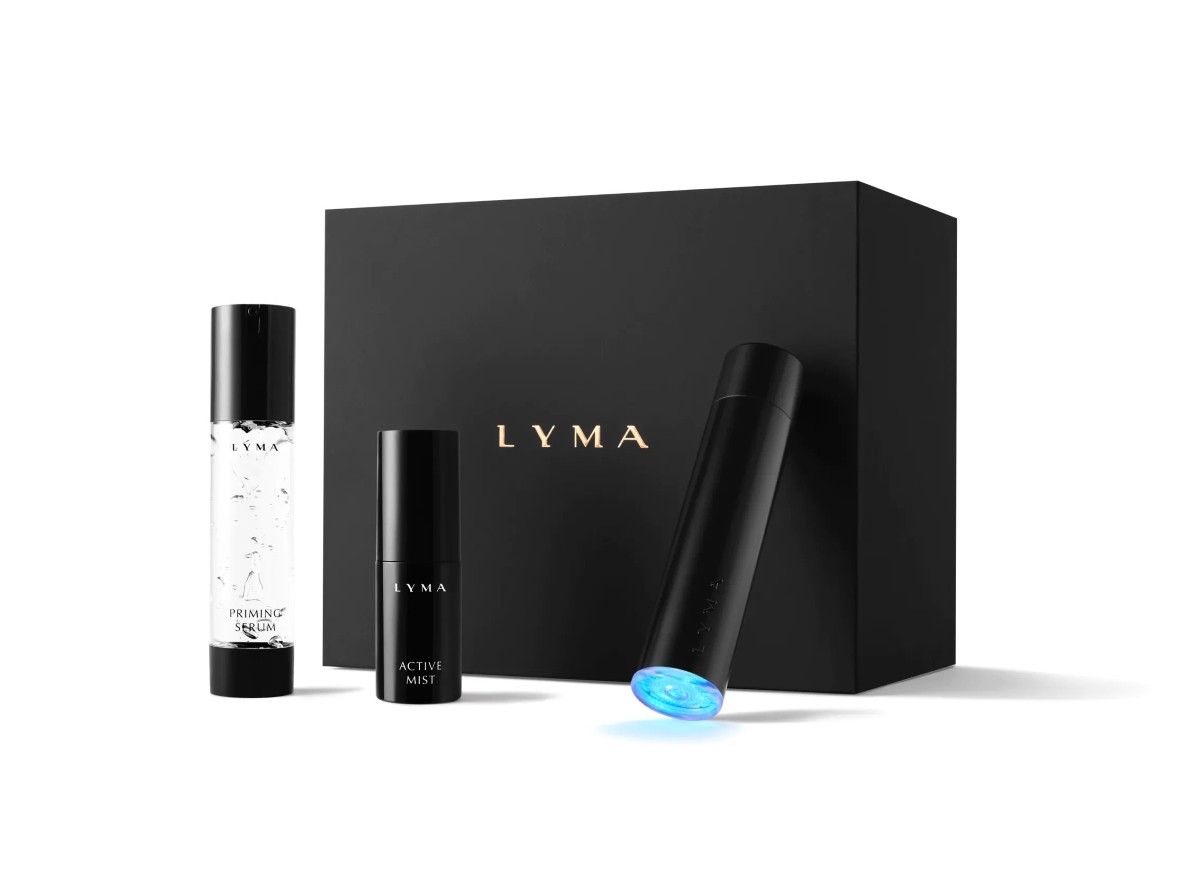 The LYMA Laser Starter Kit
✅ Affects wrinkles, sun-damaged skin, rosacea, scars, pigmentation, and sagging skin
✅ FDA-clearedThe U.S. Food and Drug Administration has reviewed the item's safety and effectiveness based on specific regulations and standards and clinically proven to be safe and effective for all skin types
✅ Helps to increase collagen production
✅ Easy to use and can be incorporated into any skincare routine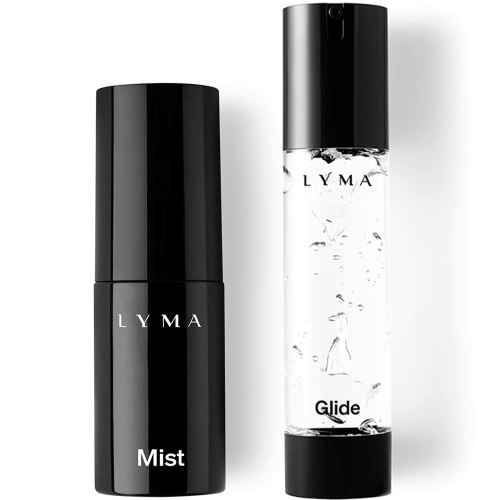 The LYMA Oxygen Mist and Glide
✅ Designed to boost skin oxygenation
✅ Contains hyaluronic acid, which helps to lock in moisture
✅ Contains antioxidants that help to protect your skin against environmental stressors like pollution and blue light from electronic devices
✅ Contains peptides that help to stimulate collagen production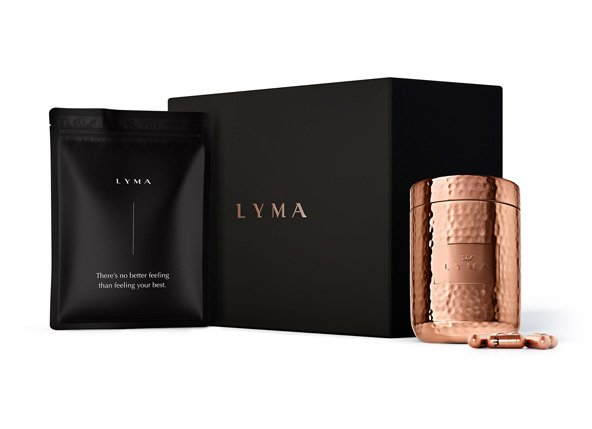 The LYMA Supplement
✅ Formulated with patented technology to enhance the bioavailability of its active ingredients, ensuring maximum absorption and efficacy
✅ Free from harmful additives, fillers, and artificial ingredients, making it a safe and healthy choice
✅ Easy way to support your health and well-being, with just two capsules per day
What Is The LYMA Laser?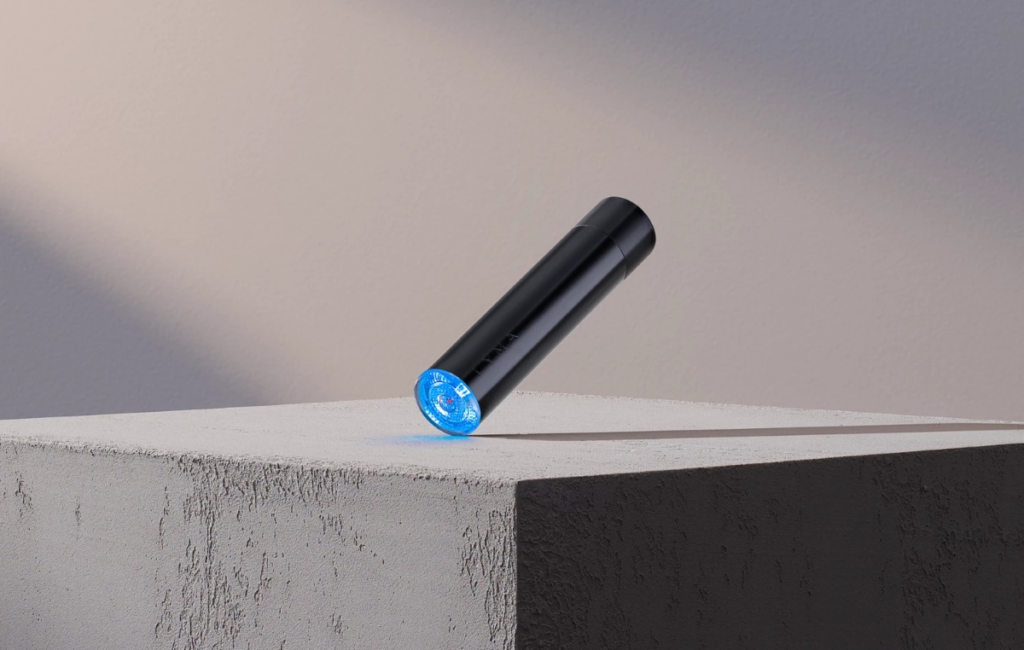 The LYMA laser device is said to treat a number of skin conditions such as fine lines, wrinkles, pigmentation, acne, and inflammation, which is common to almost every skin type nowadays.
In addition, the LYMA laser offers you a few modes of operation for different areas of the body and face, which allows for individualized treatment. One of these with a soothing blue light that fights acne-causing bacteria and helps reduce breakouts.
The gadget can help tighten the skin by promoting collagen synthesis, which reduces the appearance of fine lines and wrinkles over time, and make people start complimenting your new skin.
To dive deeper into the science and benefits of the
LYMA laser
, don't miss our article.
Find out how this technology can improve your well-being and solve a range of problems.
And all these are substantiated by authentic customer reviews.
How Does It Work
The LYMA Laser works using three main technologies: Laser, LED light, and Thermal heating. Low-level laser treatment (LLLT) works by producing low-energy light to penetrate the skin at the cellular level. The use of this light increases the production of collagen and elastin, two important components that promote beauty and vitality in your skin. Additionally, LLLT increases blood flow and oxygen to the skin, which helps to reduce inflammation, redness, and pigmentation.
LED light therapy is another technology used by the LYMA Laser. The device emits both red and blue light, which contribute to diminishing inflammation and enhancing skin's tone. The red light additionally promotes the synthesis of collagen and elastinCollagen provides structural support for your skin, promoting firmness and elasticity, while elastin allows the skin to stretch and snap back into place. These proteins work together to improve skin texture, reduce wrinkles, and enhance overall skin resilience., while the blue light assists the lymphatic laser in eliminating acne-causing bacteria.
Thermal heating is the third technology used by the LYMA Laser. It uses heat to open up skin pores, allowing for deeper penetration of skincare ingredients.
By combining laser, LED, and thermal heating technologies, the LYMA Laser provides a complete skincare solution. Each technique has a distinct purpose, and when combined, they aid in the improvement of skin texture, the reduction of fine lines and wrinkles, and the treatment of acne and hyperpigmentation.
📌
The ultra-dispersive lens technology of the LYMA Laser distinguishes it from other devices. It provides safe and targeted treatment across all skin layers, distinguishing itself from microcurrent. In addition, compared to home diode lasers, the LYMA laser offers the best efficiency due to its precise and controlled energy delivery.
Detailed Review: All Features Of The LYMA Laser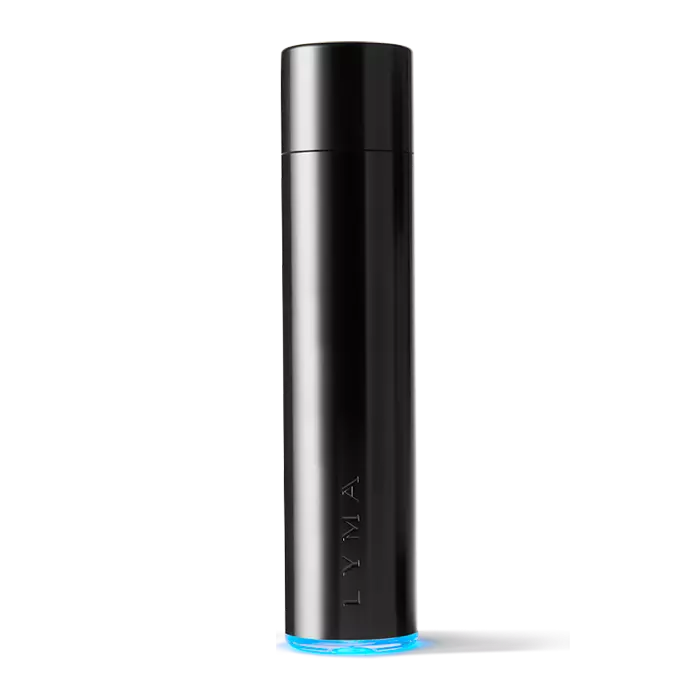 Technical Features:
Works from a socket and a battery
Unlike other home lasers, it has a longer wavelength (up to 1000 nm)
The red light (630 nm wavelength)
The near-infrared light (830 nm)
The blue light (415 nm)
Pros
Portable and easy to use, making it a convenient option for at-home skin treatments
Affects wrinkles, sun-damaged skin, rosacea, scars, pigmentation, sagging skin
Increases collagen production
The device's advanced technology allows getting more accurate targeting of specific problem areas
FDA-cleared and clinically proven to be safe and effective for all skin types
Has a lot of reviews from customers and tips for use
Has a two-year warranty and a ten-year lifespan
Cons
Must be used daily for at least 1–2 hours a day to see visible skin changes
People with sensitive skin should use it with caution
Slightly overpriced
For those who wish to improve the appearance of their skin and achieve more successful treatments, LYMA Laser is a highly recommended treatment option. One of the key benefits of the LYMA Laser is that it is a nonsurgical and painless alternative to traditional laser treatments. It can be used at home, which makes it a convenient option for those who may not have time or resources to visit a dermatologist or aesthetician regularly.
The device is also rechargeable and uses four different wavelengths to target specific skin areas, stimulating collagen production and promoting cellular regeneration. This leads to smoother, younger-looking skin, which improves with ongoing treatment. Furthermore, LYMA Laser is FDA-approved and has been clinically demonstrated to be both safe and effective for all skin types, making it a dermatologist and cosmetologist favorite. But taking into account the feedback of real customers, it is recommended to use the laser on sensitive skin with caution, especially on sensitive areas near the eyes.
However, it is also important to note that like any other beauty device, individual results may vary. Some users may notice significant improvements in their skin condition within a couple of weeks of use, while others may not perceive much of a difference. Moreover, the LYMA Laser is expensive and might not be accessible to every individual, so it is necessary to determine its efficiency based on an extensive review.
Using Of The LYMA Laser: Before And After Results
When it comes to studying the effectiveness of new laser treatments for the face and body, before and after photos can be a decisive factor. As with any cosmetic procedure, we have doubts and questions about whether it will really bring us the results we want, and not just a minus in our wallet. So let's dive into this section and discover the transformations captured in these before and after photos.
Skin Tightening
In terms of skin tightening, the laser's heat energy can cause the collagen fibers in the skin to contract, resulting in a more lifted and firm appearance.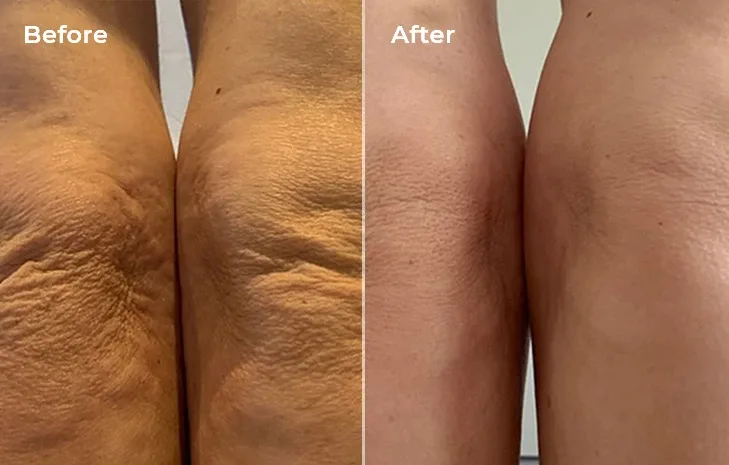 Acne
In our analysis of how the LYMA Laser work to reduce inflammation, redness, and shrink pores, we found out that the laser kills bacteria that cause acne breakouts. The therapy not only helps to reduce the number of rashes but also removes scars from post-acne on the face and throughout the body.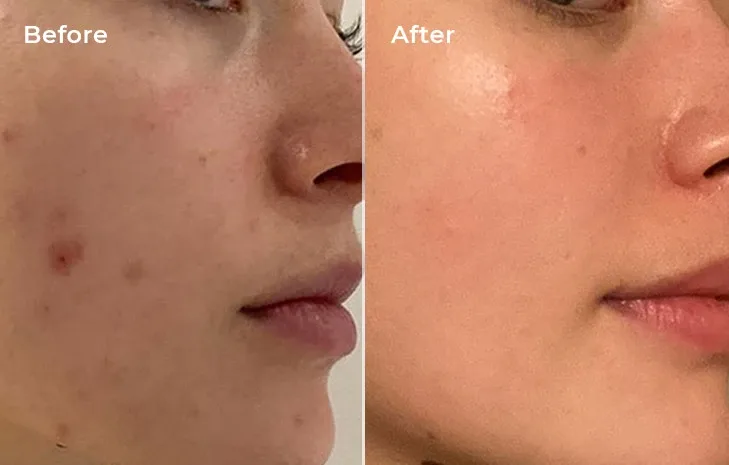 Wrinkle Reduction
Wrinkle reduction is another benefit of the LYMA Laser, as near-infrared light therapy can help smooth out fine lines and wrinkles, particularly around the eyes and forehead.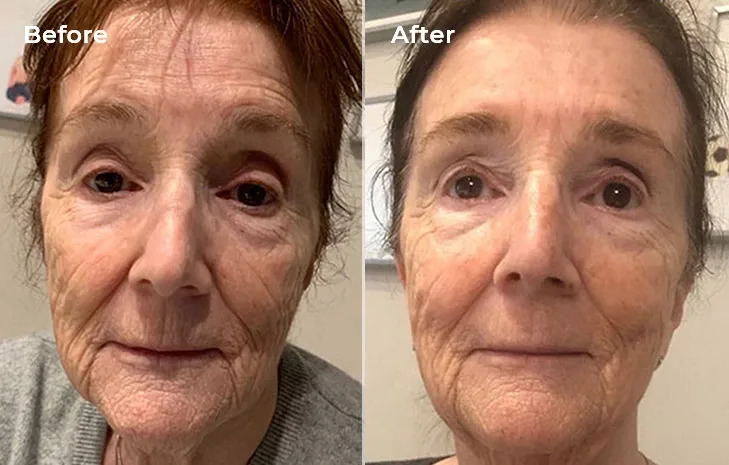 Skin Texture
Clinical trials have demonstrated that the LYMA Laser therapy improves skin problems significantly. The laser can refine skin texture by reducing the appearance of scars, hyperpigmentation, and uneven skin tone. This is achieved through the device's ability to stimulate collagen production and improve blood circulation.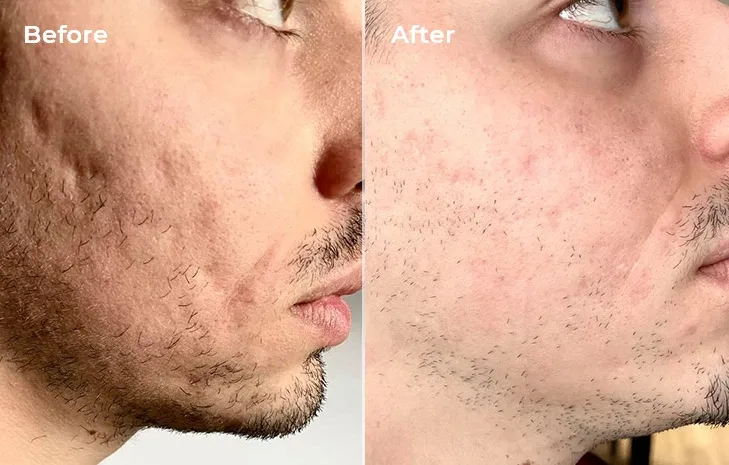 📌
Postpartum or weight loss persons may be dealing with stretch marks or changes in skin texture as a result. The LYMA Laser, which is particularly intended to treat stretch marks and enhance skin texture, can offer them a potential solution.
LYMA Customer Review
This revolutionary LYMA Laser, designed for facial and body skin, has garnered immense popularity among A-listers and beauty enthusiasts alike, promising transformative results and a radiant complexion. But what do real customers have to say about their experiences with this sought-after beauty tool?
Below, we pull back the curtain and share with you the real world of customer experiences, uncovering personal stories and even maybe negative reviews of the LYMA Laser that offer a glimpse into the true power of this coveted laser treatment.
"I've been using the LYMA Laser since June 2021. At 58 years old, I've noticed a remarkable difference in my skin's elasticity. I use it on different parts of my body, and I've experienced improved skin texture and tighter facial skin. My jawline and nasolabial lines have shown significant improvement. Using the device does require some effort, as I dedicate about an hour each day to treating my face, neck, and chest. I've stopped using microcurrent, as the LYMA Laser seems to do a better job of stimulating collagen production."
— Elizabeth, FL
"I'm 40 years old, and my main concerns were the texture of my skin and some acne scars. I've been using the LYMA Laser for almost 5 weeks. Let me tell you, I've seen a real improvement! My scarring is minimal now, and I can already notice a big difference in the texture and clarity of my skin. It was a big investment for me, especially since I used to go for laser treatments at a dermatology clinic. But honestly, in just 5 weeks of using the LYMA Laser, I've seen better results than those expensive treatments."
— Anna, NY
"As someone who works in the aesthetics field, I've been exposed to an abundance of gadgets and injectables that promise eternal youth. However, the LYMA Laser seem to be different. I've seen a considerable reduction in sunspots, tighter eyelids, and improvements in my jawline and neck in just six weeks. I've been so impressed with the results that I've even started recommending it to my own patients at the clinic."
— Josie, CA
In addition to the customer reviews of LYMA laser skin treatments, our team was interested in thoroughly investigating the LYMA Laser System Starter Kit. This package contains the laser equipment as well as the oxygen mist and glide with active oxygen, hyaluronic acid, and magnolia extract, delivering an unsurpassed skin-soothing experience and total enjoyment with the laser treatment.
"I've been using the products from the LYMA Laser Starter Kit for about three weeks now, and I have to say that my skin is thrilled with them! Unlike previous versions that caused acne, these products were gentle and effective. I use them in combination with the LYMA Laser as part of my nightly routine. The results have been great – my skin looks radiant, smooth, supple and perfectly moisturized."
— Senada, VA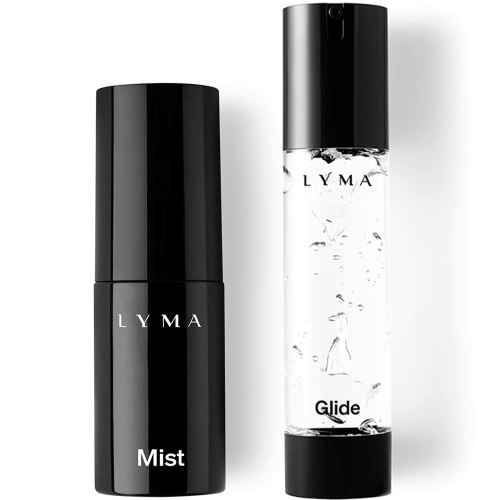 ✅ Designed to boost skin oxygenation
✅ Contains hyaluronic acid, which helps to lock in moisture
✅ Contains antioxidants that help to protect your skin against environmental stressors like pollution and blue light from electronic devices
✅ Contains peptides that help to stimulate collagen production
How To Prepare For The LYMA Laser Treatment?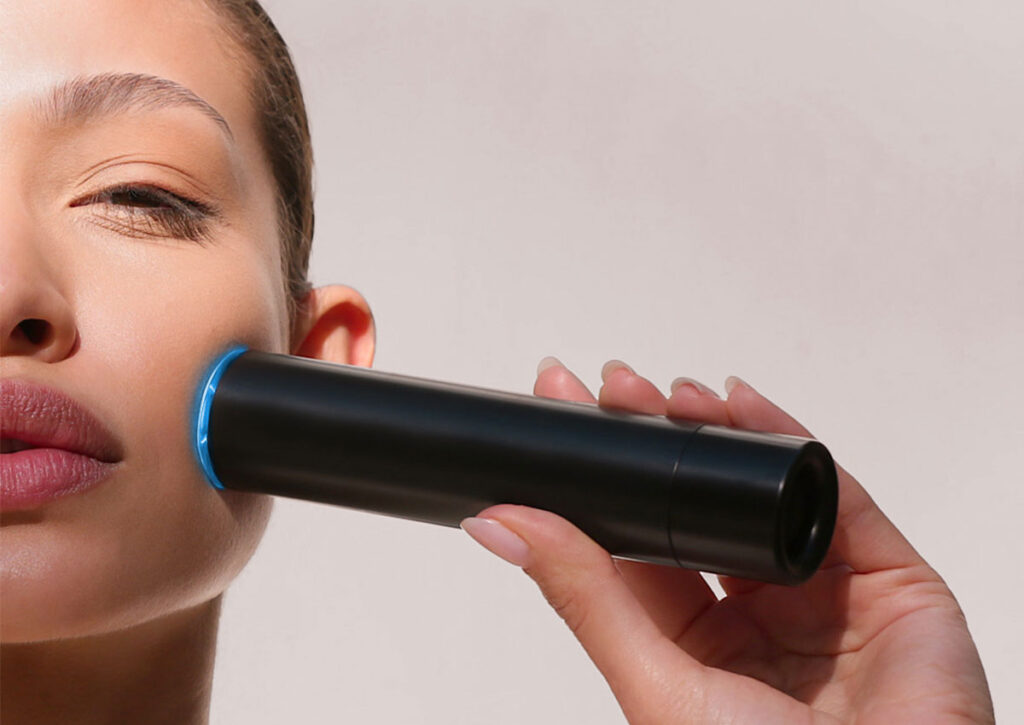 The LYMA Laser treatment has gained popularity among those seeking to improve their skin's appearance at home. Before beginning this treatment, it is important to prepare properly.
To ensure that you are using the LYMA Laser safely and effectively, it is recommended that you read the user manual carefully, and follow all instructions and precautions. We have collected below some tips and insights for the best laser treatment experience from the real-life reviews of customers who have used the LYMA Laser.
What To Expect During The Procedure?
The duration of the procedure depends on the size of the area to be treated, with an average session lasting about one hour.
Since LYMA laser treatment is a non-invasive cosmetic procedure, it is important to properly prepare your skin before treatment to ensure the best results. Here are some recommendations to help you prepare your skin for laser treatment in the comfort of your own home:
Avoid contact with the scorching sun and use sunscreen to avoid damaging the layers of skin. Sunburn or tanned skin can increase the risk of complications during the procedure.
Cleansing and exfoliation
Use a cleanser to remove any dirt, oil, or makeup from your face. This will help get rid of dead skin cells and increase the effectiveness of laser treatment.
Avoid certain medications
Do not use aspirin, ibuprofen, or other blood thinners, as they can increase the risk of bruising or bleeding. If you are taking any prescription medications, consult your doctor before stopping them.
Hydrate your skin by drinking plenty of water and using a moisturizer. This will help to keep your skin hydrated and improve the effectiveness of the laser treatment.
📌
We took a closer look at the
reviews of LYMA Laser System Starter Kit
, which the company offers to improve therapy results. Simply apply the oxygen aerosol to clean, dry skin and hydration-locking oxygen spray, then turn on your LYMA Laser. Infusing skin with essential nutrients will provide optimal laser performance.
It is possible to encounter temporary redness or swelling on the skin for a few hours following the treatment, but these effects typically diminish swiftly. Results of the LYMA treatment are usually visible after a few weeks, although achieving the desired outcome may necessitate multiple sessions.
Skincare Tips For After the Session
After the LYMA Laser therapy session at home, it is essential to take good care of your skin to ensure that you get the best possible results. Here are six tips for skincare that you can follow after your laser therapy session at home:
📌 Do not take hot showers and baths
It may remove natural oils from the skin, leaving it dry and irritated. Therefore, it's best to avoid hot temperatures for a few days after the therapy session.
📌 Wear protective clothing or sunscreen with a high SPF
After the LYMA Laser therapy session, your skin may be sensitive to sunlight. Therefore, it's important to avoid direct sunlight.
📌 Do not use harsh skincare products
Your skin will always be more sensitive than usual after a laser treatment. Use mild skincare products free of alcohol, perfumes, and other harsh ingredients, and go for non-toxic skin care products.
📌 Keep your skin cool
You can help to reduce inflammation and soothe your skin by using a cool compress or applying a cool gel to the treated area. This can help to reduce redness and swelling and promote healing.
📌 Avoid using makeup
Avoid using makeup for a few days after the therapy session. This will give your skin time to heal and recover from the procedure.
📌 Follow a healthy lifestyle
Alongside these recommendations, adhering to a healthy lifestyle is crucial in nurturing the well-being and vitality of your skin. This entails consuming a well-balanced diet, ensuring sufficient sleep, and effectively managing stress levels. The combination of these factors collectively contributes to enhancing the overall health of your skin and augmenting the outcomes of laser therapy.
Final Thoughts: Is The LYMA Laser Right for You?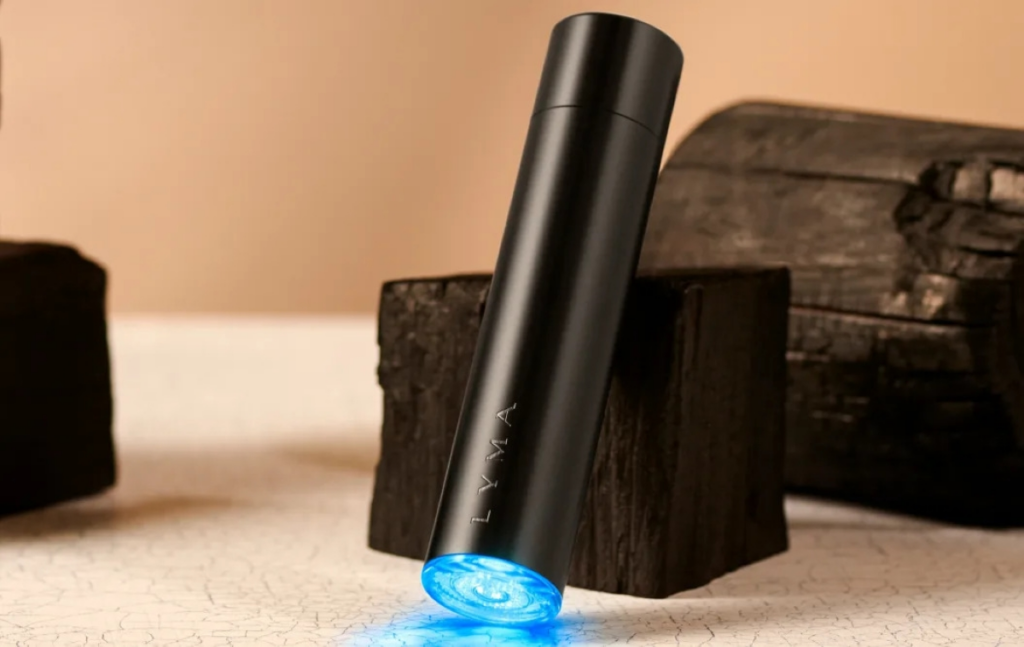 Are you prepared to bid farewell to skin concerns and greet a glowing, youthful visage? Look no further than LYMA Laser for the ultimate solution. According to LYMA Laser reviews, it is a game changer for people wanting a brighter, more youthful complexion, as seen by photographs showcasing the laser's effectiveness on various skin regions.
Our team has done the research and reviewed the real LYMA Laser before and after customer experience of using laser therapy, and we can say that this laser is an outstanding choice for anyone looking to repair and rejuvenate their skin. If you have wrinkles, fine lines, or uneven texture, the LYMA Laser's strong technology can perform miracles. It is used to stimulate collagen production and improve circulation, while LED light therapy in the LYMA Laser helps to reduce inflammation and redness, and thermal heating helps to open up pores and reduce pore size.
However, people with sensitive skin should be careful and consult a dermatologist before use. If you're interested in giving the LYMA Laser a try, remember to be safe and pay attention to your skin's response, as we found some negative reviews of LYMA Laser as after all, the laser is a powerful tool — so take care to avoid overexposure to the device.
FAQ
🤔 Does the LYMA Laser really work?
Extensive clinical trials have shown that the LYMA Laser is effective in reducing the appearance of wrinkles and fine lines, improving skin tone, and enhancing the quality of the skin. Furthermore, the LYMA Laser has received a lot of detailed reviews from customers, with many of them reporting significant improvements in skin appearance.
❓ Can I harm my skin with the LYMA Laser?
The LYMA Laser is safe to use on the skin that can help improve the health and appearance of your face and body. However, it is not recommended to use the LYMA Laser on broken or irritated skin, as this can cause further damage and discomfort. If you have sensitive skin, we highly recommend reading the detailed review to understand whether it suits you.
👩‍⚕️ Is the LYMA Laser clinically tested?
Yes, the LYMA laser is clinically tested and has completed extensive research confirming its safety and effectiveness. Clinical studies of the laser were conducted by a leading medical research center in the UK. The study involved 32 participants who underwent an eight-week course of treatment with the LYMA laser. The results showed that 95% of participants experienced a significant improvement in the appearance of their skin.
👀 Is it safe to use the LYMA Laser around my eyes?
When it comes to using around the eyes, most LYMA Laser reviews say that it is generally considered safe to do. However, it is crucial to avoid direct contact with the eyes themselves. It is recommended to place the device directly above the eyebrows and use it to treat the surrounding areas.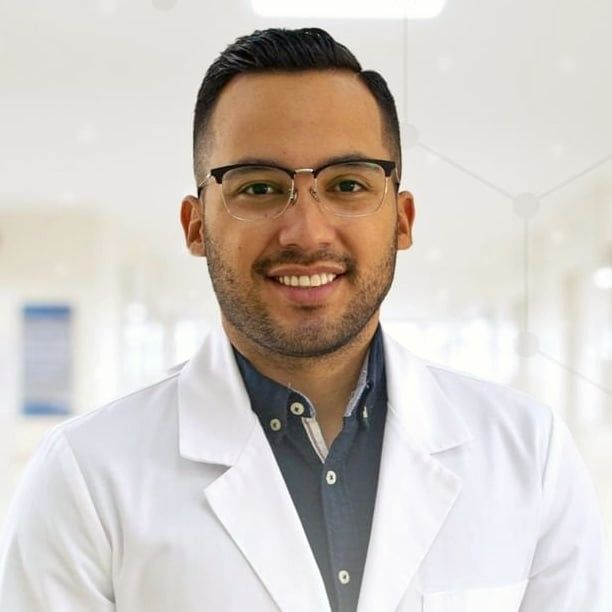 Dr. Jose Diego Mier is a board-certified dermatologist with over a decade of experience in light therapy, dermatology, and skin care. As the founder of the Heliotherapy Research Institute, Dr. Mier has dedicated his career to the study and application of light-based therapies for various skin conditions, including acne, psoriasis, eczema, and skin aging. He is renowned for his extensive research contributions, numerous publications in leading dermatology journals, and his work has been recognized with awards for excellence in research and innovation. He has been invited to speak at national and international conferences, sharing his expertise and insights on light therapy and skin care.