Beauty Gamechanger: Do Omnilux "Magic Masks" Really Work?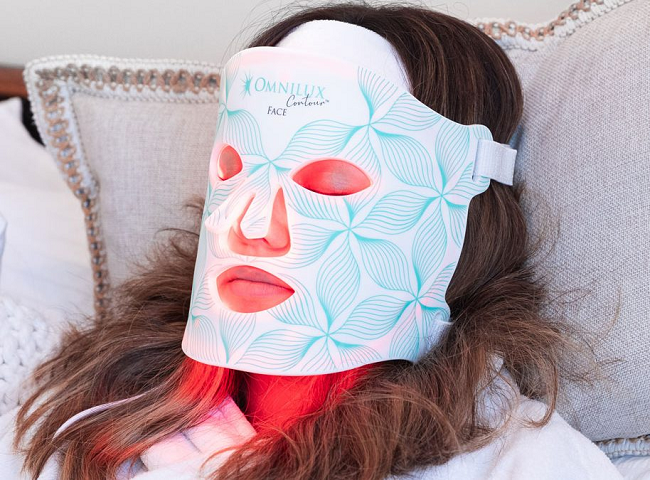 Beauty Gamechanger: Does Omnilux Really Work?
You probably opened this article because you were thinking about becoming the most beautiful version of yourself. Or maybe because you just came across the term "light therapy" and wondered if it was worth the time and money. To be sure, let's dive in and explore all the specifics.
Laser therapy, photodynamic therapy, and other forms of light therapy are not for the fain-hearted. But, there's now another option which may be of more interest, because it can be safely used at home — Omnilux LED masks.
You may have heard about it from supermodel Bella Khadid who recommends this "magic mask" to her fans. But, before you invest and test it on your skin, read on for the full lowdown and our research about the possible health benefits and risks, the experiences of people who have already tried it, and the technology behind the Omnilux LED mask.
Omnilux LED Masks Explained
Since 2003, skincare company Omnilux, has provided cutting-edge, non-invasive LED therapy designed to repair skin damage brought on by the environment and sun exposure. Its work is based on over 40 clinical studies and decades of continuous research.
Omnilux LED masks help eliminate toxins and rehabilitates the skin's natural bacterial balance in the deeper layers, restoring it to its former glory. As you may have noticed, this safe and effective therapy is becoming increasingly popular among those who want healthier and younger-looking skin.
Omnilux Contour Face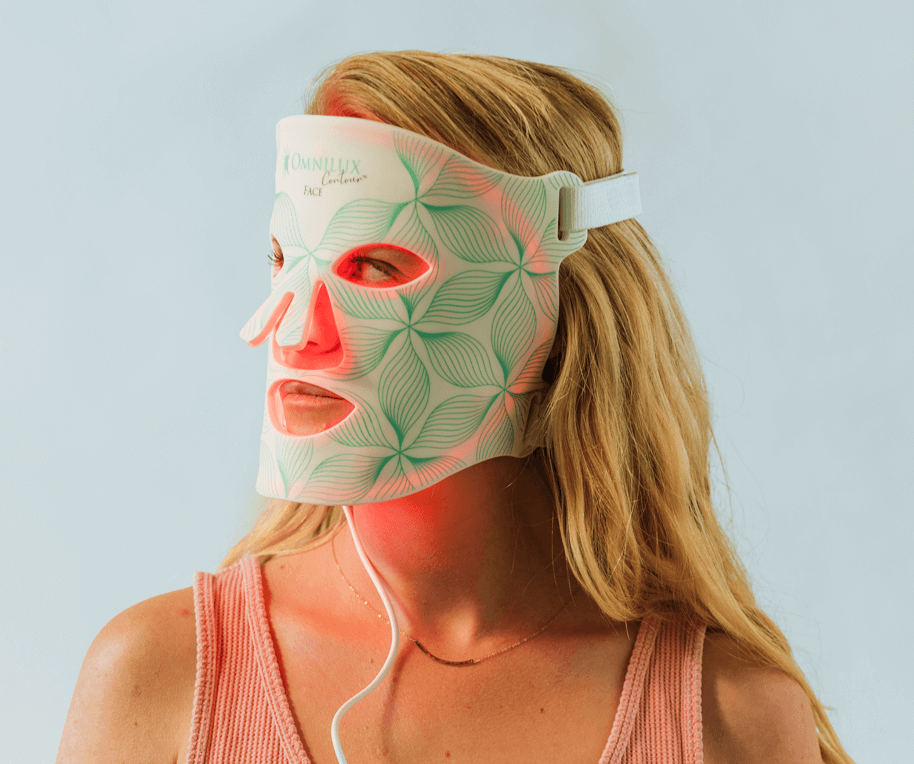 Omnilux ContourTM Face provides treatment with a combination of red (633 nanometers) and near-infrared (830 nanometers) light which has remarkable effects on your skin [4]. For example, red light increases collagen and elastin production, and reduces inflammation and redness, while near-infrared light stimulates cell growth and improves circulation, which can lead to faster healing and regeneration of tissues. In a nutshelll, Omnilux Contour Face gives you moisturized, youthful-looking skin.
Omnilux Clear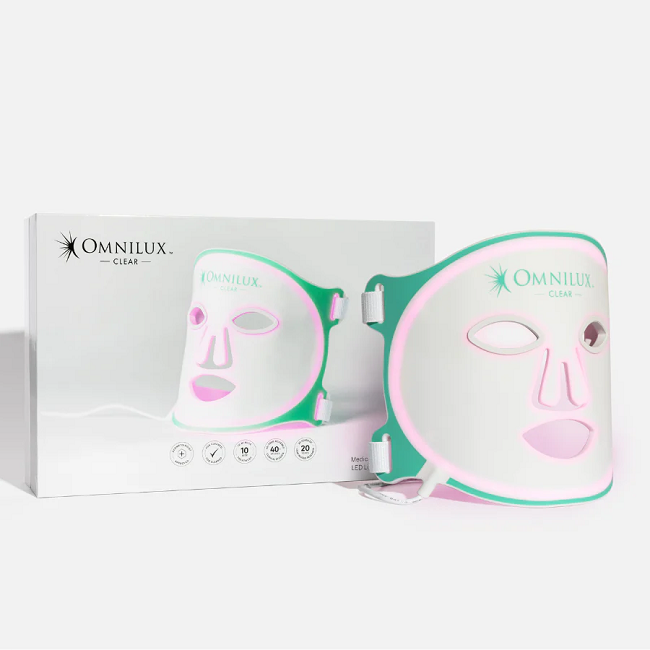 Using cutting-edge technology, Omnilux Clear provides medical treatments using a mixture of red and blue LED light with distinct wavelengths (633 and 415 nanometers respectively). These light wavelengths work together to reduce and eliminate acne, while also improving the overall health and appearance of your skin [6]. The causes of acne and scarring can be due to different factors such as hormonal imbalances, genetics, and poor skincare habits. With the help of Omnilux Clear, you can achieve smooth, elastic skin and reveal all the potential of your beauty.
Omnilux Contour Neck & Décolleté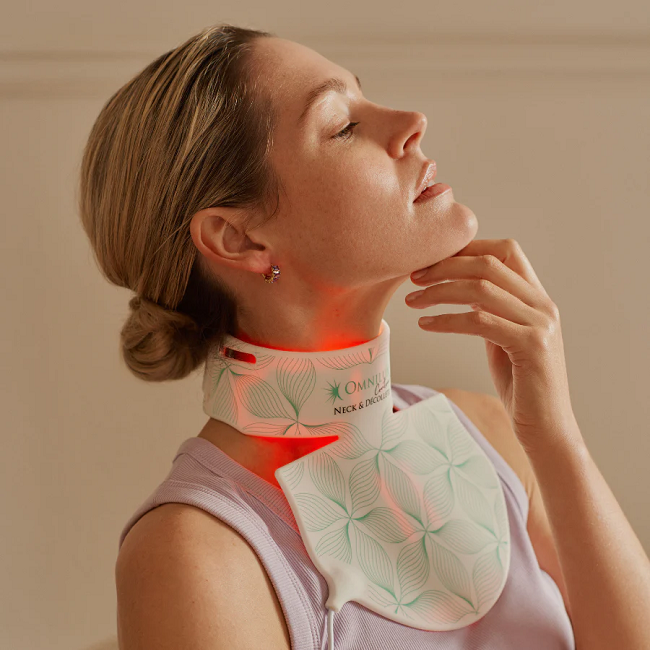 Omnilux Contour Neck & Décolleté is specifically designed for the neck and décolleté area. It uses two light wavelengths (red and infrared) to penetrate deep into the skin and stimulate cell production. This helps to improve the appearance of wrinkles and thinning skin while reducing pigmentation. This advanced treatment can give your skin a more youthful and radiant look, with results that can last for months.
We suggest you check the
detailed Omnilux LED masks
overview as it provides all differences between models for you to have the best results.
How Does Omnilux Work?
On a cellular level, red light with a wavelength of 633 nm, blue light at 415 nm, and near-infrared light at 830 nm, along with optimized energy output, can achieve miracles (you can read a full study on the efficacy of combination LED light therapy on the Omnilux website [1]). Certain light wavelengths can reduce fine lines and wrinkles, encourage the production of new collagen, and diminish the visible signs of aging caused by solar exposure. With their potent revitalizing powers, they can improve both your appearance and your state of health.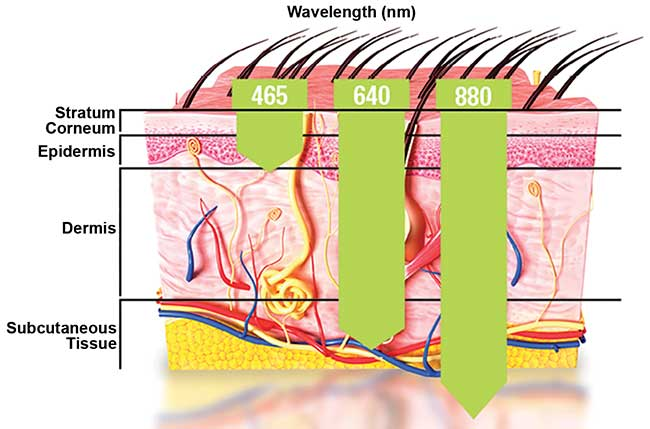 The differences between masks are their light color, as each color brings about a certain skin reaction:
Red is the best color for minimizing inflammation and redness. This color promotes a more radiant complexion since it has a positive impact on cellular regeneration and circulation.
The deeper fibroblast cells that near-infrared targets promote the growth of new collagen and elastin, giving your skin a firmer, younger appearance.
Blue is useful in reducing acne inflammation and killing the bacteria that produce redness.
What Does Omnilux LED Mask Treat?
Omnilux masks are unique tools for anyone trying to delay the effects of aging. They aid to lessen the appearance of pigmentation, redness, acne, and uneven skin tone – in addition to minimizing the visibility of fine lines and wrinkles. Furthermore, these masks help to firm and tone the skin, leaving you looking refreshed and revitalized.
Additionally, Omnilux has been thoroughly investigated for its potential to alleviate acne problems; one study has even shown a reduction in inflammatory lesions of up to 81% [7]. When utilized as a component of an acne treatment plan, this light therapy has also been shown to enhance skin texture and tone. Additional research has revealed that Omnilux is especially successful at treating mild to severe acne, even cystic acne, making it a suitable therapy choice for those with such skin disorders.
​Scientific Evidence of LED Light Treatment Benefits
The goal of phototherapy studies [3, 5] is to evaluate the blue (415 nm) and red (633 nm) LED therapy impact (in a 7 to 9-week timeframe) on acne, rosacea, eczema, psoriasis, and alopecia. Research indicates that LED light therapy can be beneficial in treating these conditions as the final clearance rate can be over 80%. Also, it has been proven to be successful in assisting with the reduction of wrinkles and fine lines as well as in enhancing the tone and texture of the skin.
In addition, LED light therapy has been found to reduce inflammation, increase collagen production, and even help with pain relief. With so many potential benefits, it is becoming a popular non-invasive option for many people.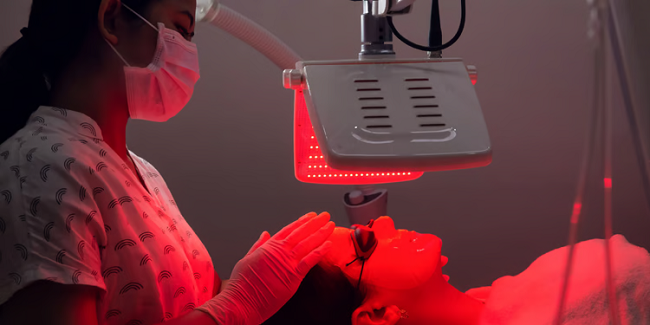 Contraindications And Side Effects
Omnilux research shows that their masks have zero negative side effects. And a ton of reviews prove that. However, under certain circumstances the manufacturer warns against its use:
if you are nursing a baby or anticipating becoming pregnant.
If you have any type of photosensitive illness.
if you are taking any drugs that can make you photosensitive.
If you are under 14 years old.
You can check the full list of contraindications in the Omnilux user guide [2].
Pros And Cons Of Omnilux LED Mask Treatment
Unfortunately, there isn't a miracle cure for anything, including beauty. However, Omnilux has developed a real "magic mask" that benefits you in a variety of ways! But like any other product, this one has advantages and disadvantages. We have researched all the details and now we are ready to show them to you.
Pros
Safe. The Omnilux LED mask is a safe treatment that is approved by the and has been extensively tested. The risk of side effects is close to zero.
Non-invasive. No physical trauma or discomfort is associated with the Omnilux LED mask treatment. You will only experience a bright, natural glow without any pain. 
Suitable for any skin type. Doesn't matter what skin type you have, as these masks will match it ​​equally perfectly.
Convenient. You can run the treatment at home when it's comfortable for you, as it doesn't need much time or effort.
Warranty. Omnilux LED masks have a two-year guarantee and a 30 to 45-day money-back guarantee.
Skin improvement. The main benefit of the Omnilux LED mask treatment is that your skin will be elastic and young-looking, and there will be much fewer wrinkles, fine lines, redness, and wound or scar marks.
Cons
Price. Omnilux LED masks could seem a bit of a pricey purchase (especially with a shipping fee). But despite their price, these masks are still more affordable than, laser treatments or chemical peel, for the majority of people.
One-size. As all the masks have equal sizes, they may not perfectly fit the face that is smaller or bigger than the average one.
Takes Time to See Results: For some people, it can take more time (than the manufacturer suggests) to see significant results.  
Before vs After Results of Using Omnilux
And now the most exciting part! We have prepared numerous comparisons and reviews for each model with different opinions and results for you to better understand how Omnilux affects acne, wounds, scars, redness, wrinkles, etc.
So let's compare!
Omnilux Contour Face (with real experience reviews)
As Omnilux Contour Face is designed to be used for facial skin rejuvenation, let's see how It does its job.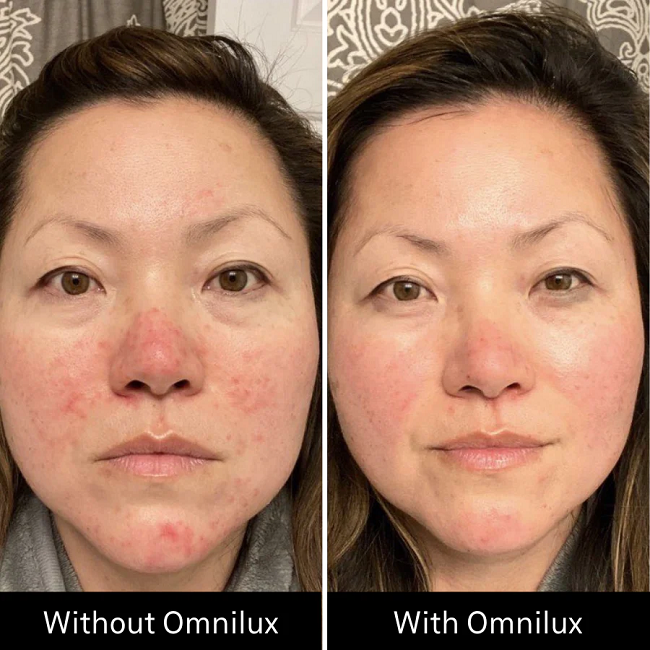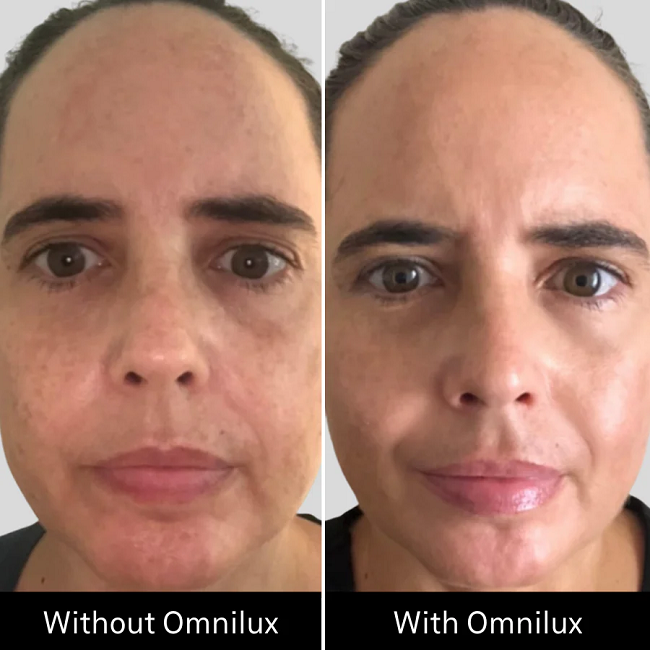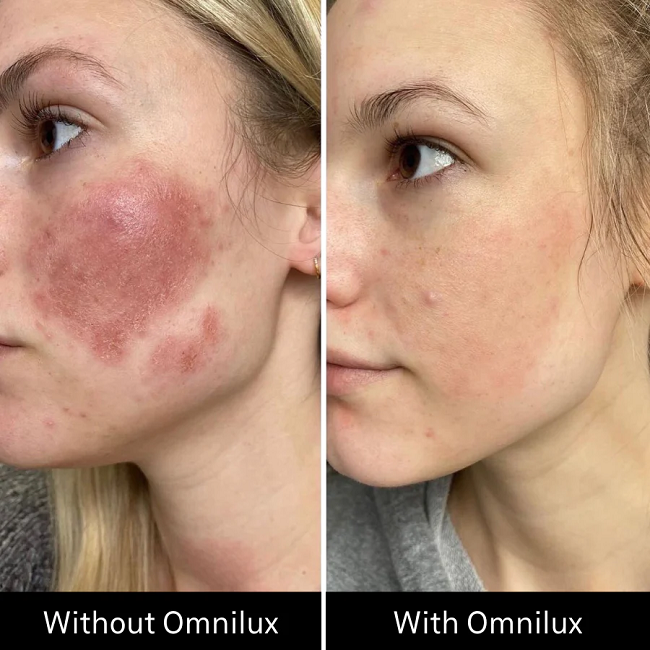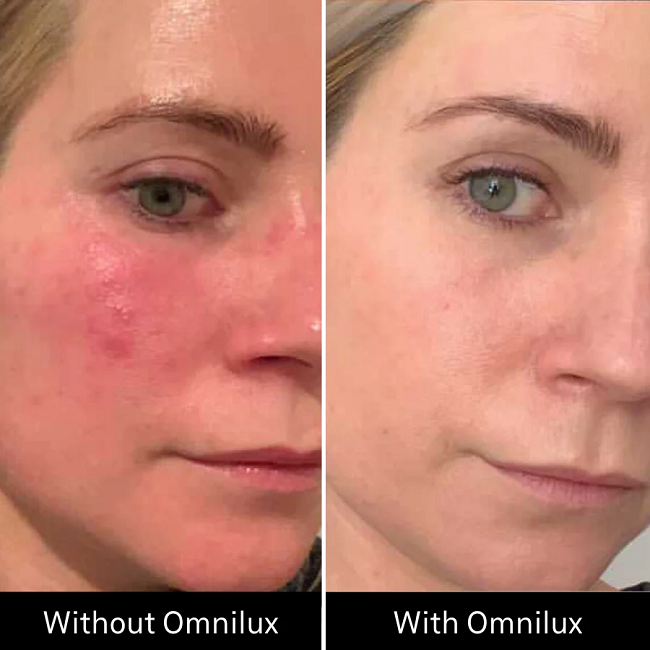 "My new Omnilux Face Mask is fantastic. Perfect lighting, after a month, my skin has a sheen, and miraculously, my face is going back in time. My skin will soon resemble a newborn, hehe. But really, I'm enjoying the change. The hand device will be my next purchase. I wanted something strong to assist my 69-year-old skin tone and reduce wrinkles. Omnilux is the BEST"
— Ilona H., US
"I ordered the Omnilux Contour Face LED mask as I am 63 years old, and it is starting to show. After using it for two weeks, the typical red areas and outbreaks had vanished. I also notice that the lines on the nasolabial fold have diminished. The best part is that each day is only 10 minutes.

I did a ton of research on LED masks before settling on the Omnilux Contour Face because several dermatologists suggest the item. I frequently travel for work, so it is simple to pack in a carry-on bag.

Extremely pleased and strongly suggest this product"
— Dorothy M., CA
Omnilux Clear (with real experience reviews)
Omnilux Clear is intended for the treatment of acne. Based on reviews, it does its job in a fantastic way. See for yourself!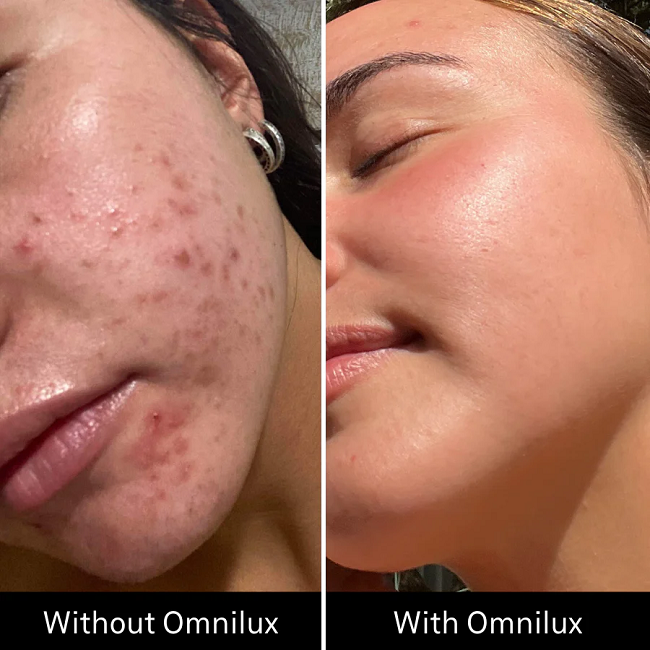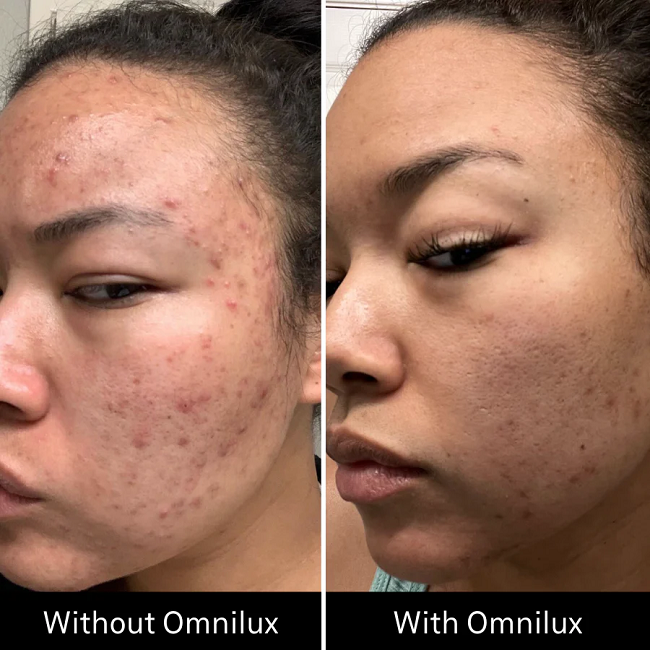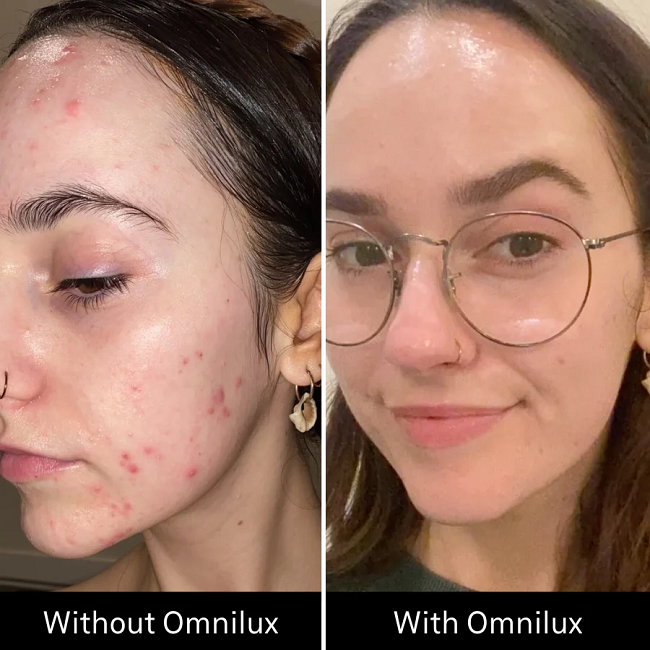 "I had this in my cart for weeks before finally biting the bullet and making the purchase as my skin continued getting worse. I've been using it for four days straight and already feel better. Looking forward to seeing it in six weeks! The Omnilux Contour Face is currently on my wish list!"
— Kathryn M., AU
"For nearly eight weeks, I have been using this mask every day. My huge acne pustules have significantly decreased, however, my blackheads have remained the same and I occasionally get papules. Before seeing any results, it took using the mask consistently for around 4 weeks. The fact that my face is no longer covered in acne makes me very happy, even though this is not a cure for acne."
— Frances, US
Omnilux Contour Neck & Décolleté (with real experience reviews)
Omnilux takes care not only of your face but your body too. And the Contour Neck & Décolleté model proves it: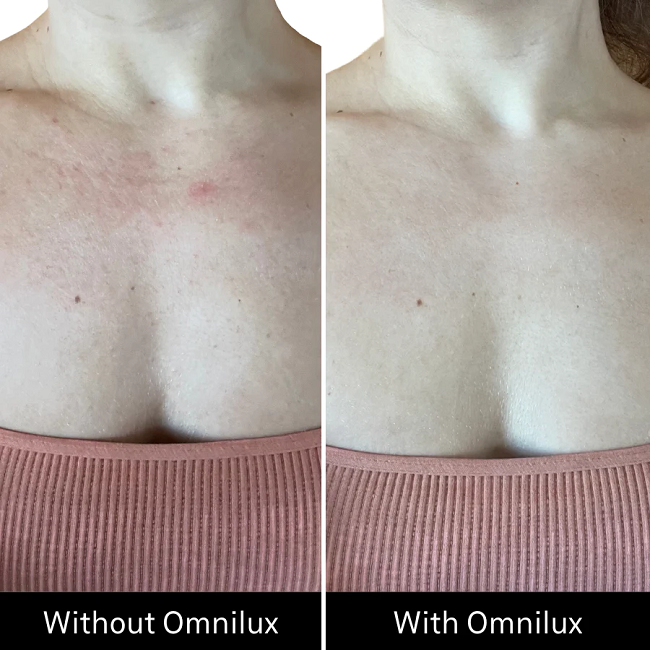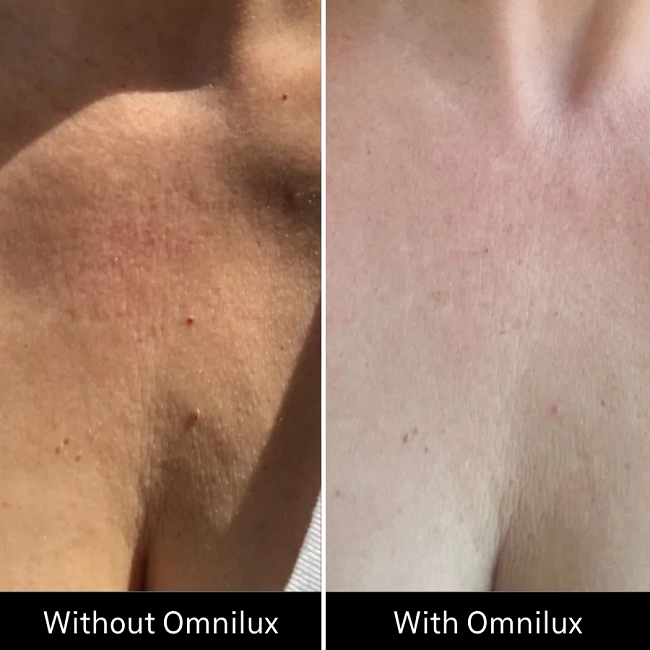 "Everything about my choice to purchase and use this product has been fantastic. I conducted an extensive study to find the best, most effective red light therapy device, and that research led me to Omnilux. It was simple and quick to ship. Elegant and feeling fitting for a product in this price category, the package was beautiful. I like the versatility of the neck and chest device, which may be worn against the neck or lower over the upper chest for more varied and extensive coverage. I also like that it can be adjusted and fits snugly. When I started using my Omnilux products regularly around 2.5 weeks ago, my skin has never looked better."
— Andrea, US
"I purchased the Neck & Décolleté because I've been using my Omnilux face mask for over a year and adore everything about this treatment. The results are great and the use is quite soothing. Highly suggestible!"
— Kathy, US
How To Use Omnilux LED Mask?
Before you use Omnilux LED mask there are some important health and safety instructions to follow. So, to freely become an Omnilux user read carefully our easy-to-follow instructions:
Before using your mask, it is important that you fully charge the controller. You must be patient as this can take up to 5 hours.
While your Omnilux controller is charging, you can prepare your skin. It must be dry, clean, and without makeup.
When your skin and mask are ready, you can begin the relaxation treatment. It is recommended that the treatment lasts no longer than 10 minutes.
After the treatment, you just need to moisturize your skin and apply sunscreen.
Finally, you need to take care of your mask after each application. Caring for it is simple: just clean it with a water-based cloth or a damp, clean cloth to prevent the growth of bacteria (Note: make sure that the mask is NOT being charged when cleaning).
How Long Does It Take To See Results From LED Light Therapy?
For each person, the terms are different due to biological characteristics. If you have not yet checked other people's reviews, you should do so, as it will help you get an idea of the time needed. As mentioned earlier, on average you will start seeing improvements within 2 weeks (if using your Omnilux mask 3-5 times a week)! But for the best result you better use it for a few months because everyone knows "little strokes fell great oaks".
Conclusion
Omnilux is one of the world's most trusted companies offering cutting-edge skincare products. Naturally, you might question its effectiveness. But we must all admit that extensive research, Omnilux's expertise in the field, and hundreds of reviews demonstrate the value of these "magic masks".
With its assistance, your skin will be supple, devoid of wrinkles and acne, and younger-looking. Compared to cosmetic procedures, buying this mask and dedicating 30 minutes per day to improving your skin is a win-win investment for your health & beauty.
FAQ
👩‍⚕️ Do Dermatologists Recommend Omnilux?
Dermatologists like Dr. Hany Abi Ghosn, Dr. Jared Jagdeo, Dr. Glynis Ablon, and others have relied on Omnilux products. In addition, Omnilux LED masks can be found in more than 5,000 dermatologists and aesthetic offices across the globe.
⏳ How Long Does It Take To See Results From Omnilux?
The manufacturer recommends using Omnilux LED masks for 3 to 5 10-minute treatments per week for a minimum of 4 weeks for the best results.
🤔 Is Red Light Therapy a Gimmick?
Numerous studies have proven that red light therapy can help with specific skin problems like acne, wound and scar healing, pain relief, and skin rejuvenation.
⚖ Are Omnilux Masks Worth It?
Omnilux masks are FDA-approvedFDA approval means that the product is safe and effective for the intended use and it manufactures to quality standards. products that reduce redness, wrinkles, and pigmentation and leave your skin looking elastic and young, so they're worth the deal.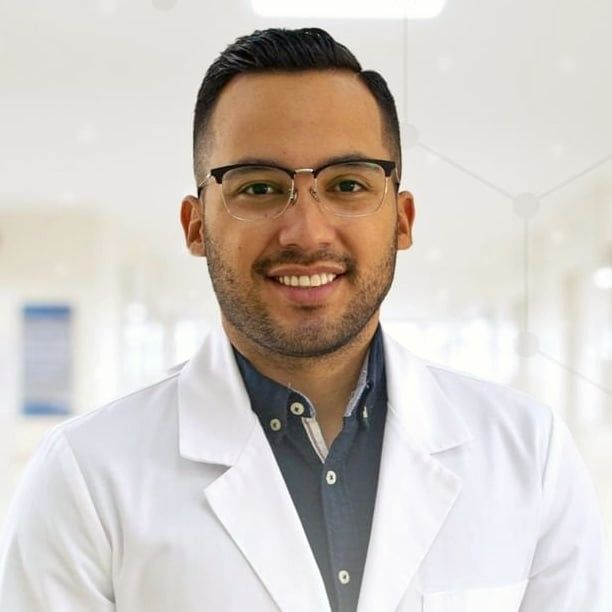 Dr. Jose Diego Mier is a board-certified dermatologist with over a decade of experience in light therapy, dermatology, and skin care. As the founder of the Heliotherapy Research Institute, Dr. Mier has dedicated his career to the study and application of light-based therapies for various skin conditions, including acne, psoriasis, eczema, and skin aging. He is renowned for his extensive research contributions, numerous publications in leading dermatology journals, and his work has been recognized with awards for excellence in research and innovation. He has been invited to speak at national and international conferences, sharing his expertise and insights on light therapy and skin care.